Replacing your windows increases home value and energy efficiency. Discover when to replace your windows and other window replacement benefits.
There are many types of windows to choose from. The benefits you get from your windows depends largely on the type and condition of your window. In addition to providing an airflow and light for your home, windows also help with sound reduction and improving energy efficiency. On average, windows last between 15 or 20 years before needing replacement. In some cases, you may want to replace your windows sooner, especially if you want to change the material or are already making major changes to your home. In some cases, it is also easier or more cost effective to replace your windows instead of fixing them.
When you replace your windows, you may either replace the entire window or a section. If you are replacing your whole window, it is recommended to hire a professional. If you are doing a smaller replacement, it is possible to complete the project on your own.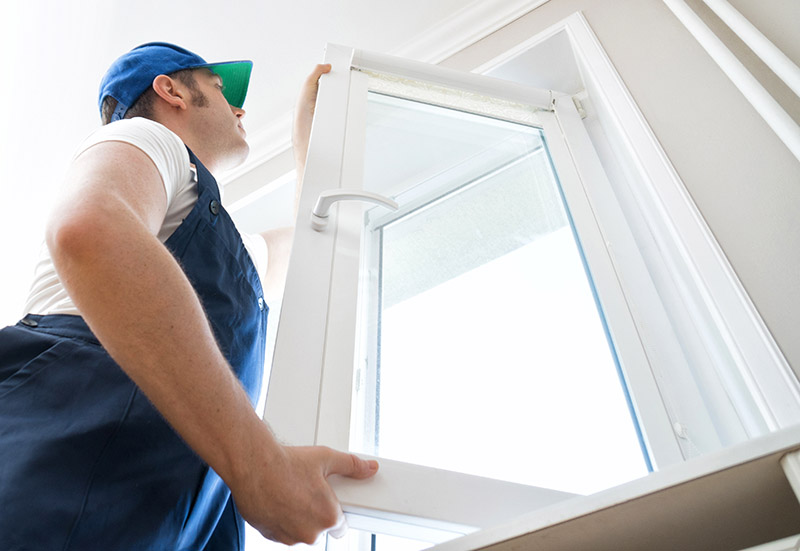 Signs to Replace your Windows
There are several warning signs that indicate your windows need to be replaced. The most obvious warning sign is a cracked frame. If it is a small crack, you may be able to repair the damage with new weatherstripping. If the frame is warped or broken, you must replace it. Not all damage to the frame is visible. If you live in a rainy climate, excessive moisture can make the outside of your windows rot. If you touch your window frame and it feels soft as opposed to rigid, the frame has water damage. Unfortunately, once a frame is soft, your only option is to replace the frame entirely. Based on the damage, you may have to replace the entire window.
A less serious water issue is fogged glass. This only occurs with double or triple-paned windows. Fog forms when moisture gets trapped between the panes. Foggy windows may be an earlier indicator of more serious issues, as moisture should not normally get between the panes. Typically, this occurs because there is a small crack in the window.
Another minor issue is your window getting stuck. If you continually open and close your windows, the stress causes small grooves or divots along the top or bottom of the frame. In addition to making it difficult to open or close your windows, it can cause damage to the frame. This is commonly an indicator your windows are getting old and will need to be replaced soon.
Not all window damage is visible. If your rooms feel colder or draftier, it may be related to your windows. Weatherstripping and caulking allow you to seal up small cracks or spaces in your window. In more severe cases, you may even notice your energy consumption increasing because your windows are letting in too much cool air, indicating you need to replace your windows.
Benefits of Window Replacement
There are numerous benefits to replacing your windows. The first is an increased home value. One of the first things potential buyers see when they arrive at your home is windows. New windows gives your home a professional look. It also helps in negotiations, as many homeowners request a decreased price if they know the windows are old and will soon need replacing. Another reason new windows increase the value of your home is the extra security. Old windows are easier to open from the outside, something burglars frequently exploit to bypass a locked door. Not only are newer windows stronger, but they have better security features, such as more complex locks or security sensors.
Newer windows also have additional enhancements to reduce dust and other allergens from getting in your home. This is accomplished through between the glass blinds or shades. Not only do they make your house cleaner, but it makes it easier to clean your windows.
Replacing your windows greatly improves your home energy efficiency. You can purchase Energy Star windows, which are designed to keep your home better insulated. Wood is an excellent material to stop heat transfer, since it has low conductivity and is naturally insulated. Fiberglass windows are good for diverse climates, since the material can withstand extreme temperature changes. Vinyl windows are recommended for colder areas, since it provides the best insulation and keeps out cold breezes.
Professional Window Replacement Services
Installing weather stripping or caulking seals in your windows is easy enough to do on your own. Replacing a window is significantly harder and requires multiple tools. Each window typically takes four to six hours to replace. While it is more expensive to hire a professional company, it is the safer option because it ensures your windows are properly installed.
Renewal by Andersen is a respected window replacement company. When you make an appointment, a design consultant works with you to plan the style and design of your windows, getting all the necessary measurements and providing a quote. The company also arranges a follow up appointment to ensure the windows were properly installed.
Another option is Champion Windows and Home Exteriors. Champion designs custom windows, making them an excellent choice if you want customize, more unique windows. For standard installation, you can request a free quote online.
Aeroseal is one of the biggest companies for window replacement and installation. Aeroseal engineers are experienced with all types of windows, including special models normally seen on older buildings. Today, they are known for providing window services for hotels and restaurants, but they also repair and replace residential windows.