Legal aid services are available in the U.S. for certain circumstances. Read important information about legal aid services & types of cases they cover.
Legal aid services are available under specific circumstances to people in need of professional legal assistance but unable to pay for it themselves. Not all types of legal cases are eligible for legal aid assistance regardless of the financial hardship being experienced by a potential client. Does this mean people in the U.S. are left to fend for themselves in court under certain legal scenarios where they cannot afford proper attorney representation?
There is a difference between legal aid services and pro bono representation. While legal aid is a type of pro bono service, not all pro bono services are considered legal aid. What types of cases do legal aid attorneys cover? How do you qualify for legal aid? What are the differences between legal aid services and pro bono cases? Read on for important information about legal aid services and what types of cases they cover.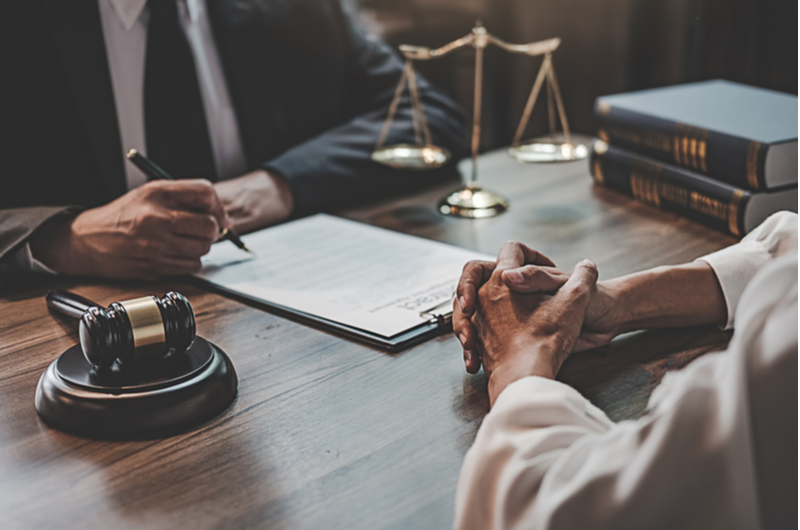 Legal Aid vs. Pro Bono Services
Legal aid services are not a constitutional right and therefore have qualification requirements potential clients need to meet. These services are provided to clients on a case-by-case and needs-first basis. Verifiable financial hardship and/or other extreme extenuating circumstances are the primary qualifying factors. Legal aid attorneys take on various types cases as permitted or limited by law. Legal aid deals only with civil, non-criminal cases. These services are provided at no or reduced charges based frequently on a sliding scale-type income chart.
Pro bono attorneys take on misdemeanor and felony criminal cases. The Sixth Amendment of the U.S. Constitution guarantees the right to an attorney for every U.S. citizen unable to afford one when being charged with a crime potentially resulting in jail time. In additional to such criminal cases, the American Bar Association (ABA) requires every U.S. attorney to provide fifty hours of pro bono services every year. Some attorneys voluntarily work additional pro bono cases for causes and organizations they believe in such as environmental and humanitarian non-profit companies. The majority of pro bono services are provided by public defenders working criminal cases as appointed and mandated by U.S. courts, however.
How Expensive Are Private Attorneys?
The costs of hiring a private attorney are beyond the financial reach of many U.S. citizens, especially those considering the use of legal aid services. A private attorney fresh out of law school might charge $100 per hour plus expenses. Successful attorneys with many years of experience potentially charge $300-400 per hour and more plus expenses. Corporate and political attorneys are known to charge in the multiple thousands of dollars per day and higher.
Legal Aid Qualification Requirements
Legal aid qualification requirements are based mostly on your cumulative household income. Because civil legal aid services are non-profit services, funds are supplemented by U.S. state and federal governments, U.S. citizen's tax dollars and money from more profitable private cases as tried by the same firm. Qualifying is not guaranteed even if you meet the average income requirements of earning 125 percent or less than the U.S. poverty level. Competition is fierce and clients going through the worst financial hardship are granted services first.
Qualifying for SSDI, Medicaid, SNAP or SSI, SSDI is a good indication your income level also qualifies you for legal aid services. Again, qualifying is not guaranteed and a significant percentage of applicants receive only basic guidance. For more information on qualifying requirements in your state go HERE.
Types of Cases Legal Aid Services Cover
There are only certain types of cases legal aid services cover. Section8 housing issues, government benefits, employment discrimination, health care cases and more are potentially eligible for legal aid services. Read below for more detailed information on specific types of cases covered by legal aid and/or pro bono attorney services.
Only certain types of family law are eligible for legal aid services. Most often these types of cases involve child custody issues where a parent is unable to defend their rights to maintain or pursue custody. Legal aid services also potentially cover domestic abuse cases or the handling of wills, inheritances or estates where the client is unable to afford representation and/or has mental or other disabilities.
Legal Aid Divorce Services
Divorce cases are not covered by legal aid services. It is also rare to find a pro bono divorce attorney since such matters are more often free-choice-based scenarios. The only exceptions for legal aid services applying to divorce cases are potentially in the event of spousal abuse in lower-income households or where one partner has mental or other disabilities. There are divorce fee waivers and file-for-fee waivers available to help mitigate costs, however, as well as other publicly accessible resources.
Legal aid services are not available for criminal cases. In the event you are charged with a crime potentially leading to jail time and cannot afford an attorney a court will appoint one for you free-of-charge. In other criminal cases it is possible to find an attorney willing to represent you pro bono if he or she believes in your innocence, case and/or cause.
Legal Aid for Malpractice Cases
Legal aid services are also not permitted to take on medical malpractice cases. Malpractice cases are occasionally better suited for pro bono legal help when applicable. Why are legal aid services not permitted to try medical malpractice cases? Malpractice cases are lengthy and expensive. They go well beyond the funding resources available to legal aid services. Malpractice cases also present a quagmire of challenging legal obstacles, including opposing attorneys/legal teams with deep budgets and reputations of high-profile medical practitioners and facilities to protect.
Other Types of Legal Aid Services & Cases
Legal aid services also do not take one car accident or the majority of personal injury cases. Legal aid attorneys do take on DUI cases. Legal aid services are available for sexual harassment, immigration status, senior fraud victim, U.S. Veterans rights and unlawful termination cases, however.