Many people know that nutrition is important. After all, there are endless articles about how much of this and that you need to have in your diet. But paying attention to exact portions of vegetables, proteins, starches, and healthy fats can be a daunting, if not thoroughly confusing, task.
Even if you're well-aware of how to prepare a healthy meal or you're handy in the kitchen, it's not always easy to find the time to do this on a regular basis. If the daily office debate over what to have for lunch is getting old, meal delivery service can also be a welcome possibility.
The solution to many common dilemmas involving finding the time to cook or finding healthy menu options that taste great is a meal delivery service. Many meal delivery service companies have access to the resources necessary to regularly prepare and delivery meals or fresh ingredients at convenient times.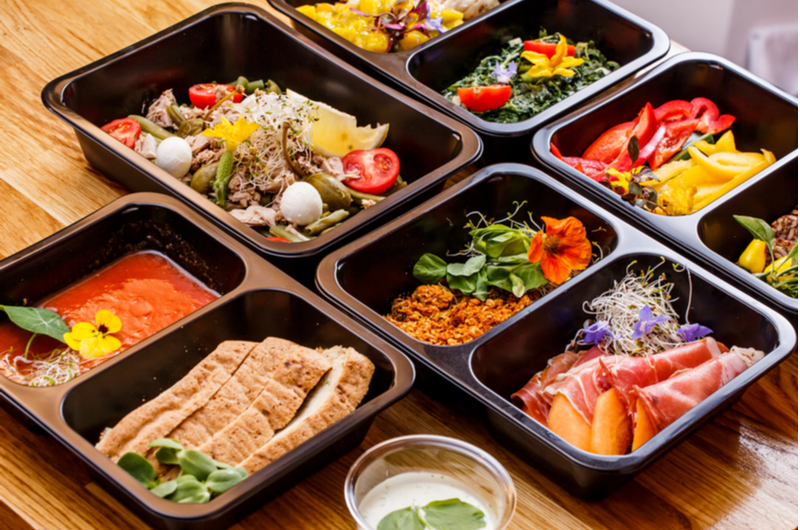 Overall, meal delivery can be an easily accessible option for anyone looking to streamline meal planning and avoid the many tasks involved with meal prep and cleanup. Not all delivered meals are super healthy. There are many different meal plans available, with some focusing primarily on nutritional value and special dietary needs while others are centered on unique tastes.
Specific capabilities and options will vary from one meal delivery company to the next. However, most reputable companies can accommodate specific requests and deliver meals or ingredients and supplies at regular times as specified. If you have yet to decide if a meal delivery service is right for you, take a moment to consider some of the reasons why using such a service can be a smart, convenient, cost-effective, and appetizing choice.
Cost
You may be hesitant to use a meal delivery service because of concerns about cost. But take a minute to consider how much it costs to prepare meals on your own. You'll likely need to make a few trips to the grocery store to find all the required ingredients for your favorite dishes. If you're not all that skilled in the kitchen, you may find yourself dining out frequently, which can easily become expensive if it's a regular thing.
When you consider what you normally spend on meal prep or going out to eat, you can see how a meal delivery service may end up saving you money. Some companies also offer subscription options or special deals and packages that a make such services even more budget-pleasing. And many of the subscription boxes include everything you'll need for a complete meal. Some services charge on a per meal basis while others will delivery meal supplies for an entire week.
Convenience
Meal delivery is a $400 million a year industry. There are many factors contributing to this tremendous growth, with convenience being one of the main ones. Meal delivery can be a convenient option for everyone from busy working moms or dads and individuals with specific diet and weight loss goals to seniors no longer able to prepare their own meals.
Deliveries can often be set up on a recurring basis or suspended temporarily if you're on vacation or wish to take a break from deliveries. Some companies also have apps you can use to select meal preferences for the week.
Health
While there are many healthy foods you should be eating every day, putting together well-balanced meals that don't include a few indulgences or nutritional oversights isn't always easy. If health is your main priority or you're just starting a diet, a healthy meal delivery program can steer you in the right direction.
Plus, if you are dieting or have limitations due to certain health issues, it's easy to get bored with your options. Many companies that specialize in healthy meals have dieticians and other specialists on staff with a knack for presenting a wide variety of appealing and tasty selections.
Portion Control
If weight loss is your goal with a delivery meal program, portion control is important. No matter how much will power you may have, there's always the temptation to over-indulge or justify dishing out extra helpings of this or that if you're determining your own portions. When portion control is out of your hands, you're more likely to stick with your diet.
Keep in mind that it's perfectly fine if you feel hungry when first getting meals delivered, but you'll eventually get used to the smaller portions. And the variety of foods typically offered should make you feel anything but deprived.
No Cooking
Not everyone is thrilled with the idea of slaving over a hot stove. If you want mouth-watering culinary delights with no cooking involved on your part, then meal delivery is a service you'll want to consider. Imagine coming home after a long day at work and having a meal that's ready to enjoy delivered right to your door.
No cooking is also an appealing option for seniors and busy households where meal prep is just one more thing for the daily to-do list. With the extensive selections many services offer, you also won't have to deal with complaints from kids and other family members over meal choices.
Saves Time
There's no denying the fact that meal delivery saves time. Think about how much time you normally put into running to the grocery store. Then there's all that time spent slicing, dicing, shopping, and blending. When you factor in the time it takes to do the actual cooking, it becomes clear how meal delivery saves time.
You'll appreciate delivered meals even more when you consider how you could be spending the time you'll be saving. For many customers, it often means more family time and an end to the daily debate over who's turn it is to do the dishes.
Tastes Great
With meal delivery services, "It tastes great!" is a common response from customers. Some companies have fully equipped kitchens where chefs carefully prepare meals loaded with an assortment of palate-pleasing sensations. Healthy meal plans also usually place an emphasis on keeping everything as tasty as possible.
The prepared meals that can be conveniently delivered to your home or office often include fresh veggies and other delicious dishes and desserts. Extras like creamy sauces and perfectly prepared gravy tend to be equally tasty. Even with services that deliver supplies, you usually get detailed instructions on how to prepare something that tastes great.