You've finally decided on a destination for your next vacation. Now all you need to do is find a great hotel at a reasonable rate. Unfortunately, for many people, this is often the most frustrating part of planning a vacation. Some websites don't exactly make it easy to find the best deals and prices often change on a dime. Buy at the wrong time and you could end up paying a lot more than your fellow bookers.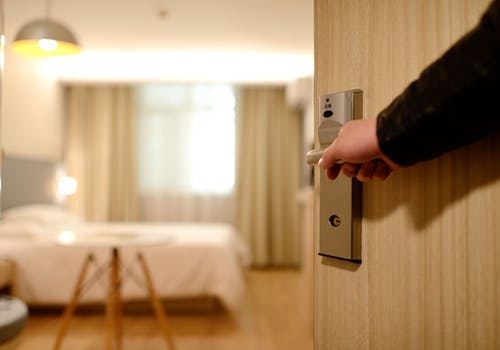 Likewise, if you rush to snag a deal that seems to good to be true, without doing your research first, you could end up having a really unpleasant trip with a lot of added complications. Fortunately, finding a great deal on a room doesn't have to be a big production or take significant time out of your day. There is an art to finding cheap deals. With these seven clever tips at your disposal, you can master this art so that you'll never again have to overpay for a hotel.
1. Day of the Week
Chances are you probably haven't given much thought to which day of the week you are looking at deals. But failing to do so could cost you some serious cash. After delving into Expedia's data, analysts have found that there is actually one day of the week that is notably better for booking a hotel: Sunday. This may come as a surprise given that most people are off from work on this day and are therefore more likely to have time to book a hotel on this day.
However, Sunday is the best day to book travel-related activities, including an accommodation. With this in mind, you should also consider looking into flights or even flight and hotel packages on this day. The savings can be significant. You can also save money by including a Sunday night in your reservation or by booking a weekday stay or as part of your flight or train arrival date when booking transportation to your destination. So the next time you feel like taking all of Sunday off, make sure to set aside some time to find the best accommodation. Doing so is likely to yield some serious savings and make both you and your wallet happy.
2. Hotels Tonight
If your schedule or plans don't require that you book your accommodations well in advance, you could benefit from a last minute deal. Entering "hotels tonight" into your search bar will generate a lot of results, including websites that specialize in last minute reservations. While booking a hotel at the 11th hour may not be ideal, the saving can be significant. You could see as much as a 60 percent reduction in price, which means you'll have a lot more money to enjoy restaurants and tourist activities. The one draw back to this strategy is that you probably won't get the room that you want if you're booking last minute.
3. Book in Advanced Reservations
Generally, when it comes to getting a cheap hotel deal, the further you can book in advanced the better. However, the precise amount of time you should do this depends on where you want to go. According to TripAdvisor, Popular destinations like Tokyo and Berlin should be booked 2 – 5 out, while you should book in advanced 3 – 5 months ahead for Rome and Rio de Janeiro. The savings for securing a room this far ahead of time range from 10 percent all the way up to 55 percent. With this kind of savings, your trip may be a lot more comfortable and your wallet a lot less lighter.
4. Call Ahead
Looking for an affordable hotel on the internet is easy. However, if you call ahead and speak directly to a person at the place you're interested in, your chances of getting a better deal increase. This is especially true if you plan to stay for more than a week as hotels often have specials for long-term guests. Be sure to inquire politely as your tone of voice could be the difference between getting a free upgrade or price reduction and getting nothing at all. Also, don't be surprised if the guest relations person on the other end simply repeats the same deals that you've seen online. A deal isn't guaranteed but it definitely doesn't hurt to ask.
5. Check the Schedule
Sometimes the day that offers the biggest savings aren't the ones that you expect. The best way to find out when you can book the room you want at the best possible price is to check the schedule, the hotel schedule that is. Some places will let you do this online by simply scrolling through arrival and departure dates, while others may be less forthcoming about their pricing variability so you may need to reach out to them directly for more information. If contacting the hotel directly, try to indirectly inquire about rates and if possible request a corner room as you'll end up getting more space per dollar.
6. Expedia
Whether you're looking for an amazing room by the ocean or a quiet stay during a business trip, Expedia can help you find what you're looking for, at a the best possible price point. The site, and its easy to use app, are tailor-made to make finding and booking great rooms quick and easy. You can also book for just flights or look for package deals like hotel plus flight or even hotel plus flight and car. Expedia also allows you to earn and redeem Expedia+ points, which means more savings every time you book. Likewise, 24/7 support is available. You'll see exactly how much you're saving on the each time your click on a hotel option.
7. Location
The more flexibility you have when it comes to booking your accommodation, the better your odds of finding an great deal. Don't need to be right downtown? Try looking for a room a little bit further out. These places are almost always more affordable than more central locations. However, if you're still near public transit or reasonable driving distance the saving can easily make up for extra time it takes to get to downtown. In addition, you may find that being away from the hustle and bustle of a more crowded area actually makes your vacation more enjoyable and allows you to experience your destination outside of the confines of traditional tourist spots.