The Bureau of Labor Statistics (BLS) projects a thirteen percent growth rate over the next decade for the heating, ventilation and air conditioning (HVAC) industry. With an approximate average starting salary of $48,000+ per year, becoming an HVAC technician in 2021 has many benefits. How does a person become an HVAC technician? Are HVAC courses available online for little to no cost?
Becoming the best HVAC technician you can be requires proper training from credible, reliable courses and programs. Finding the best online HVAC courses and programs for little to no cost takes thorough research. It also takes an understanding of your schedule, budget and career plans going forward. How long does it take to complete HVAC training online? Is there financial assistance available for online HVAC training? Read ahead for crucial information about how to become a HVAC technician online for little to no cost in 2021.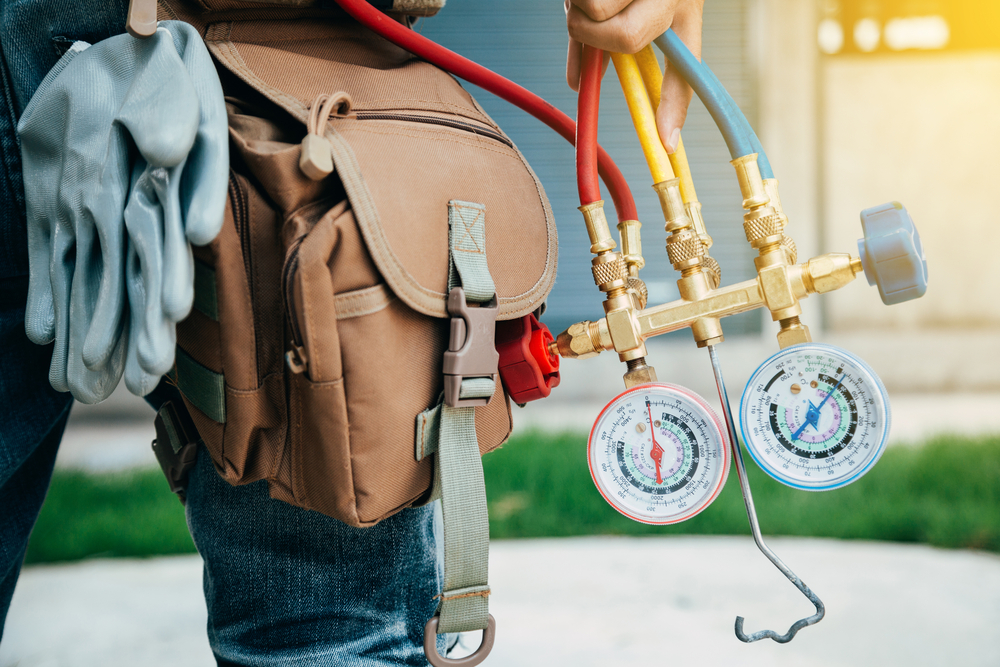 Understanding the Heating, Ventilation & Air Conditioning (HVAC) Job
A job as an HVAC technician involves general and specialized skills. There are three primary climate-control-based systems in a home, which are essential to the comfort, health and general wellbeing of your daily life. An HVAC technician deals with the repair, maintenance and installation of these essential systems. Your refrigeration, air conditioning and heating systems are all integral elements of a comfortable, safe and enjoyable lifestyle. An HVAC technician is involved in keeping them all running constantly, safely and as expected.
While some HVAC technicians work on all three systems, others specialize in working on only one. There are additional HVAC technicians who work on all three systems but only do one element of the overall job. For example, one technician might be trained to work on your heating, air conditioning, and refrigeration systems but only to complete the installation services. Another might also be trained to work on all three systems albeit in a repair-only capacity.
There are also specific tasks involved in a HVAC technician job. There are supervisors or foreman who oversee all installation processes. Part of the HVAC technician position involves troubleshooting damage and repair issues and compiling invoice/potential bill estimates. Technical support and general customer service are also part of the HVAC technician job. The installation of low-voltage wiring systems is sometimes involved on certain jobs. It is also required to coordinate service calls with sales and customer support departments when working for larger companies. Some HVAC services also provide emergency, 24/7 or after-hours services for extra charges.
Working as an HVAC technician also requires general and special tools. Normal tools such as hammers, nails, stepladders, a tape measure and more are required. Specialty tools including a cordless drill, manifold gauge, tubing cutter and reciprocating saw are also required. HVAC technicians are often employed by plumbing or HVAC contractors in addition to larger HVAC companies. They are often self-employed or also work for a variety of specialized industries.
About Taking HVAC Courses & Programs Online
While the job of HVAC technician is a literal hands-on type of job, training is available in the form of courses and programs online. Modern technology makes it possible to receive a HVAC certification taking only online courses in 2021. This is accomplished using digital simulation, live streamed or previously recorded web lectures and computer facilitated course assignments. There are some HVAC programs with externship requirements. An externship involves the HVAC technician student participating in on-campus testing/training. Certain programs allow externships to be facilitated local to you as opposed to on a specific distant campus. Consult your HVAC course/program provider for more information about externship requirements if any.
There are state regulations pursuant to HVAC licenses. These regulations vary state-by-state. Complying with your state's regulations is essential to keeping your HVAC license active and valid. Most state license regulations require an HVAC certification, diploma or degree to maintain an active status. Finally, even though online programs and courses are valid and nationally accepted means of obtaining HVAC training and certification, most HVAC certification boards require additional actions. For example, most HVAC certification boards require those seeking full certification to display their competency, safety and training at officially approved testing sites.
Online HVAC Training at Little to No Cost
There are multiple HVAC training programs and courses available in 2021. How do you know which ones are the best for you? Finding online HVAC training at little to no cost is beneficial for your budget. Are free and low-cost HVAC training courses the most credible options, however? The best online HVAC training programs combine quality education and training with affordability. It is important to note how affordability might include the reduction of standard tuition costs due to receiving financial aid. The best online HVAC training courses and programs at little to no cost are:
How Long Does It Take to Complete HVAC Training Online?
Most online HVAC training programs permit students to proceed at their own pace. This is perfect for prospective HVAC technicians who are currently working other jobs and need to pay the bills while training. This flexibility is also beneficial for parents or younger prospective HVAC technicians who are still in school but want to get head start on their careers. The length of online HVAC training courses and programs also varies with each program/course provider. Some programs are capable of being completed in as little as four months time. Others take up to two years to complete.
Financial Assistance Options for HVAC Training Online
Financial assistance for education purposes generally comes in two forms. There are student loans, which are required to be repaid. There are also grants, which most times do not require repayment. Financial aid for HVAC training online is available. Most commonly awarded financial aid is available for use with accredited schools and degree programs. It is possible to receive financial aid for a HVAC training certificate program by completing and submitting the Free Application for Federal School Aid (FAFSA) form or applying for a federal Pell Grant. There are also private loans offered with low interest and friendly terms such as the William D. Ford Federal Direct Loan Program. The Sallie Mae Career Training Smart Option Loan is another financial aid option.
The American Society of Heating, Refrigeration and Air Conditioning Engineers (ASHRAE) offers a vocational scholarship applicable to online HVAC training courses. The Home Depot also offers a $500 per student HVAC scholarship. Consult with your online HVAC training course provider for information about more possible financial aid options.