Many veterans have a difficult time returning to civilian life. Fortunately, there are a number of resources available to help veterans. Many of these benefits come from the Department of Veterans Affairs, but there are also a number of state and nonprofit programs that assist veterans. Because these programs are not always advertised, some veterans are unaware of the level of assistance available to them. There are even specific programs that help veterans get access to their benefits. This is especially helpful for veterans with medical conditions that make it difficult to reach out to the various benefit providers.
There are several federal programs that focus on veteran healthcare. Other programs are available to help veterans find affordable housing, get loans or attend school. There are also various assistance programs to help veterans get civilian jobs or start their own businesses. Listed below are some of the lesser-known veteran assistance programs.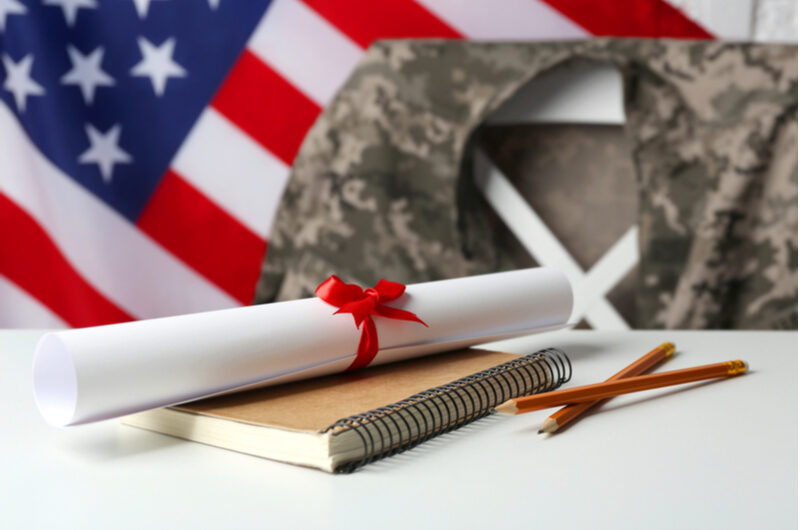 Eligibility for Veteran Benefits
Each veteran program has different eligibility criteria, but there are many shared requirements. Before you apply for any program, make sure you have a copy of your discharge paperwork. This contains all the information you need to apply for benefits, including your type of discharge, service dates, what branch you served in and your Social Security number.
Most veteran benefits are available if you were discharged for anything other than dishonorable conditions. Some of the benefits are only available if you are actively serving. There are also some programs for specific branches, such as the Navy or Air Force. However, these programs usually have a similar or even identical program for other branches. Typically, these programs are only separate for logistical reasons.
Finally, some programs are also available to your family members. Depending on the program, your family may receive the same benefits, or lesser benefits. For example, some education programs offer tuition discounts to your children, while covering all of your tuition costs.
Caregiver Support
Because it does not provide monetary or medical support, Caregiver Support is often overlooked as an assistance program. However, Caregiver Support is one of the most helpful veteran programs. The program acts as an intermediary between veterans and other support groups. When you sign up for help, you are assigned a personal coordinator. Your coordinator informs you what services are available and how to apply. Your coordinator can also arrange meetings on your behalf and help you if you are feeling overwhelmed during the application process. If you are unsure how to use your veteran benefits, this is one of the best programs to start with.
Aid and Attendance Program
The Aid and Attendance program offers long-term care for veterans. While veterans have access to some of the best healthcare available through the VA, those benefits primarily focus on immediate care. Long-term care is more extensive. It includes the costs of nursing homes, assisted living facilities and hospice care. Aid and Attendance is available to both veterans and surviving spouses.
Another benefit of the Aid and Attendance program is housebound assistance. If you are unable to work because you need long-term care, you can apply for housebound benefits, which increases your monthly pension. How much you receive varies based on your medical cost, starting at $881 as of writing and going as high as $2,127. In addition to your discharge paperwork, you also need a doctor's note and any relevant medical documents confirming you require long-term care.
The Soldiers Project
Most veteran healthcare focuses on medical conditions. While this is important, veterans also need assistance with their mental health. The Soldiers Project offers free mental health services to veterans and active service members. What sets the program apart from other mental health programs is the therapists are trained on military culture, with many having previously served. This makes it easier to relate your therapist and explain issues that normal civilians would not understand, such as the difficulties of transitioning back into a normal life after serving overseas.
Financial Coaching
Veteran financial coaching is available for free through the Consumer Financial Protection Bureau's (CFPB) Office of Service Member Affairs. Many veterans struggle with managing their finances after serving, especially after long tours of duty overseas. It is common for veterans to come home with months of pay. The CFPB teaches veterans how to best invest their funds and start a savings account. The program also teaches veterans about what financial protection is available and how to take legal actions if their funds were improperly handled while serving.
Workplace Mentorship
One of the hardest challenges for veterans is getting a civilian job. Through the program, you are paired up with a workplace mentor from American Corporate Partners, who helps you find a job. Some of the services available include translating your military experience onto your resume, finding careers in fields you are interested in and preparing you for interviews. There is also a separate program for female veterans who are interested in leadership positions. In addition to helping find work, the program offers networking opportunities and frequently hosts career development workshops.
Vocational Training
Veterans receive free education through the GI Bill. What most veterans do not know is the GI Bill also applies to certificate and vocational school training. This includes a number of possible career paths, such as HVAC repair, truck driving, coding bootcamps, software training and beautician schools.
Volunteer Income Tax Assistance
There are many complications with paying taxes as a veteran. Many veterans receive payments from multiple sources. Some of these are taxed, while others are not. It becomes even more complicated if you are receiving financial assistance from an assistance program. Veterans are also required to submit more paperwork when they pay taxes. If you are overwhelmed with the process, you can get free tax help.
There are several different tax programs available. The IRS offers free assistance for any veteran who earns less than $64,000 a year. If you are still serving, you can also get assistance from the IRS VITA program. MilitaryOneSource provides both tax and general financial assistance to veterans and their families. Their program, MilTax, is funded directly by the Department of Defense. It is one of the most comprehensive tax options for benefits, since the accountants have the best understanding of military payments and benefit programs.