If you are like many, the opportunity afforded by staying at home more has allowed you to clean out your closets, tackle the garage, and KonMari everything. While it is cathartic to clear out and toss things, it can pile up. If you have never used a junk hauling service then there is plenty to know before you make that appointment.
Not all junk removal companies are the same. Some will only haul your junk off, while others can also take certain items to a donation center for you. Junk hauling companies are usually either a national company or larger organization/franchise, or it is an individual with a very large truck. One is not necessarily better than the other, and it can save you time, money and effort if you take the time to learn more about why you should use a junk removal service at all, and how to find the best one.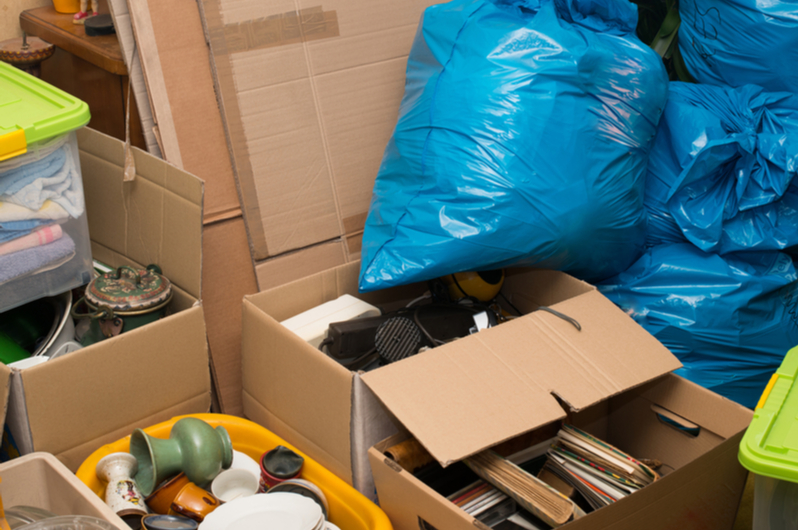 What a Good Junk Removal Service Does
Good junk hauling businesses do more than just haul your old stuff off. Do you just want the discarded items hauled to the dump, or do you want them donated? Will the company you are considering honor that request? What if you do not want your items hauled the dump? What alternatives do they offer?
Reviews Matter with Junk Hauling Companies
Have you ever eaten at a chain restaurant in one city, then eaten at the same franchise restaurant in a different place? If you have, then you know that service and quality can vary from one franchise to another. The same is true with larger junk hauling companies. Customer experiences can vary from one town to the next, and even one state to the next. This is where customer reviews for your area are crucial. Ask around on Facebook or other social media to see if anyone in your area has used the company or individual you are considering hiring. Word of mouth recommendations are golden.
How long has the junk hauling company been operating?
Newer companies are often working out the bugs in their processes and operations. This is not to say that all new companies may mishandle your junk hauling, but the odds of something going awry are greater. If the reviews for a company are mixed, and the company has not been in business long, it is a good idea to strike them from your list of likely hires. Also telling is whether the company has their own insurance in case of accidental damage to your property while picking something up.
How much should you expect to pay for junk hauling?
You may find that pricing varies wildly from one company to the next, or one individual to the next. When it comes to junk hauling you often get what you pay for. It is better to get bids from several junk haulers near you and then choose the one that is not the most expensive, nor the cheapest. You price is based on the types of junk you need to have hauled off, the difficulty of the job, and how heavy your items are. Do you have stairs they are going to have to negotiate when moving items? This also adds to your cost. Most companies give you a basic estimate up front, and then adjust it when they can actually see what you have to be moved.
What will a junk removal company haul off?
You would be surprised what most junk hauling companies/individuals will haul away for you. The list is quite lengthy, but can include:
Construction debris.
Yard waste.
Appliances.
Furniture.
Electronics.
Mattresses.
Hot tubs.
In general, if they can carry it, they will haul it off for you. Where most draw the line is for anything that is considered hazardous such as solvents or petroleum based products.
Top Junk Hauling Companies
The following junk moving companies have been in business for more than a decade and have good reputations, nationally. However, if you find several you are interested in, make sure to check the reviews for the local business just to make sure it will be a good fit.
Junk King
Junk King has been in business for more than a decade and for good reason. They offer price transparency and work with you to come up with a budget you are comfortable with. Free in-person estimates are available, or you can take a picture of the junk you need to have hauled, and they can send you an estimate via text or email. They also offer price matching, so if you are offered a lower price on the same job, they will match it or beat it. You can expect to pay from $99-$650. They recycle up to 60% of what they haul. If you want a quick ballpark estimate you can use their online estimator feature.
1-800-GOT-JUNK
As the largest junk removal company in the U.S. 1-800-Got-Junk has a strong commitment to customer satisfaction. Their reviews are good and they have been in business for several decades. When possible, they also recycle or donate items instead of hauling them to the dump.
When you think junk removal, 1-800-GOT-JUNK? might be the first company that comes to mind. That's because it's the biggest (it operates throughout North America, as well as in Australia), and one of the original leaders in the junk removal field. You can book your appointment online as well as get an estimate. You can expect to pay between $140-$699.
College H.U.N.K.S. Hauling Junk and Moving
What is unique about College HUNKS is that they are a full service moving company. They can haul your junk as well as help you move. While they cannot guarantee that each mover will be a "hunk", they do offer short or long term storage options if you need to store something before a move. They donate or recycle 70% of the junk they haul. Their prices are dependent on how much space your junk takes up on the truck and where you are located.
Where to Find Junk Hauling Services Near You
Junk removal services are worth the hire as the right company/individual can save you time and effort. The best place to start looking locally, especially if you would prefer to work with an individual is to locate them through placement agencies that vet those who list with them. Look for a junk hauler from one of the following: