Email and internet marketing services are essential to the success of modern business models. Internet marketing refers to any and all online marketing of products and services. Email marketing refers to the use of email messaging to directly promote those products and services, while also tailoring communications toward the acquisition and retention of customers. Email marketing services are merely one aspect of internet marketing as a whole, albeit an important and effective one. Read ahead to learn important information about internet marketing and the top 5 email marketing services available today.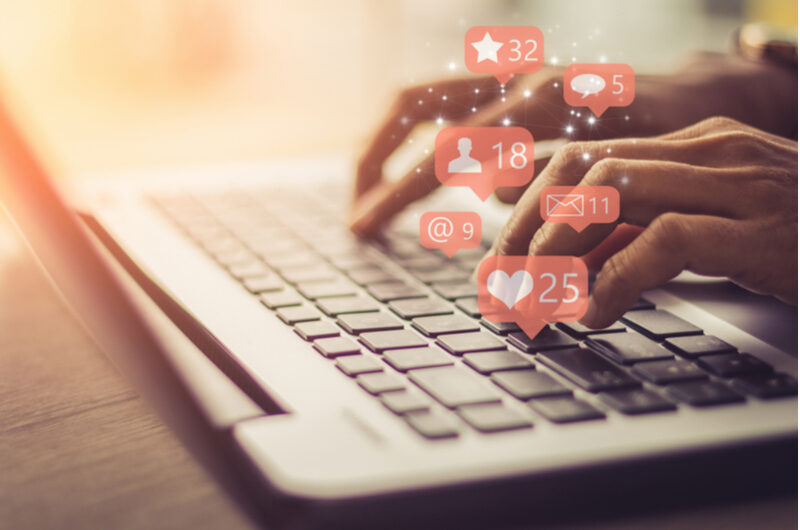 Learn About Internet Marketing
Internet marketing is the conglomerate of multiple separate but equally important online marketing strategies. These strategies and tools include videos and podcasting. Other strategies include blogging, social media advertising and website content and design. Online advertisements, sponsorships and paid promotions are also strategies categorized under the umbrella of online marketing services. Internet marketing is done to build brand recognition and create a dominance inside an industry. Digital marketing services also help identify target markets and uncover consumer's wants and needs. The collective primary purpose of all these strategies is still to sell goods and services, while simultaneously generating and retaining customers and clients. This is best accomplished by building relationships with customers and clients. Perhaps the most effective strategy for accomplishing this goal is via email marketing.
Email Marketing vs. Online Marketing Services
Email marketing is only one element of a company's overall internet marketing service strategy. It is the best way to communicate directly with customers and clients, however. Every email sent from a company is part of an email marketing campaign strategy, regardless of size or specific purpose. Email marketing messages include various text and content strategies, each designed to garner and maintain the interest of their recipients. Strategies include company newsletters, sales promotions and special deals and discounts for both paid and free subscribers. Occasionally, unique messages are delivered pursuant to company policies, potential fraud or alterations due to natural disasters. Unlike many other forms of online marketing, email marketing takes a direct targeted approach to reaching customers and clients. While conceptually and most often literally effective it also poses the risk of alienating customers who do not wish to receive repeatedly targeted messages. Therefore, a line must be drawn between persistent messaging campaigns and simple spam.
How Email Marketing Works
Email marketing is the modern version of fliers delivered in the mail. Customer and client emails are collected online via popup prompts, surveys, quizzes, promotions and direct requests. When a customer (or potential customer) signs up for a newsletter, an email campaign is created to deliver that newsletter in addition to pitches for selling products or additional services. Ramping up from requested information to emailing sales pitches is a delicate process, which potentially drives even satisfied customers away when overdone. Email marketing converts approximately 2.5 percent of its contacts to sales, while social media converts only 1.1 percent of its attempts.
Lead Generation Marketing Agencies
How do I find an internet marketing service near me? Simply enter the type of service you need plus your zip code on Yelp and Thumbtack to locate in-person lead generation marketing agencies in your area. If you prefer to be more hands-on you also have the option of purchasing one of the best email marketing programs available today.
Overview of the Top 5 Email Marketing Services on the Market
Many email marketing campaign services exist but you need the one best suited for your company's needs and goals. Ease-of-use, speed, automation and growth are all important features. The top 5 email marketing services on the market today are:
1. Constant Contact
Everyone needs to start somewhere, even when it comes to email marketing. Learning the fundamentals of this internet marketing service strategy is easy with Constant Contact, a program widely hailed as the best email marketing service for those new to the process. A generous sixty-day free trial precedes prices starting as low as $20 per month. A convenient and user-friendly drag-and-drop email builder combined with simple automation tools makes Constant Contact a great choice for companies who need to create marketing campaigns quickly with a minimal learning curve. Constant Contact also comes with one-hundred pre-designed templates, each with mobile optimization. Automatic welcome message triggering and drip campaign automation are two additional reasons Constant Contact is a great choice for both beginning marketers and companies on a tight schedule.
2. GetResponse
Moving from basic to full-service, the next product on the list is GetResponse. GetResponse is an email marketing solution with do-it-all functionality and a focus on automated features. Landing page builder tools, advanced analytics, audience segmentation and modern webinar software are just some of the features and benefits GetResponse provides for companies of all experience levels and marketing needs. Perhaps the best feature of this service is its Autofunnel tool. Autofunnel is designed to generate funnels commonly used by top internet marketing companies around the world. Prices range from $15 to $99 per month with increased feature tiers and a custom-pricing option for companies with more expansive needs.
3. HubSpot
Spending less of your time to get better results is a benefit HubSpot excels at providing. HubSpot is widely accepted as the best automated email marketing program available today. Demographically focused triggers help your company zero in on leads showing the most promise, which in turn helps build better relationships with customers and clients. The HubSpot mapping tool provides increased visual clarity and ease of optimization, allowing for better customized experiences for recipients. HubSpot pricing starts with free options and includes an A/B testing tool to provide detailed performance analytics.
4. MailerLite
Another great time-saver is simplicity. MailerLite provides basic, simple features with no loss of efficacy or functionality. MailerLite is great for companies who need a quality email marketing program without a steep learning curve. Drag-and-drop editing is fast and convenient. A/B testing helps create useful analytics pursuant to campaign performances. Prices start at $0 per month, with increases between $20 and $40 per month per every ten thousand subscribers. MailerLite also offers a thirty percent discount for annual package purchases.
5. Sendinblue
Sendinblue is popular and most effective for companies looking to grow their customer base using email marketing campaigns. The program features drag-and-drop editing and automated campaign optimization, making it excellent for beginners as well as growing companies. Landing pages, signup forms, Facebook ads and retargeted ads are all included for prices ranging from free through $65 per month to customized options.