The simple task of cleaning your home becomes complicated as you age. For some seniors the challenge becomes overwhelming, and in some cases dangerous. The easy solution to this is to hire a cleaning service. Hiring the right cleaning service takes a bit of time and effort, but is well worth it. With someone to come and clean the house on a weekly, or bi-weekly schedule, you or a loved one can regain the time you once spent doing household chores. To get started you must ask and answer some questions that will help you determine what type of cleaner is the best for you. House cleaning services that specialize in seniors do exist, but you have to know where to look and what to ask for.
What level of cleaning do you need?
The level of cleaning you require depends on how large your home or apartment is, where it is located and what you want done. Most large companies offer a basic package, and then anything additional can be added on. A basic package usually includes vacuuming and deep cleaning the entire home. If you just want someone to come once, and not regularly, then expect to pay more.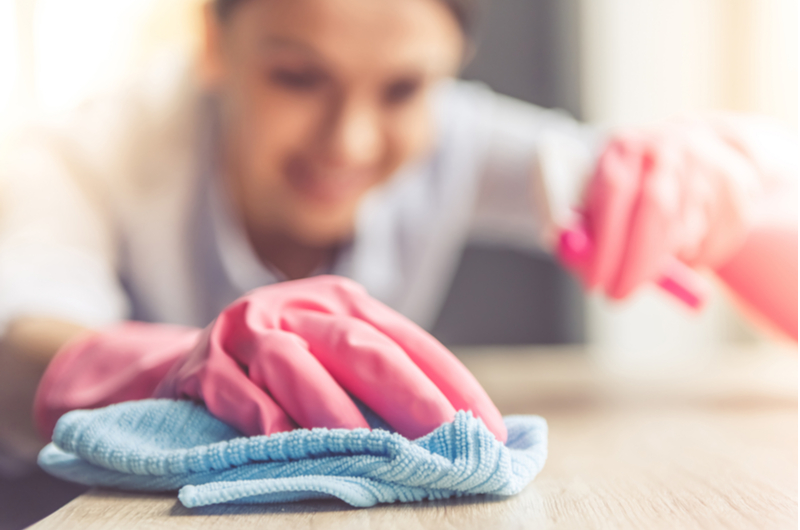 Are you willing to provide cleaning supplies?
Many companies send their cleaners out with their own supplies. However, if you employ an individual, then he or she may ask to use your supplies. This is often the best way to go as you can manage the types of cleaners used in your home. If you have an allergy to some types of cleaners, make sure to let the company or individual know beforehand.
Do you want to work with a service or an individual?
When it comes to choosing between a service or an individual, there are several things to consider. Services have a set package of basic tasks they do, and then anything additional incurs an extra fee. Services usually come with insurance coverage for their workers and are listed with chambers of commerce. Individuals are usually local, so they know the area, can be more flexible with their hours and dates, and may offer additional services without charging for it. Independent cleaners work off of referrals and recommendations, and are usually cheaper to hire than a larger service. Regardless of which you choose, ask the following questions when you call:
What is the fee for a basic senior cleaning package?
Is the fee based on hourly work, size of the house, or is it a flat fee?
Do you screen and background check your workers (for a service)?
Can you provide me with references (for individual)?
Are you bonded and insured?
Do you provide your own cleaning supplies and may I make substitutions where necessary?
Do you offer any warranties on the service?
What is your policy on pets?
What is your policy on owners staying in the home while it's being cleaned?
How long have you been cleaning homes for seniors?
Do you offer a written contract?
Average Cost for Senior House Cleaning
The cost to clean a senior's home can vary. However, on average you can expect to pay around $150 per visit when it comes to a service. If you employ an individual, then the average falls between $40-60 per visit. Cleaning service companies usually charge by the square foot or per hour, but they also send a crew of multiple people in to do the job.
Where to Find Good Senior House Cleaning Services
When looking for individuals one of the first places to look is on Facebook marketplace, or the online classifieds section for your area. Several networks exist that list individuals looking for house cleaning jobs. Two of the best are:
Each of these allows you to search for someone in or near your area. You are also able to set other search criteria such as whether they bring their own supplies, how often they are willing to come, and what they charge. With networks such as these the individuals who sign up do go through a type of vetting process, but you want to be sure to do your own as well.
Cleaning services abound on the internet. While it makes it easy to find and compare housecleaning services, it does not do much for narrowing down the field. To help with this, here are the most popular cleaning services:
The Cleaning Authority
Cleaning Authority has been in busines for over 40 years. They train their employees on the most efficient ways to clean a home effectively. They offer a guarantee of satisfaction, and they have insurance to cover anything that may accidentally be broken. All employees must pass a background check to work there. What is nicer, still, is they offer a free estimator on their site so you can estimate what the service will cost you.
Molly Maid
Molly Maid has been around for 30 years and for good reason. They offer a guarantee, a written contract for services, and offer a free in-home estimate. They often work in pairs so your home is cleaned quickly and well. They offer an online estimator based on your location and whether you want a recurring housekeeping service or just a one-time cleaning session.
Merry Maids
As one of the largest cleaning services in the U.S. Merry Maids offers many perks to customers. Free estimates are offered, and if at any time you are dissatisfied with a completed job they return and make it right within 24 hours. A team of cleaners come to your home and not only clean, but sanitize, each room. Merry Maids has won many awards and for 40 years have been offering a complete line of services. Call for an estimate, or use their free estimator feature on the site.
Maid Simple
If you do not want to sign a long term contract with a service, then Maid Simple may be for you. They offer services on an as-needed basis, or recurring. One of Maid Simple's claims is that it uses environmentally safe cleansers that are also non-toxic. Maid Simple is a newcomer to the market so it is not available in all states. They operate off a fixed, flat fee per visit.