Dumpster rental options are available for personal and professional use in 2021. Many rental options are affordable and eco-friendly in a year when both features are highly beneficial and needed. Why would someone need to rent a dumpster? How can renting a dumpster be eco-friendly?
Dumpster rentals save time and money when used for larger home renovation, remediation and moving projects. Construction sites use dumpsters to consolidate waste products and debris and also save money on hauling. COVID-19 vaccinations are proving to be effective but threats posed by the virus are not over yet. Dumpsters help reduce waste products on the ground and prevent water contamination in a time already fraught with major medical issues and disease. How much does it cost to rent a dumpster? Read ahead for a helpful guide on how to find dumpster rentals at affordable prices in 2021.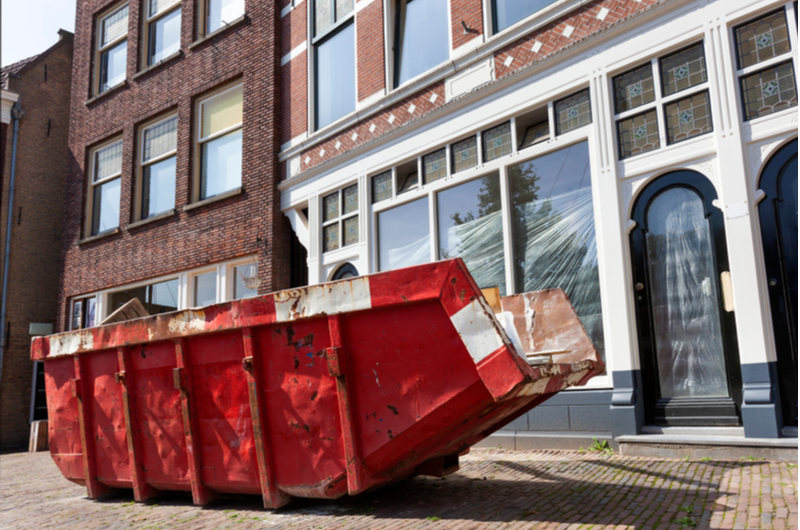 Why Someone Needs a Dumpster
Why would someone need to rent a dumpster? The answer to this question seems more obvious when applied to a professional construction site. Building houses, apartment complexes, shopping malls and hospitals all creates large amounts of debris regardless of the size of each project. Smaller construction contractors engaging in roofing, siding or renovation jobs also end up with scrap materials and waste debris in need of disposal. Some houses are abandoned by the owners for long periods of time and/or are sold in tax auctions. Cleaning out these types of homes always results in large amounts of trash, waste product and debris.
Private customers rent dumpsters for similar reasons as do professional construction contractors, even if for smaller projects and the disposal of less debris. Are you renovating your home and tearing out old carpet or wall materials? Was your home damaged by floodwaters or a fire and you need to remove/remediate damaged materials and items? Large home cleanup and renovation projects cost a lot of money but renting a dumpster helps reduce those expenses, while also protecting the environment.
General Benefits
Dumpster rentals are beneficial to all customers whether private or professional for essentially the same reasons. Collecting large amounts of waste products, scrap material and debris is convenient to do in one large container. Rentals are also temporary, which means once the project is completed the dumpsters are removed along with everything in them. Making multiple trips to landfills or waste sites is often more expensive than paying for a dumpster rental. Multiple landfill trips are definitely more time-consuming and less convenient than renting a dumpster. Finally, many of the more popular dumpster rental companies add hauling as part of the service or a least as an additional option, meaning the removal of your waste (and the dumpster) is not your problem to handle.
Average Costs
Dumpster rental agreements include a fee to rent the dumpster plus charges for dumping, hauling, excess weight and exceeded rental periods. Specific rental fees vary based on type/size of the dumpster and length of the rental period. Dumpsters are rented most commonly on a weekly basis, but some companies allow for daily and/or monthly rentals depending on the nature of your project, company policies and dumpster availability.
The national average price for a weekly dumpster rental ranges between $200 and $800 per week. The national average price for a monthly dumpster rental ranges between $1,000 and $3,000 per month, although prices vary up and down according to circumstances. For example, some construction companies might book dumpster rentals frequently and therefore get discounted pricing. Conversely, booking a dumpster privately for only one day might cost more than the average daily rate offered for frequent weekly rentals.
Hauling fees might cost $40-$65 per ton of trash hauled away on top of the rental fees. The amount of weight placed into the dumpster also affects final charges. For example, some rental agreements have weight limitations per use. When weight limitations are exceeded extra fees are charged. Late fees are also commonly charged for keeping a dumpster longer than the agreed-upon length of time. Certain cities and towns also charge zoning/permit fees for projects where dumpsters are in use.
How Dumpster Rentals Are Eco-Friendly
Dumpster rentals are more than convenient money-saving options for your project. Renting a dumpster is also an eco-friendly option for various reasons. 2021 requires people to be as careful as possible in all areas of life and removing large amounts of waste from private or commercial properties certainly qualifies as a priority. Are dumpster rentals really eco-friendly?
Dumpster rental companies do more than remove waste-filled dumpsters from a property. Waste products, scrap materials and debris are all separated into categories. Some categories remain as waste products, while others are deemed recyclable. Sometimes a dumpster rental company even provides separate dumpsters/bins for various types of materials to jump-start the recycling process before your waste is even hauled away.
Some dumpster rental companies are committed to the green approach and donate or recycle as much as seventy percent of all collected waste materials hauled away in their dumpsters. Recycled waste consumes fewer natural resources and also helps create new products without the need to manufacture brand new materials. What are some other ways dumpster rentals are eco-friendly?
Toxic emissions are prevented by eliminating the need for burning.
Spread of disease is reduced by proper disposal of waste.
Neighborhoods are kept cleaner/better looking due to containment of debris.
Water contamination is reduced by waste products not thrown on ground or blown into streams, ponds or drains.
Top Dumpster Rental Services 2021
When not available through your local waste management service you have to rent your dumpster though a reliable private service. Local and national dumpster rental services are all available. The best dumpster rental services offer high quality customer care, transparent pricing and customer-friendly rental agreements. A few of the most popular dumpster rental services around the U.S. are: