As a swiftly growing profession, nursing represents a rewarding job both professionally and personally. Depending on a nurse's level of education and experience, he or she may earn an income above $60,000, as well as serve as one of the most important healthcare professionals with whom a patient may interact.
At the very least, a working nurse must earn an associate's degree and complete licensure within the state he or she wishes to work as a nurse. However, most nurses attend school to earn their Bachelor of Science in Nursing (BSN) and complete licensure after graduation. An experienced nurse may seek a graduate degree to advance his or her career as a Nurse Midwife or Nurse Practitioner.
Earn a degree and begin working as a nurse by following these steps.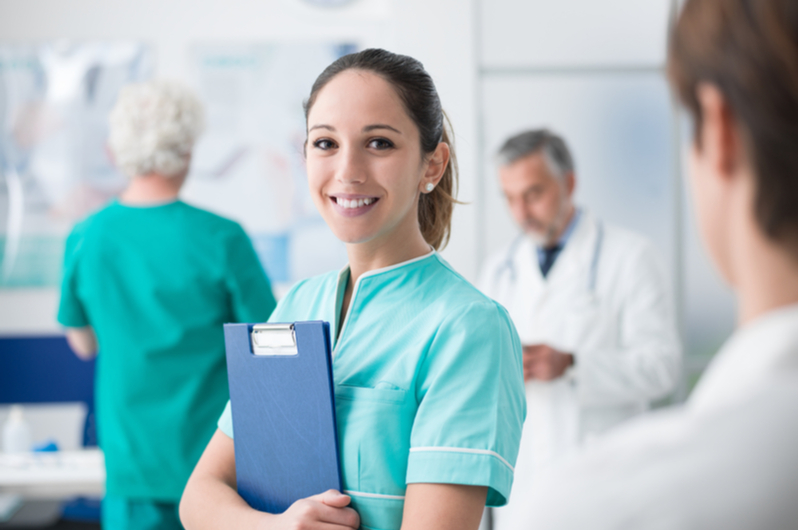 1. Earn a High School Diploma
Entering nursing school requires a high school diploma or General Equivalency Diploma (GED). All programs require a diploma whether they're housed at a community college, a traditional four-year university, or within an online program. Colleges that offer nursing degrees often seek candidates with at least three years of mathematics, three years of science, and excellent communication skills. Future nurses may wish to take extra science courses during high school.
High school graduates without significant coursework in science may wish to take classes in biology, chemistry, and anatomy at the local community college before entering or applying to a college program. Foreign language skills may increase the likelihood of acceptance to college.
2. Find a Nursing School
Future nurses may choose an Associate of Science Degree in Nursing (ASN/ADN) or a BSN as a path to licensure as a Registered Nurse. Students who have already earned a bachelor's degree may choose a program that offers a Master of Science in Nursing (MSN), or they may choose to earn a second bachelor's degree by entering a BSN program.
The armed forces in the United States also offer training in exchange for serving one's country for a period of four to six years. Some hospitals offer a diploma that takes around three years to complete and features coursework at a local college alongside experience in a hospital setting. It's essential to find a college or degree option that qualifies the graduate to take the National Council Licensure Examination (NCLEX-RN).
3. Get Financial Aid, Scholarships, or Grants
Most students require some type of financial aid, and the federal government offers student loans and grants for college. Hundreds of private entities across the country also offer scholarships and grants for attending college. While searching for a college that offers nursing degrees, it's helpful to communicate with the school's financial aid department to discuss what the school offers for loans, grants, and financial assistance.
4. Take the NCLEX Examination
Each state publishes its own requirements for nurse licensure, but all Registered Nurses must take the NCLEX, the official licensing exam. The main requirement for gaining authorization to sit for the exam is a degree from an accredited university. A student will want to arrange to take the test well in advance of when he or she wishes to complete licensure.
5. Work as a Nurse or Earn an Advanced Degree in Nursing
After successful licensure within the state a nurse wishes to practice, it's time to find a job and begin work as a nurse. After a few years of work experience, a working RN may wish to pursue an advanced nursing degree. Not all nurses will attend graduate school, but there are significant financial benefits to earning a graduate degree and choosing an advanced specialization.