For ages, people were more worried about how much they spent on a mattress rather than worrying about the quality of it. A mattress is something that everyone uses night after night, so investing a little more money into something that will provide not only comfort, but numerous health benefits is well worth the price. However, there are new companies that recently hit the mattress scene, who are not only providing high quality mattresses, but affordable pricing that competes with any of the existing companies in the market. Check out these companies and the best deals on their high quality mattresses.
Casper
Casper is one of the leading mattress companies today, priding themselves on the science behind sleeping, which they've spent many years researching to create some of the best mattresses available in the market for quality of sleep. They are also one of the leading mail-order mattresses offering; free, no-contact delivery, 100-night risk free trial and a 10-year limited warranty. Their mattress line consists of 3 models at various price points: Wave Hybrid, Nova Hybrid, Original
Wave Hybrid: This mattress comes in all sizes and is best for those with back pain and sleepers who tend to run hot. What's unique about this model is they use gel pods that offer more support than foam. While this is their more expensive model, it's still well worth the price for the health benefits it provides. Starting price: $1,271
Nova Hybrid: This is their plush model, providing extreme comfort for those sleepers who prefer a softer top without sacrificing support and cooling. While this mattress provides the plushness any sleeper craves, it also provides ergonomic support under shoulders, hips, waist and lower back. Starting price: $931
Original: This is their most popular mattress and the one they started out with, which put them on the map. Best for sleepers of all kind as well as best price point. If you are looking for a comfortable, supportive mattress at an affordable price, this is the one for you! Starting price: $506
Purple
Purple, another popular brand in the online mattress industry that has been making waves since inception. They too offer a similar variety of models and price points as Casper, making them one of their top competitors. Purple was started by 2 brothers, one with a background in advanced aerospace materials and the other in manufacturing and design, whom which developed a unique material called Hyper-Elastic Polymer. This material was very stretchy and molded in a shape that could "relax" under pressure points, redistributing the pressure to other areas. With this, they were able to break into the mattress industry and create a mattress that offered extreme comfort and support that could compete with the best out there. The 3 models they currently have are: The Purple Mattress, Purple Hybrid, Purple Hybrid Premier
The Purple Mattress: This is their most popular mattress and most affordable. Utilizing the Purple Grid that was developed from the Hyper-Elastic Polymer, this mattress offers support in all the right places. It eliminates pressure points and allows airflow so one can sleep cool and comfortable. Starting price: $599
Purple Hybrid: This is a step up from the standard model, offering an additional 2-inch top layer for even more comfort. In addition, it is hypoallergenic, non-toxic and durable. Starting price: $1,399
Purple Hybrid Premier: The 'Cadillac' of their lineup, this model offers the consumer to choose their level of comfort by selecting how thick they want the Purple Grid technology to be. They can choose between 3" of weightless support or 4" of zero gravity float. Starting price: $1,999
Layla
Layla, another leading brand in the online mattress industry offers the mattress that was voted most comfortable in 2020. Like other online mattress companies, they offer: free shipping, 120 Night Money Back Guarantee and a Lifetime Warranty. But what makes Layla unique compared to all of the other online mattress companies? They offer a different firmness level on either side of the bed, so it's like getting 2 beds in 1, as well as a price point that is hard to beat. Also, their Copper Gel infusion gives the mattress a cooler, cleaner and more supportive feel. They offer 2 types of mattresses: Memory Foam and Hybrid
Layla Memory Foam Mattress: This is their most popular mattress and the one voted most comfortable. The Copper foam technology is the secret weapon to the comfort level and their ability to stay cooler than most memory foam mattresses. Starting price: $499
Layla Hybrid Mattress: This mattress combines the Copper foam technology and springs, with the flippable firmness feature, providing one of the most unique mattresses in the industry today. It also offers an additional 3 inches of padding in the mattress for extra support and comfort. Starting price: $1,049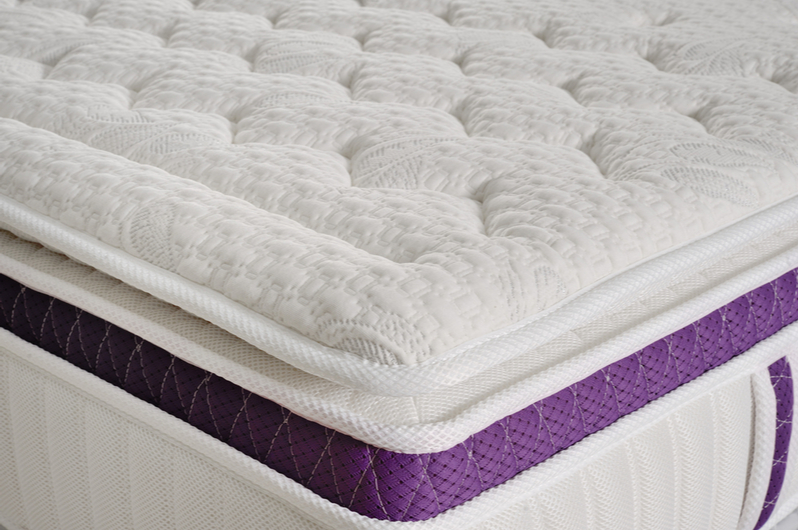 Health Benefits To Using A High Quality Mattress Best Suited For You
Reduce Stress: Sleeping on a mattress that properly supports your body reduces stress, agitation, irritation, and worry because you don't get a full night's sleep.
Help Allergies: Certain mattresses for allergies will reduce the presence of allergens in the bedroom, helping to provide relief from allergy symptoms and better quality sleep.
Reduces Back Pain: A proper mattress supports your body type and how you sleep. Some are ideal for side sleepers while others are better for people who sleep on their backs.
Manage Your Weight: This one sounds a little far-fetched, but it's a known fact that a restless night's sleep can trigger hunger cravings while a deep sleep can inspire healthy eating habits.
Less Pressure Point: A mattress that is too firm or too soft can cause unwanted pressure point aggravation, depending on how you sleep and what your desired pressure points are.
When it comes to finding the right mattress, don't always settle for the cheapest one. Make sure you're getting a high quality mattress, for an affordable price. Remember, it is an investment not only to the quality of sleep you get, but also to your health. For more information on the best mattress for you, check out the below.