There are many high-quality vacuum cleaners on the market in 2020. Knowing which one is best for you depends on your budget, house size, frequency of cleaning and more. It takes research to truly pick the best unit suitable for your overall household cleaning needs. Many people choose corded vacuum units because they are capable of running at full power for longer periods of time and can hold more dirt. They also tend to be bulkier and harder to store and can sometimes get in the way.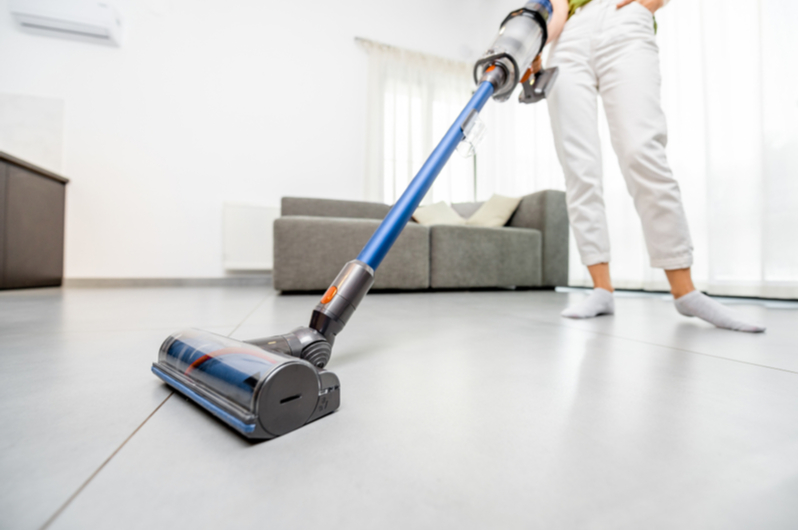 Buying a cordless vacuum cleaner does not necessarily mean having to sacrifice suction power. Advances in technology have allowed cordless vacuum cleaners to remain competitive with corded units. Cordless vacuums also tend to be lighter and more convenient to store and clean. Some homes, especially those without children, do not have as much traffic in and out and therefore generate less dirt. Other homes, especially smaller apartments and condos, do not have enough space to warrant larger, bulkier units. Finally, even in larger homes, cordless vacuum cleaners can be quick, efficient and convenient means of spot-cleaning smaller areas as opposed to lugging around a larger unit for less taxing tasks.
Cordless vacuum cleaners are a perfect fit for many household-cleaning situations. There are plenty of great units from which to choose and researching your options is the first step in making the right choice. Read on to learn tips about the best cordless vacuum cleaners available for you.
The Convenience of Cordless
Cordless vacuum cleaners run on batteries. They need to be fully charged to operate at their highest efficiency each cleaning session. Having a fully charged, second battery on hand is a great and convenient way to ensure longer, uninterrupted cleaning sessions at full power. Cordless vacuum cleaners are also generally lightweight and easy to store. For example, many are designed as stick cleaners, making them thin and easy to use for reaching delicate and higher locations. While some cordless vacuum cleaners are closer to full size, most are not. Most cordless units can fit into the corner of even small closets, under beds or discreetly behind doors.
Brand Names You Can Trust
Some brand names in vacuum cleaners have been on the market for multiple decades. Some have been around for a century or more. Others are newer to the market but still manufacturer high quality cordless machines. Here is a list of the top rated cordless vacuums today.
Hoover ONEPWR Blade MAX Cordless Stick Vacuum Kit
The Hoover vacuum company was founded in the early 1900's and is still a major market player in modern times. The Hoover ONEPWR Blade MAX cordless stick vacuum is the most powerful cordless vacuum manufactured by Hoover to-date. This powerful machine weighs only seven pounds but provides up to forty-five minutes of high-powered cleaning suction per fully charged battery. It is capable of handling multi-floor cleaning tasks, includes a soft roll for hard floors and an extra, specialized unit designed to suck up even the most stubborn pet hair. There are multiple cleaning tools included and an LED DustTracker™ headlight to help see dust and debris. This $299.00 (MSRP) unit is one of the best on the market for $300 or less. Hoover does offer lighter versions of this model for lower MSRPs as well.
Dirt Devil Power Swerve BD22050
The Dirt Devil Power Swerve BD22050 can be found on Amazon for under $100. This unit has strong suction capable of devouring pet hair, making it a handy and affordable vacuum to spot-clean high traffic areas and furniture. Its rotating brush has an on/off function to prevent it from damaging hard wood floors. The Power Swerve BD22050 functions well on carpet and adequately on hard/bare floors. This is a lightweight unit making it easy to carry around and store. It also includes a large dirt bin allowing you to clean more areas in one session.
Dyson V11
The Dyson V11 is a more expensive unit, and it backs its price tag with high quality features and functionality. This vacuum weighs less than seven pounds, includes cyclone suction power and a torque drive with fourteen concentric cyclones. Its nickel/cobalt/aluminum battery provides as much as one full hour of cleaning time per session due to a computerized motor and charging system. The Dyson V11 handles bare floors and carpet with equal perfection and includes a variety of useful tools and brushes. The battery charging docking station is wall-mountable. This means it can be charged and stored simultaneously while out of sight. There is a 2/10 of a gallon waste bin as well. Dirt and debris are disposed of without fuss or mess through a bottom dropout feature utilized by simply touching a button. The Dyson V11 can be purchased on Amazon for approximately $684.99, and as low as $599 on WalMart.com, depending on the actual seller.
Moosoo M X6
Moosoo is newer to the market than other better-known brands. The Moosoo M X6 cordless vacuum cleaner is still competitive for those on a budget. This is not the most pet-hair friendly machine, but is competitive and efficient for most other vacuuming needs. It is efficient sucking up finer debris from hardwood floors. It rates in the middle of many other machine comparisons when sucking up finer debris off low-pile and midpile carpets. It does especially well picking up mid to larger debris such as rice from all surfaces. The Moosoo M X6 is priced averaging at approximately $100 on eBay and can be found for various prices on Amazon.
Shark – Rocket IZ162H Pet Pro Cordless Pet Stick Vacuum
The Shark Rocket IZ162H Pet Pro cordless vacuum cleaner is currently listed at $249 through Best Buy and is competitive in suction power and features to the Dyson V11. The Rocket IZ162H is not as strong as the V11 on low-pile carpeting. In all other areas it holds its own, however. This Shark unit handles pet hair with ease and lifts dirt and dust off hardwood floors without scattering residual debris. It also includes an LED light on its nozzle to help see what you are cleaning, and has an easily emptied dust bin. The dustbin doesn't retain dust or dirt either after being emptied and the upholstery tool is capable of standing upright on its own without addition support or assistance. The Shark Rocket IZ162H Pet Pro cordless vacuum cleaner is a great midrange vacuum cleaner, capable of handling hefty tasks at a more affordable price tag.