Caring for your infant child or children is perhaps the most beautiful full-time job on the earth. It often also feels stressful, exhausting and frantic. Keeping an infant child safe, healthy and clean requires almost constant effort. Buying, changing, washing and replacing diapers are major, time-consuming and expensive parts of this effort. Fortunately, diaper delivery services are available to offer some well-deserved reprieve.
Choosing the best type of diaper for your children is parallel to also choosing the best type of diaper for the environment. The U.S. Environmental Protection Agency reported over three million tons of disposal diapers were sent to landfills in every year from 2015 to 2018.  These diapers are also liable to take 100+ years to decompose. Diaper delivery services often provide compostable, eco-friendly and reusable diapers. They help relieve some parenting pressures and responsibilities in the process. They also save valuable resources in comparison to the costs of purchasing disposable diapers. Read ahead for more important information about diaper delivery services, diaper materials and the types of delivery subscriptions available today.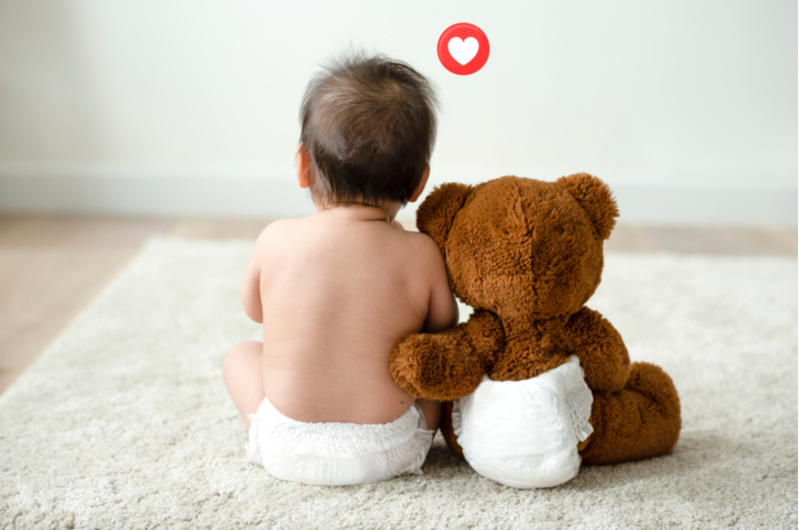 How Diaper Delivery Services Work
Diaper delivery services charge weekly, monthly or even annual/semi-annual fees. In exchange for these fees your dirty diapers are picked up on a regularly scheduled recurring basis. An airtight container is provided into which your dirty diapers are stored until each pickup date. While some delivery services use eco-friendly disposable diapers, most use cloth diapers. Cloth diaper services replace your dirty diapers with freshly laundered clean ones each scheduled pickup. Additional materials such as container liners, cloth wipes or diaper covers are also potentially provided pending company terms and policies.
Advantages of Diaper Delivery Services
There are several strong and clear advantages to subscribing to a diaper delivery service. Diaper delivery services are fantastic time savers for busy parents raising children, tending to their homes and also earning respective livings to support it all. Diaper delivery services also benefit stay-at-home parents by eliminating time spent shopping for and/or laundering diapers at home. The containers in which dirty diapers are stored are both lined and airtight. This reduces odor in your home. It also makes incoming/outgoing diaper switching sanitary and convenient.
Services using eco-friendly disposable diapers also handle the proper disposal of your dirty diapers, eliminating the need to throw soiled ones away yourself. The U.S. Board of Health sets regulations regarding diaper service laundering of cloth diapers. Washed diapers are treated with extremely hot water and dried with significantly hot air to achieve a level of sanitation not possible in most homes. This reduces the potential of your child suffering from rashes, allergies and infections.
The cost of diaper delivery services is often comparable to purchasing disposable diapers. It is often slightly more expensive than washing your own cloth diapers at home. What are the financial advantages to using a diaper delivery service? Most services use cloth diapers. Children wearing cloth diapers become potty-trained an average of one year faster than those wearing the disposable kind. This potentially equates to one entire year of savings. Households with two or more children in diapers save even more money because there is only one charge per delivery.
Resources are also highly conserved for multiple-children households when using diaper delivery services. Laundering diapers for two or more children requires a significant use of heat, water, electricity and your precious time. Allowing this to be handled by an outside service accumulates savings beyond dollar-for-dollar statistics.
One-Time Purchase vs. Diaper Delivery Subscriptions
Most diaper delivery services function in one of two ways. These two ways include recurring subscription-based deliveries and one-time purchases of diaper bundles. Delivery subscriptions use recurring payment plans and delivery dates. Rental agreements or contracts are signed. Payments are most commonly charged on a weekly or monthly basis. Some delivery services offer discounts for annual subscription purchases, although this type of plan is rare due to the indeterminate amount of time a child will remain in diapers, and how much each child grows.
IncrediBundles meets these service options in the middle with its six-month diaper subscription for $375. Considering store-bought disposable diapers for one child cost an average of $1,500 per year, the IncrediBundles subscription saves approximately $750 annually.
There are other options to make one-time purchases of diaper bundles. Some services offer specific one-time purchase bundle sizes. Others allow your bundles to be customized to your needs. Purchasing a bundle of diapers is an informative way to become acclimated to using a diaper delivery service without committing to a contract. It is also useful for other specific scenarios, such as vacationing. For example, purchasing a one-time diaper bundle makes it easier on the person babysitting your child while you are away. When vacationing with your infant child, using a diaper delivery service also reduces time spent tending to extra laundry.
Average Costs of Diaper Services
The cost of one-time bundle purchases and delivery subscriptions alike are both dependent on a variety of factors. These factors include diaper size and amount needed per week. They also include the material of the diapers and any additional features added to the service. Different companies also charge different prices, all of which potentially vary based on the market region in which you live. An average of $20 to $30 per week for subscription services is common. Discounts are often applied to longer-term commitments and bulk bundle purchases. One-time purchase prices are generally consistent with subscription prices, albeit paid in one lump sum. Discounts are sometimes applied when purchasing larger bundles sizes as well.
Popular Diaper Delivery Subscription Services
Choosing the best type of diaper for your child or children is an important decision. Choosing a reliable and trustworthy diaper delivery subscription service is equally important. Some of the most popular and reliable diaper delivery subscription services in business today include:
Cloth and Adult Diapers
Cloth diapers are made of more comfortable materials than disposable diapers. They also fit your baby better. Cloth diapers do use up resources pursuant to laundering and sanitization, but do not sit in landfills for a century emitting toxic fumes. Using cloth diapers saves money over time by reducing the amount of time your baby spends in diapers before becoming potty trained. This is largely because cloth diapers are less absorbent, prompting a child to be more prominently aware of when his or her diaper is soiled.
There are also adult diaper delivery services available. These services are crucial for adults in home hospice situations or simply unable to tend to their bathroom needs when left alone at an elderly age. Adult diapers are available as pull-ups or with tabs. Pull-up diapers have less bulk and feel more like normal underwear. Diapers with tabs are easier to put on and are better at preventing leaks. Adult diapers cost from under $1 to approximately $1.50 per diaper. Two reliable nationwide services delivering adult diapers are Tena and QuickChange.