Whether you are moving to a new home or upgrading your workspace to a bigger building, moving is a difficult, time-consuming process. Part of what makes moving such a challenge is figuring out what you want to do with your existing items. If you are moving into a new home, you likely have a large amount of clutter that is not worth packing up. This is especially true if you are moving across a long distance, where it is too costly to consider shipping all of your current items. With businesses, many companies choose to upgrade their equipment after a move, meaning moving your old equipment will end up wasting space.
In most cases, you cannot leave your junk for the new owner to deal with. It is your responsibility to clean up after yourself. However, there are junk removal companies you can hire, for both personal and business use, to haul away your own items. For personal and smaller businesses, there are also options to sell some of your items.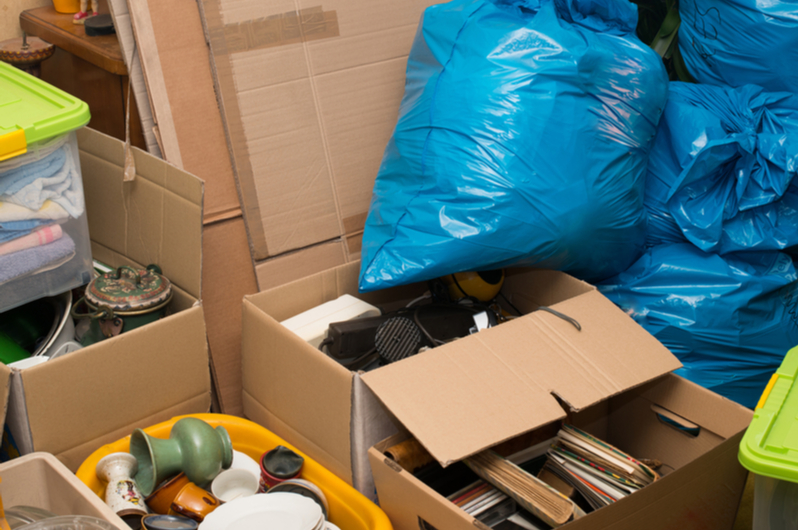 How Junk Removal Works
Junk removal is a fairly straightforward process. When you schedule an appointment with a company, the junk removal crew arrives with all the necessary equipment. At a minimum, this includes a truck, but for larger projects may also include a dumpster. Some companies will ask you to be present to ensure only the items you want removed are taken. Other companies allow you to create a list or designate a section of your home or business where all the removed items go.
The types of items a junk removal service gets rid of may vary depending on the company. For example, some companies specialize in moving bulk items for businesses, while others clear out bulky debris after construction projects. Some of the most common items that get removed include old furniture, equipment or bulky electrical appliances. The only items junk removal services are legally unable to move are anything that is classified as hazardous, which requires specialized equipment to get rid of.
Junk removal services greatly vary depending on where you are located, how long the company has to remove the junk and the type of junk you are removing. Junk removal companies frequently have a minimum service charge, anywhere between $70 to $100. Many companies will charge an hourly rate, but some also charge based on how much of their truck or dumpster you fill up. The average cost to remove all the junk from a home or small business is around $1,000 to $1,500 as of writing.
Removing or Selling Junk
Despite being called junk, many older items still have value. Whenever possible, selling your junk instead of paying for it to be removed is ideal, since you are able to get rid of the items while making a profit. Selling your junk is not always the practical move. Selling is normally a lengthy process, even if you are only selling a few items. If you know in advance you are moving, you can dedicate a few weeks to listing your junk and speaking with potential buyers. As your moving date approaches, you need to set a realistic deadline to hire a junk removal company to clear out whatever has not sold.
Selling your junk is much easier if you are moving from your home. Some small businesses may benefit from selling their existing equipment, but it is typically harder to find a buyer. Other businesses are more likely to buy new equipment. There are some services that will buy used equipment in bulk to sell as refurbished items, but you are typically responsible for bringing all the items to the buyer.
Two popular websites to sell your junk are Craigslist and Bonanza. While there are other options, both of these sites cater to local pickup, which saves you the hassle of having to ship all your items.
The Junkluggers
Junkluggers are not only one of the top removal services, but they are also dedicated to preserving the environment. Instead of hauling all your junk to a dump or landfill, the company goes through your junk and upcycles, recycles and donates as many items as possible. The company is affiliated with many local charities, so not only are you getting rid of your clutter, but you are helping your community.
Junkluggers also remove all types of junks for both homes and businesses. This even includes yard debris or other items leftover from construction projects. They even have specialized services for hoarder cleanout and assisting with downsizing. They have additional services for businesses, such as removing obsolete equipment and properly securing sensitive documents and paperwork.
While Junkluggers is considered a top-of-the-line service, they have limited availability in some states. If you are interested in their services, you can go online to see if there is a branch near you and schedule an appointment. The website also allows you to get a free estimate for their removal services.
LoadUp
LoadUp is another highly recommended junk removal service. It is one of the largest companies, with coverage in 49 states, with a heavy emphasis on major cities. LoadUp is considered a highly affordable option for homes and businesses. You can request a quote beforehand and even text images of what you want removed to get a more accurate quote. In addition to removing junk, the company offers limited dumpster rental if you want to save money by tossing your own junk. Dumpster rentals are available for longer periods, so you are not forced to rush to complete a removal. Commercial clients can even request reoccurring or longer-term dumpster rentals.
Junk King
Junk King not only handles traditional junk removal for homes and businesses, but it offers services for dumpster rentals and specialized removal, like foreclosure cleanouts or construction cleanup. Like The Junkluggers, Junk King sorts all of the removed items to see what can be donated or recycled. What sets the service apart from other junk removal companies is their superior customer service. Junk King is consistently reviewed for going above and beyond, meeting with clients in person to provide free quotes and being upfront with all their fees. They also contact you before arriving on site and do not require you to be present for the removal process.