Choosing a bank account for the first time without doing research is a mistake. Read tips about choosing the best bank account.
Everyone needs a checking account to pay day-to-day financial responsibilities. As a result, your bank account must have features that complements your budget, habits and interests. This usually means finding an account with a healthy mixture of low costs, low minimums and local ATMs. You might want to consider interest earnings as well since cumulative money also matters. Bear in mind all of these attributes while looking for a checking account. If you know you need a checking account but are not sure where to start, read on for some of the best tips for getting started.
What is a Checking Account?
A bank or credit union provides a checking account to customers so they can pay bills and make purchases via paper checks, debit card or online. Since the number of days that you can access the money in the account is not limited, people often use it for everyday expenditures such as buying food, paying for parking, or buying fuel or groceries. Unlike savings or money market accounts, most checking accounts are meant to pay for bills and do not give returns on the balance. If by chance you have a significant balance, like a minimum of $10,000, this type of account typically gives you interest earnings which is also something you must consider.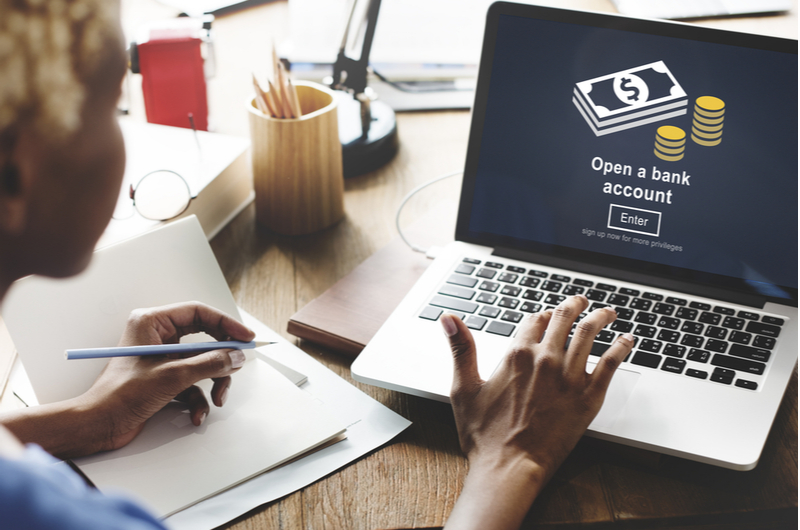 How Does a Bank Account Work?
Since the number of times you can access the money in a checking account is not limited, customers can use the account not only to pay bills and daily expenses, but also to withdraw cash through an ATM or bank teller. Once or twice a month, you may choose to have your paycheck deposited electronically into your bank account. You may also be able to set up automatic withdrawals from your account for recurring payments such as rent, mortgage, and loans.
Many people have a checking and savings account at the same bank, making it easy for them to transfer cash between the two accounts. To earn interest or to save for an emergency, money that is leftover could be placed directly into your savings account. Many banks have online features that allow you to schedule direct transfers from your checking to your savings automatically each paycheck, so you do not have to even think about it.
How Can You Pick a Good Bank Account?
Fees may be the most critical aspect to consider when choosing a good bank to set up an account. A monthly maintenance fee is generally charged by some banks. In many cases, you only pay monthly maintenance if the account falls below the minimum balance or if it does not have a regular direct deposit linked to it. While some banks charge a few dollars a month in nominal fees, others can charge more than $15. Many banks, particularly online banks, have embraced a strategy of not charging fees. But you should also pick a bank that has a wide network of ATMs near your house. This way you do not have to pay fees to make withdrawals.
An overdraft fee is another popular fee to watch out for. If you do not check your checking account often, you may end up spending a lot more money than you initially had. Each time it happens, you could easily get charged with a $35 fee.
Furthermore, look for banks that pay interests for higher deposits if you are interested in collecting interest. However, do not go for a bank with a very small interest rate of 0.01%. It could be better to create a non-interest-bearing checking account but with no costs.
How to Open a Bank Account?
If it is a personal or a shared account, there are several options to consider when opening a checking account. One option is to go to the nearest branch of a bank, but that will require some time. Make sure to bring with your ID documents like a driver's license. Any banks may want evidence of your address, so carry along your cable, telephone or mobile-phone company's latest bill.
Opening an account online is another common way of starting. If the bank has physical buildings or is an online-only bank, you can choose this choice. Get your personal details available, such as your Social Security card, residential street address and birthdate, before you begin this process.
Top 5 Bank Accounts to Open
Here you have the best 5 bank accounts at the moment:
Annual % Yield: up to 1.25%
Minimum deposit: $50
Monthly fee: No
Axos has various ways to get interest rates, for example you can receive 0.42% annual yield for earning $1,000 or more in direct deposits each month or by carrying out a minimum of $3 in every transaction to at least 10 debit card per month. It pays daily interest on a monthly basis.
Annual % Yield: 2.09% to 4.09%
Minimum deposit: $5
Monthly fee: No
In order to get annual interests, you need to make at least 12 debit card transactions, and have direct deposits in the account. Dividends are paid annually. There are more complex ways to earn higher dividends, but unless you want to make a profit out of it, you should simply focus on safeguarding your money.
Annual % Yield: Up to 1.75%
Minimum deposit: No
Monthly fee: No
In order to be eligible for interests, you need to make at least 15 debit card payments each month and you need to also carry out monthly transactions of at least $400. These dividends are credited monthly.
Annual % Yield: 0.40%
Minimum deposit: No
Monthly fee: No
In this bank, you get access to more than 34,000 ATMs, but you can also get access to your account using nbkc's software. As a gift, this bank will not charge any fee to your first 25 checks. There are no overdraft fees or monthly maintenance fees. Furthermore, it is free to do domestic wire transfers.
Annual % Yield: 1.09%
Minimum deposit: $100
Monthly fee: No
It compounds interest every month. In order to earn an interest rate, customers must have at least one direct deposit, make 10 debit payments and keep the balance of the account below $25,000. It charges a $33 overdraft fee.