The healthcare field is growing faster than most and demand for qualified healthcare professionals has risen in preparation. According to the Bureau of Labor Statistics, jobs in the healthcare field are projected to grow 18% through 2026. To get training ahead of your competition, consider studying for a healthcare degree online.
From certificate programs to 4-year and advanced degrees, online healthcare programs provide the convenience of studying on your schedule from anywhere with an internet connection. That means if you're working, managing a family, or traveling, you won't miss an assignment or test. Plus, online degree programs typically offer valuable tools, like electronic textbooks, digital tutoring, and virtual library or journal databases designed to help you succeed. And given the times we're currently in, online degrees have become wildly popular and the best way to further your education and acquire the career you desire.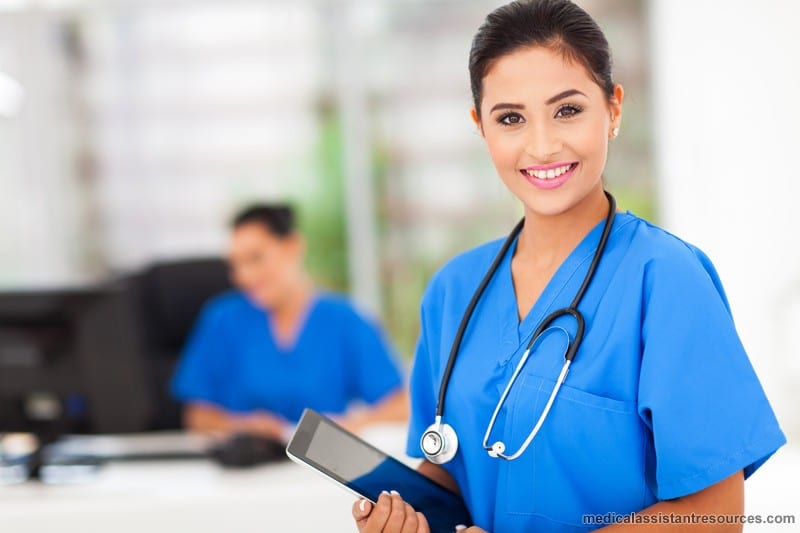 There are many types of healthcare degrees available in today's world, how do you decide a specific area of focus? Here are some of the most common healthcare positions…
Medical Assistant
Medical Billing
Nursing Assistant
Home Health Aide
Physician
Therapist
Registered Nurse (RN)
Licensed Practical Nurse (LPN)
Pharmacy Technician
Dental Assistant
What Is A Medical Assistant?
A medical assistant is an individual who works alongside a physician, that carries out procedures typically for outpatient care either in an office or hospital. Medical Assistants are responsible for many things, but their primary role is to handle the administrative and clinical tasks within the physician's office or in a hospital setting. Other duties may include:
– Administering medications
– Obtaining test results from labs
– Monitoring of patient life support equipment
– Assisting with minor diagnostic procedures
– Record the patients' vitals
– Many more
Education for Medical Assistants
Most medical assistant programs are offered at vocational schools, community colleges, technical colleges and online programs. Once the program is completed, they are required to have a certification, usually from the American Association of Medical Assistants or American Medical Technologists. There are two main types of certifications: Certified Medical Assistant (CMA) and Registered Medical Assistant (RMA). The schooling and certification typically take around 1-2 years, depending on the program.
What Is A Medical Biller?
A medical biller or coder is responsible for processing health insurance claims for hospitals, doctors' offices and other healthcare facilities. Typically, they work in the office at a desk on a computer or even work remotely. The ideal traits of a good medical biller is their organizational skills and attention to detail, to ensure all claims are handled properly and accurately.
Main responsibilities of a medical biller:
– Use a special coding system to enter procedure codes
– Enter correct codes into patients' electronic health records
– Review claims and coding for accuracy
– Enter insurance claims into billing program
– Track payments to make sure received on time
Education for Medical Billing
To become a medical billing specialist, there are a variety of programs offered to achieve this, just depends on the level of education you want to receive. To become certified as a medical biller, there are programs that can be completed within a year. Other programs may include a 2 year Associate's degree or a 4 year Bachelor's degree. Most positions available only require a certification, but others may require a 2 or 4 year degree. Do your homework and research what kind of jobs you could get with either just a certification or a degree.
Online Healthcare Degree Programs: What to Look For
Trying to find an online school to obtain a degree in healthcare, whatever focus you may desire can be overwhelming, as you do not have to worry about location. Online degree programs allow anyone to attend no matter their location. So here are a few things to consider when vetting online schools…
Accreditation
An important factor to consider, accreditation requires schools to meet specific scholastic criteria before becoming approved. Review the U.S. Department of Education's Accreditation Database to ensure each school you evaluate is accredited. When it comes to transferring programs, applying for advanced degrees, and even applying for jobs, accreditation matters.
Financial Aid
In general, online healthcare degrees are no more costly than traditional programs once you factor in housing, food, commuting, and disruptions in work or life. To ease the financial burden of any degree program, apply for financial aid by completing a FAFSA. Qualifications for federal financial aid to pay for online degree programs require the school to be accredited.
Post-Graduate Placement
Competition in the healthcare job market increases every year, so attending a degree program that offers placement assistance is a valuable advantage. Discuss post-graduate placement options with your recruiter or admissions counselor. Determine which companies, facilities, or organizations have a good relationship with your degree program before making your decision.
Short and Long-Term Plans
Are you planning to move, get married, or start a family in the next 5-7 years? Your short and long-term plans should be a factor to consider when researching degree programs. Consider an online healthcare degree offered by a local college if you're not planning to move. If you're unsure what the future holds, an online degree program from a nationally recognized school may offer more flexibility.
The Future of Learning is Online
Virtual healthcare is growing as a sector of the medical field with healthcare companies offering virtual doctor visits and counseling, but there will always be a need for individuals trained to provide direct patient care. Whether you want to work in a hospital, rehab, nursing home, school, or the community, a career in healthcare can make your dream a reality.