Maternity clothing is a must have for the pregnant woman. In the early weeks and months of pregnancy, your body may not change much, but once it does, your usual clothing will no longer fit comfortably. But simply buying larger sizes of clothing won't do the trick. You'll end up flopping around in clothes that are too big, even if they do fit more comfortably around your pregnant belly. Maternity clothing is specifically designed to be both comfortable, well-fitting and stylish for pregnant women.
The great news is it's easy to find maternity clothing that fits. All you need to do is buy the same size you wore pre-pregnancy, just in maternity wear. If you were a small before pregnancy, buy small in maternity. A size 8 pre-pregnancy is a size 8 in maternity. Even jeans are sized the same. The only difference is that the maternity clothing has extra fabric, stretchy belly panels or empire waist ties to help flatter and fit your growing tummy.
When shopping for maternity necessities, if your belly is still relatively flat, most maternity stores have strap-on fake bellies that you can borrow to get a better idea of how the clothing will look when you get into the later months of pregnancy.
Which necessities should you shop for?
1. Jeans
They come in a variety of colors, styles and washes, just like regular jeans. Most don't have the button or snap fly and zipper. Instead, they have the addition of a stretchy belly panel that covers your bump, while keeping the jeans in place.
These are great for everyday wear, because they go with anything. Wear them casually with t-shirts and tunics, or dress them up with a long-sleeve button-down shirt and nice shoes. When you wear them, you automatically look more pulled together.
Any clothing store that sells maternity clothing will sell maternity jeans. From bootcut to flared leg to skinny, your favorite style and wash is available even in maternity. You'll want to try on a variety, to find the belly panel that is most flattering and fits the best for you. Once you find what you like, you'll want to buy at least two or three pairs, to ensure that you have plenty without doing laundry daily. You might want to try styles and washes you don't usually like, to find something that works well with most of your maternity tops. Stick with subtle washes and detailing, and consider that a straight, skinny or slim leg is flattering universally.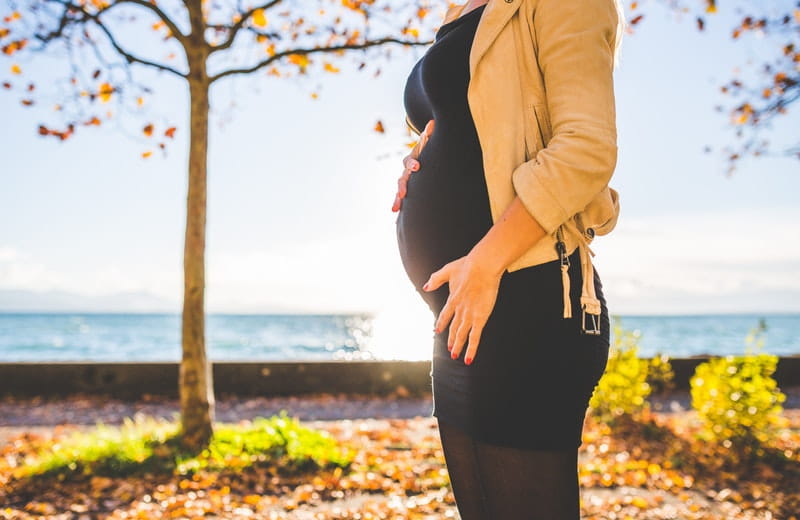 2. T-shirts
T-shirts will be a go-to top for you during your pregnancy. Comfortable, versatile and available in tons of colors and in long sleeve, short sleeve, scoop neck, V-neck and more, there's no end of available options. Different pant styles will dress them up or down, and they'll be the best option on days when you'll be doing things like cleaning, running errands or visiting the doctor.
Look for shirts that have more material in the front than the back, and that are slightly longer in the front than the back. This will allow for an even hemline all around and a comfortable look as your belly grows.
3. Tank tops
Tank tops are another versatile top to have during pregnancy, particularly if part of your pregnancy will take place during the summer in a hot climate. Tank tops keep you cool while also looking stylish and fresh.
Like t-shirts, you'll want to look for tank tops that have more material in the front than the back, and a slightly longer hem in the front than the back for a straight hemline and comfy fit. You can wear tank tops alone when it's warm, or layer them under thin t-shirts that might be see-through, or under button-down shirts, cardigans, or other tops during cooler weather.
4. Flat shoes
Pregnancy changes more than the size of your tummy. Feet sometimes change size as well, and feet and ankles are subjected to extra pressure from the added weight of pregnancy. There aren't any true maternity shoes, though some will be billed as such. The main thing to look for when looking for shoes in pregnancy is comfort.
Flat shoes will be the most comfortable during pregnancy, keeping your feet level and avoiding strain on your back. You can find flat shoes in a variety of styles, including dressier options that are suitable for work or formal events. You may need to go up a size or two, or switch to a wider width shoe to accommodate your swollen or achy feet.
5. Dress
You'll want at least one dress during your pregnancy. Whether it's a casual one for everyday wear, a semi-formal for your baby shower or a dinner out with your husband, or a formal gown for an elegant event, there are plenty of maternity options available.
Dresses are often one of the most comfortable and longest lasting clothing items in your maternity wardrobe. They typically fit and flatter your body well from the early stages through the end of your pregnancy without a lot of changes. A carefully chosen dress can take you from work to grocery shopping to dinner out, saving you time and energy.
6. Tunic tops
Tunic tops are longer than most shirts, often coming to just below the hips or even to mid-thigh. They go great with leggings and work pants. You can find them in form-fitting styles that hug your belly and show it off proudly, or more flowing styles that tend to drape the tummy area and hide it a bit.
As with other shirt styles, you'll want to make sure there's more material in the front and a slightly longer hem in front to ensure an even hemline all around when you wear it. They come in short sleeve or long sleeve styles.
7. Leggings
Leggings are comfortable, forgiving, and easy to wear while pregnant. They come in various materials, most often cotton and spandex, and colors. They can be casual or dressier depending on the top you choose to pair them with. They're easy to pull on and take off, which is great for those days when you're feeling exhausted. They're also usually more comfortable if you're having joint pain, and make bathroom trips much faster and easier when you reach that point where you feel like you're living in the bathroom.
Available in multiple colors, they're great for showing off some of your own style, but you can also get them in basic black to go with anything.
8. Cardigan
Cardigans come in every style, from button down to open front to cascade style, ensuring that you can find the perfect style for you. They also come in various fabrics, so that you can have multiple cardigans for every temperature possibility. You'll often find that you feel hotter or colder than others around you during your pregnancy, so having a few cardigans that you can slip on or off as needed will make life much easier for you and everyone around you.
Getting several in a variety of colors can also help ensure that they go with everything in your maternity wardrobe.
9. Button-down shirt
Button-down shirts are perfect for work or casual wear. They can be worn over other tops as layering for staying comfortable, as well as worn alone as a suitable top for work or a nice dinner out. Try layering a button-down tunic with cropped trousers for a great outfit that can go from the workplace to date night with your spouse.
You'll want to try on several and ensure that the buttons close comfortably with no gapping over your belly and your breasts. Using a strap-on belly is particularly helpful when trying on these shirts early in pregnancy for a good fit.
10. Work pants
Work pants are another necessity during pregnancy. Like the other styles of pants discussed, they typically are no different than the usual work pants you'd wear any other time. They just have more material and a stretchy panel to fit your growing tummy. Many of the same big brands that make regular work clothes also offer a maternity line, so regardless of the style required for your work, you should be able to find the pants you need.
Depending on your workplace, leggings under a button-down shirt or tunic top may also work.