Benefits of truck driving jobs include freedom, flexibility & many more. Read to learn about the benefits of truck driving jobs available for you today.
Some jobs confine you to a cubicle, small office space or building with a restrictive feeling environment. Are you looking for a job with consistent paychecks and changeable locations? Do you enjoy and work well in frequently unsupervised situations? Perhaps a job driving truck is right for you.
Benefits of truck driving jobs extend far beyond flexibility and freedom. Multiple types of truck driving jobs are available, creating a wide variety of unique employment opportunities. What qualifications are needed to get a truck driving job in 2021? What types of responsibilities and job descriptions do various truck driving jobs entail? Read ahead to learn about the many benefits of truck driving jobs available for you today.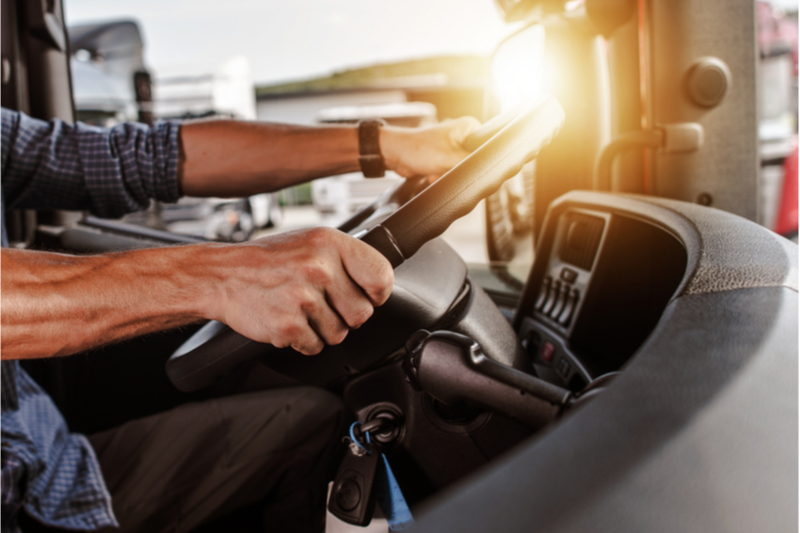 How COVID-19 in 2020 Changed the Truck Driver Job Market Today
Job markets and unemployment rates changed drastically for nearly every industry in operation during the 2020 portion of the COVID-19 pandemic. The freight & transportation industry, which includes truck driving took a significantly hard hit when manufacturing plants, factories and warehouses were forced to close for safety reasons. Truck driving is reliant upon having products to deliver. Product shortages reached severe and unprecedented levels for modern times at various stages during 2020. Without products to deliver many freight & transportation companies were forced to furlough or outright fire a large percentage of long-time truck drivers.
For those who choose to look for silver linings, good news does exist for people looking to drive truck for a living in 2021. Many former drivers chose to not return to the field, which left positions open nationwide. Because freight companies need to increase bottom lines, it is imperative for them to attract the strongest employee candidates as possible. Wages/salaries for truck drivers are therefore increasing, at least to some degree, with the intention of drawing more drivers back to the open roads.
What Does Driving a Truck Entail?
The essential function of a truck driver is to transport products and goods from an origin to a destination. An origin or destination stop can be first or last on a delivery route respectively or part of a longer transport path. Some truck drivers only drive the vehicles, while others also load/unload trucks and even deliver directly to consumers. Most truck drivers are employed (or contracted) by companies with proprietary delivery and supply chain operations. Some are solely private contractors, however, taking driving/delivery work where and when it becomes available.
In addition to transporting goods and loading/unloading trucks, drivers are also responsible for the safe and on-time arrival of undamaged items. Drivers delivering for furniture and/or appliance stores often help consumers install the delivered items. Truck driving entails additional tasks & responsibilities such as:
Traveling long distances (including through states & cross-country).
Maintaining a clean driving record & obeying traffic laws in each applicable state.
Regular vehicle maintenance & pre-operation inspections each shift/trip.
Safely securing all transported cargo.
Dispatch-related coordination/communication.
Recording/logging work, hours & mileage data.
Complying with all applicable state/federal regulations.
Benefits of This Vocation
Each vocation has multiple benefits and truck driving is no exception. Atop the list of benefits for the truck driving vocation is the currently large number of job positions from which to choose. The partial void in operational truck drivers left by COVID-19 has yet to be filled. If you are choosing a career as a truck driver you are already also choosing to travel. Truck driving positions are open all around the country, which allows you to potentially choose to work for the company best matching your needs.
Trucking volumes are projected to grow cumulatively by over three percent each year through 2026. BY 2029 trucking volumes are expected to expand by a total of thirty-five percent. Another benefit of truck driving is continued job availability/security through 2029.
Driving truck provides many paid benefits uncommon to most jobs. For example, when you load/unload trucks you get paid to exercise, maintain strength and stay in shape. You also get paid to travel and see parts of the U.S. you otherwise might not have the chance to see. Driving truck also affords you the flexibility and freedom to operate largely unsupervised.
This job does require some training and proof you understand the laws of the road (both state and federal). Attending special school for truck driving costs money, but tuition is often reimbursed by your first employer. Modern trucks are exciting to drive and full of high-end advanced technology. Finally, your driving skills improve drastically when you learn to drive truck. This helps you in all other areas of life involving travel and transportation.
Different Types of Truck Driving Jobs
Choosing a career driving trucks offers diversity due to the many different types of truck driving jobs available today. Most people in the U.S. are aware of the tractor-trailer rigs, which consist of a truck & tractor connected to a semi-trailer or full trailer. The ability to operate a tractor-trailer does not automatically mean you can drive other types of large trucks, however. For example, driving a flatbed truck requires additional training and education. Tanker trucks carry liquids, some of which are flammable and highly dangerous. Driving a tanker also requires specialized training.
Multiple other types of trucks and truck driving jobs exist. Dry van trucks carry non-perishable/dry goods and are usually operated by newer truck drivers. Freight haulers carry items not hauled by dry van truckers including more dangerous items. Jobs driving refrigerated freight, local, regional, OTR and LTL freight trucks are also available across the nation today.
Qualifications Needed to Get a Trucking Job
Truck drivers are required to have a high school diploma (or equivalency degree), a valid driver's license and a commercial and/or Class A CDL driver's license. A clean driving record is also required along with the ability to pass random drug & alcohol screenings. Additional qualification requirements include:
Valid Transportation Worker Identification Credential (TWIC) card.
Copy of current Motor Vehicles Report (MVR).
Valid medical certificate.
Additional training/education as applicable.