Buying the best flat-screen TV for your situation is a big decision. There are seemingly endless models available and research is required to find the right specifications matching budget with needs. Some TVs fill up almost entire walls of space while others are sized for more modest use. How and where your flat-screen is used also factors heavily into the important decision making process.
Nearly every consumer in the market for a new flat-screen TV would opt to purchase the best model available if money were not an object. Some less-expensive models do offer high quality features for their respective prices, which means good deals are available. Pricing for new flat-screen TVs are most indicative of overall quality and features, however. Read ahead for detailed information about the best flat-screen TVs money can buy.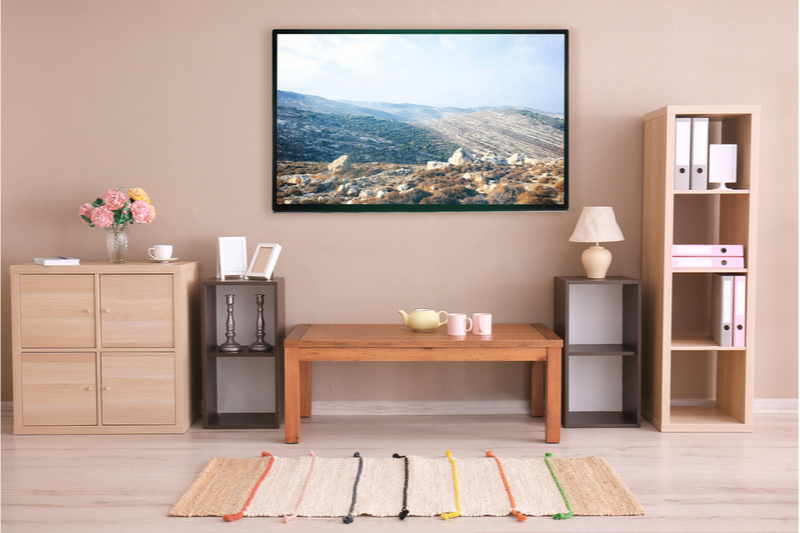 Features to Look for in the Best Flat-Screen TVs
Prices on new flat-screen TVs seem less affected by size than they do SmartTV features and picture type/quality. This means purchasing a larger TV is more affordable than before, which is great for shoppers purchasing a new unit for the family rec room, finished basement or home theatre entertainment system.
4K (4,000p) is the standard for picture quality and resolution on flat-screen TVs today. 4K TVs include 3840 x 2160 pixels, which is an entire universe of picture quality above the previously standard 1080p models. Do not be confused by the use of 4KUHD, UHD, or Ultra HD on the box because all three are simply different manufacturer ways to describe 4k. Refresh rates range equate to improved picture quality and range from 60 Hz to 240 Hz. 60 Hz was the previous standard and 120Hz is the most current, common and desirable, even if 120 Hz is slightly more expensive. 240 Hz is still next-gen technology and not yet usable on TVs today.
Modern TVs have screens lit by back-lit or edge-lit LEDs. Edge-lit screens are thinner but reproduce dark scenes with less efficiency. TVs can also be LCD or OLED (organic light emitting diode). The advantage of an OLED TV is its ability to compensate lighting for each pixel as opposed to the entire screen at once. This creates a noticeably better picture, which is reflected in the increased price points of OLED TVs.
LG CX OLED
The LG CX OLED is the most popular 4K TV of 2020. Screens come in four sizes, including 48, 55, 65 and 77 inches. The refresh rate is 120 Hz for a stunningly high quality viewing experience. There are also two new picture modes, including Filmmaker and Dolby Vision IQ modes. Filmmaker mode is designed to replicate an actual movie theater experience. Dolby Vision IQ mode adjusts the contrast and color settings of the picture according to how the TV perceives the lighting in the room.
One reason the CX OLED is the most popular 4k TV of 2020 is because it is also the best overall option based on its features, quality and price points. Prices range from $1,499 through $4,999 based on size, but new and varied discounts might currently apply. Retailers selling the LG CX OLED include Amazon and Best Buy.
TCL 6 Series
The TCL 6 Series Roku TV (R635) offers the best overall value in a flat-screen in 2020. Three QLED screen sizes range from 55, 65 to 75 inches. The 6 Series refresh rate is 120 Hz and the QLED screen also includes mini-LED backlighting which improves both brightness and color. The performance is so good it nearly compares to an OLED display. This TV also hosts four HDMI and once USB ports.
The TCL 6 Series is an impressive gaming TV due to its THX Certified Game Mode. There are four HDMI ports and one USB port on board. Prices range from $649 to $1,399 based on size and features. The TCL 6 Series is available through popular retailers such as Amazon, WalMart and Best Buy.
Sony XBR-X900H Series
The Sony XBR-X900H Series combines an excellent quality picture with an equally excellent quality gaming experience. This model is considered mid-price for Sony TVs, but delivers above mid-range quality, making a TV from the XBR-X900H Series a great purchase for various purposes. LED screen sizes include 55, 65, 75 and 85 inches and refresh rate on all sizes is 120 Hz.
Two of the best features of the XBR-X900H Series include a superb contrast ration and variety of dimming features. These help make this flat-screen TV look excellent in both dark and bright rooms alike. Prices range from just above $500 to just under $1,500 on Amazon and also include 10-bit HDR, four HDMI ports and three USB ports.
Samsung Q950TS QLED TV (8k)
The Samsung Q950TS QLED TV 8k is in a class of its own on this list. This 85" 8k giant boasts a proprietary near-invisible frame, making its viewing experience even more exceptional. The QLED display offers image processing enhanced by AI, significantly wide-angle viewing and an exceptional black filter feature. This massive flat-screen TV also offers proprietary Samsung smartTV functionality more comprehensive than most other TVs on the market today.
Priced around $9,999, the Q950TS is for serious TV viewers and/or major home theater uses. BHPHOTO and Amazon both sell the unit for a few dollars cheaper. Additional features include built-in Alexa and object tracking sound. Multiple connection types include wireless, Bluetooth, USB, Ethernet and HDMI.
Toshiba 4k Fire TV Edition
The Toshiba 4k Fire TV Edition has three available screen sizes. The 43, 50 and 55-inch models are priced at approximately $229, $329 and $379 respectively. This is a light TV weighing just around twenty-three pounds and its focus is more on the inclusion of Amazon Fire TV smartTV accessibility, which includes Alexa.
The LCD screen has a refresh rate of 60 Hz, making its display quality not as competitive as higher priced OLED models. It does include three HDMI ports, one USB port and performs well enough to satisfy casual viewers and suit guest bedroom uses. Overall the Toshiba 4k Fire TV Edition makes an affordable gift or secondary TV and is available at many popular retailers including Target, Best Buy, Walmart and Amazon.