If you have a little time and some creativity you can create outstanding baby gift baskets for a fraction of the cost of purchasing one. While you certainly will not be able to offer the mom-to-be nights of uninterrupted sleep or on-call nannies, you can give her a basket full of gifts that both she and baby will truly enjoy and appreciate. Rather purchase a baby gift basket?  Purchasing a base price gift basket and then adding your own special touches is another way to create a one-of-a-kind gift. Keep in mind that the best gift baskets are useful, thoughtful and cute. The following best practices, tips and ideas can help you to create a truly amazing baby gift basket.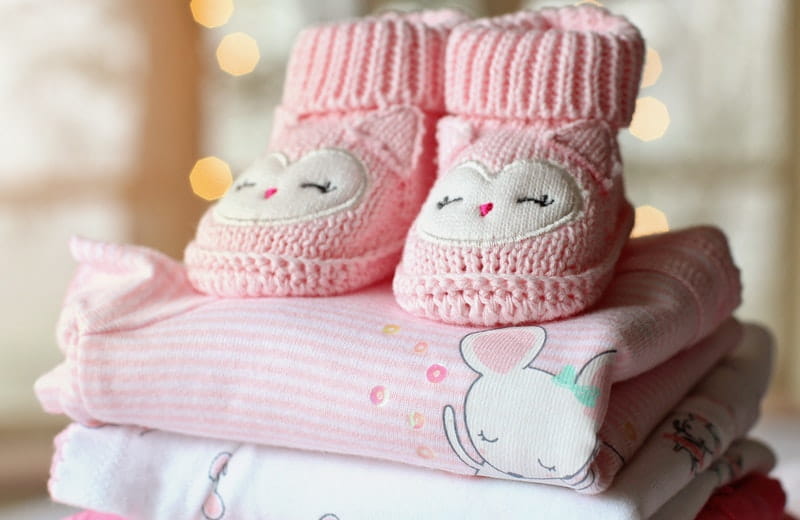 Select Your Container/Basket
Gift baskets by default assume you will use some sort of container to place the gift collection in. However, think outside of the traditional basket. Cute and useful containers can include anything from a child's size pair of rain boots (Wellies) to a child's brightly colored suitcase, to a hat box. Often the theme of the gift, if there is one, can dictate what type of container you use. For example, if you are gifting a collection of travel items for taking baby to visit grandma and grandpa, then placing those products, some blankets, and other travel related items into a suitcase or small steamer trunk would be completely cute. Later, the child could use the steamer trunk for toy storage.
Baskets do not have to always be of the straw variety. A wide variety of inexpensive woven baskets can be found at such places as Walmart or Big Lots for next to nothing. Give them a facelift with some wide silky ribbon and attach it to the basket with baby stickers. Make or buy a poofy bow and you have instant pizazz. Gifting bathing items? Why not place all your bath time goodies into a small bassinet? If you have a Cricut machine, or something similar, then you can customize it with the baby's name or some funny/cute saying. Stuff the entire bassinet with poofs of cotton balls or poly-fil. This makes it look like a bubble bath. Nest the bathtime products and gifts down into the 'bubbles'. Do not forget the rubber duckie! Does your friend enjoy a certain pastime, or is a fan of something? Use this information to guide your choice of container.
Items to Always Include
Certain items are always going to be welcome no matter how they arrive. Infants quickly outgrow everything from booties to diaper sizes, so having a wide range to choose from will be truly appreciated. Choose some of the following must-have items:
Booties
3 to 6 months onesies
A Pack of Cloth Diapers (they have multiple uses)
Diapers
Diaper genie replacement packs
Wipes
Baby Shampoo
Baby Lotion
Diaper Rash Cream
Something for Mom
Items to Sometimes Include
Depending on what you are placing into the basket, or the theme you have chosen, you may want to include the following items.
Grooming Kit
Teething Ring
Bibs
Soft Tip Infant Spoons
Snack Cups or Bowls with Lids
Bottle Brush
A good practice is to include items that will benefit the baby as he or she grows up. While the baby may not use them right away you can be sure they will be used in the very near future. Include such items as:
Plush toys
Stacking Cups
A Night of Babysitting
Outlet Plug Covers
Emergency Contact Magnet for Refrigerator
Cabinet Safety Latches
Bath Spout Covers and bumpers for tables
Themed Baby Gift Basket Ideas
Want to gift a baby basket to someone but are stuck for ideas? Use these suggestions as a springboard to inspiration then add your own unique touches. Make sure to include some of the items from the must-include list in addition to those listed below:
Safety First Gift Basket: Purchase a child's plastic fire fighter hat and turn it upside down. Fill the interior with such items as soft blankets, a plush dalmatian toy, and then tuck in assorted safety products. These can include outlet covers, locks for cabinets, a first aid booklet, assorted decorative Band-Aids, bumper covers for various surfaces and even a baby monitor. Wrap the entire thing in gifting cellophane and tie with a firehouse red ribbon.
Welcome to the World Gift Basket: Select a woven wicker basket and tie a grosgrain ribbon around it. Hot glue into place if necessary. Next, line the basket with a beautiful baby blanket with the child's name embroidered on it. If possible, pull the embroidered end up as a partial reveal. Place a beautiful picture frame with baby's picture in it (or a picture of your friend's tummy!). Tuck in a plush teddy bear, and a nursery decoration for mommy. If you know the theme of your friend's nursery, then you could follow suit and add to her decorating collection.
Basket of Fun Gift Basket: Use an inexpensive woven seagrass basket from IKEA (mom will love it too!). Take a piece of colored yarn and wrap it around the basket. Then, taking clothes pins, secure small animal cutouts to the colored yard surrounding the basket. This basket has a large capacity so fill it with beautiful blankets, stuff the bottom full of various sizes of disposable or cloth diapers, include washcloths, grooming kits, a box of mommy's favorite confection, teething rings and a plush toy (make sure it is age appropriate).
You Take the Cake Baby!: Find a decorative cake pan as the base, then create a diaper cake. You do this by purchasing two different sizes of diapers then rolling them into tight tubes. Stack them together into small circular bundles, then tie a ribbon around each 'layer'. Stack them on top of each other, making each successive layer smaller. If the cake pan is large enough you can add wipes, diaper rash ointment, baby powder, and other baby care items.