You don't have to save forever to have the beach vacation you dream about. Far-flung vistas might come to mind when you think of beach vacations, but the US is full of beautiful locations that won't break the bank. Let's take a look at some of the best spots to get in some sun, sand, and surf.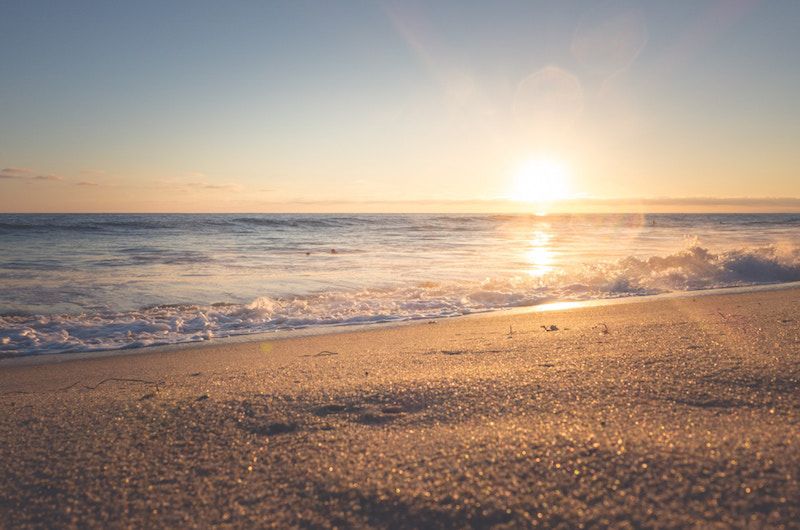 1. Virginia Beach
You may remember the story of the first European settlers to the US landing in what is now Virginia. Virginia Beach is a resort city full of hotels, restaurants, a legendary boardwalk and beautiful beaches.
It's currently listed in the Guinness Book of World Records as having the longest pleasure beach, and because it's in the perfect location to avoid most hurricane patterns, but still south of the cold storms coming from the north, it has earned a reputation for being a reliable beach-side vacation destination.
It's also in a perfect spot to get some different seasons while still showcasing many tropical species of plant. Summers are hot and humid, perfect for dips in the ocean, while winters boast light, romantic snowfall. You can participate in eco-tours that offer views of wildlife, including whale tours in the winter and dolphin tours in the summer.
It's also a favorite historical destination and has a thriving art and music scene. If the beach isn't enough for you, these offer alternatives to laying around all day (not that we'd complain about that.) There are even elements of the supernatural as Edgar Cayce's hospital for Research and Enlightenment still stands.
2. Myrtle Beach, SC
Just a little south is a beach popular for tourists in the southern states. Myrtle Beach is located in South Carolina and is a destination for all types of people. It offers world-class golf, locations for retirement living, Spring Break activities for the younger crowd, and plenty to please the whole family.
It's a subtropical climate with ocean breezes and more than enough sunshine days per year. It is generally out of hurricane paths and experiences mild winters. While here, the family can enjoy shopping, restaurants on the boardwalk, and a beautiful continuous beach line. Approximately 95 golf courses are operating here, making it one of the best places to get in some game time while the rest of the family explores the beach.
3. South Padre Island, TX
Texas is another beach destination, but this time on the calm waters of the Gulf. South Padre Island is home to miles of beach, a waterpark, and plenty of ecotourism activities such as fishing.
During spring break, it's a popular destination for teenagers, but most of the year it's a family-oriented beach spot. It hosts more than its share of fishing tournaments with winnings hovering around a quarter million dollars.
Though it's classified as subtropical, temperatures above 100 degrees aren't typical because of its proximity to the gulf. This weather is perfect for both beach-going and hanging out around town for the dining and music.
4. Florida Panhandle
The Panhandle of Florida boasts both the Emerald Coast and the Forgotten Coast. It spans nearly 200 miles along the Gulf coast and features the warm, peaceful climate associated with the gulf regions.
It offers environmental variations associated with both coastal and river waterways, and tons of interesting history about the development of the United States. Its Spanish influence is still apparent, and there are plenty of US history sites to explore.
It's also known to be quieter than many other beach towns because of its more rural demographic. It offers many coastal islands, and white sand beaches made of fine quartz carried by rivers from the Appalachia mountains.
5. Cannon Beach, OR
Our next beach is much further north. Though the south gets all the glory for having beautiful beaches, the Oregon coast is a stunning beach locale on the Pacific. In keeping with the culture of nearby Portland, large business and franchises are discouraged from locating there. This makes the local food and goods scene particularly interesting.
The area is mainly known for its local arts scene. There's even an annual arts festival with local art for sale at the end through auction. The summers here are mild with average temperatures rarely reaching above the seventies, and the climate overall is dry.
6. Pismo, CA
Some of the first explorations of the west coast passed through the area of Pismo beach. It's known for their clams, though overharvesting has drastically reduced the numbers. Nevertheless, it offers some beautiful views of the California coast and the Pacific ocean.
It's a smaller beach that hosts quite a few critical pieces of wildlife including the monarch butterfly migrations. It's also home to many historical markers because of its long history. Its central coast location is home to mild weather, both winter and summer, and it is part of the five cities area in the famous San Luis Obispo County.
7. Pensacola, FL
To round out our list, we return to Florida, the US's premier location for beach vacations. Pensacola is a classic destination for both families and spring breakers. It offers white sand beaches, plenty of food and entertainment, and some of the most famous views in all of Florida.
The weather is warm year round with plenty of sunny days. It's part of the panhandle but is probably the most famous destination in this location. It has plenty of historical significance as well. It has the distinction of having been under the control of five different flags, Spain, France, Britain, the US, and the Confederate states. All these lend Pensacola an air of profound history and a wide range of culture.
Wherever you decide to vacation, know that choosing to vacation in the United States is a wonderful choice. They are affordable, easily accessible and offer world-class dining and activities. There's no wrong choice to make between the three major coastlines. The only wrong decision is not to go.
Where will you vacation this summer? Let us know which location fits your needs best and what you thought once you got there!