Aging is one process which is unavoidable. Looking for comfortable ways and means to live is what most seniors look for. One such option offered is the walk in tubs. These are apt for not only seniors but also for those facing issues with mobility or anyone who requires a soothing bath. These tubs ensure independence to a large extent in old age. Before talking about the different benefits offered by these walk in tubs let us go through some of the different types available.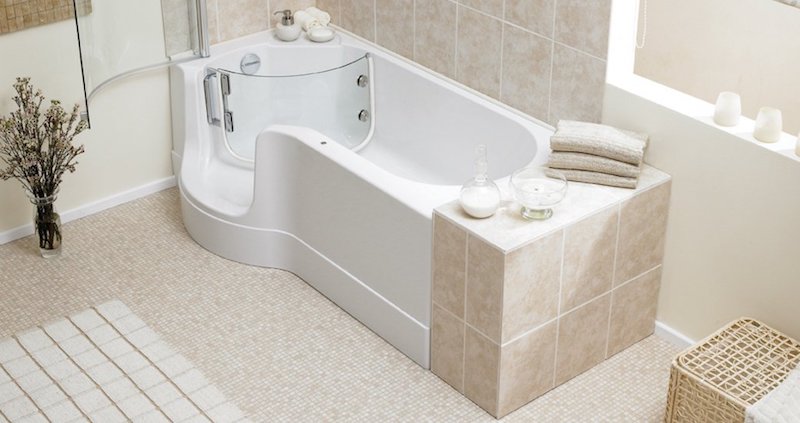 1. Large Door:
There is an option of the walk in tub with a large door which swings on the outside. These type of tubs work well during any emergency as the person can be removed easily. This tub occupies a lot of space and also works out a little more expensive as compared to the other types of walk in tubs.
2. Soaker:
Soaker walk in tub concentrates more on the safety factor. These tubs have features considered compliant, like seat which is built-in, hand rails, and floors which are textured to be resistant to slip. Most of these soakers have drains which are fast acting and are also deep.
3. Whirlpool:
The whirlpool walk in tub is similar to a spa. Tiny bubbles are created by the water jets. This tends to surround the one who is bathing. These tubs also have heater in-line, and thus the water is warm and comfortable during a long bath.
These types of tubs need a little maintenance. The jets need to be cleaned to ensure smooth functioning besides which, the pipes need to be cleaned and rinsed well.
4. Hydrotherapy and Aero Therapy:
This walk in tub creates an aero therapeutic environment. The humid and warm air created by this tub can be helpful for those suffering from respiratory problems. Using this walk in tub on a regular basis can also keep a patient free from sinus problems.
As these tubs are deep, they work apt for immersion of full-body.
Benefits of Walk in Tubs:
Walk in tubs are fast gaining popularity due to the multiple benefits these offer.
* The entry threshold for entry is only of a few inches and thus is definitely a boon for those who have issues with mobility. The bathing task can be enjoyed to a larger extent with the comfort factor looked into.
*As known, old age and falls go hand in hand. Most of these accidents take place in the bathroom. Keeping this tension off your head is easier if a walk in tub is bought.
* Walk in tubs work out an apt investment for the future. Most homeowners these days prefer staying on their own instead of depending on the immediate family. This investment of a walk in tub works well here.
Before opting for a specific walk in tub it is important that there is some sort of guarantee offered. This ensures that these tubs work out a long term investment without any hassles.