While acne may be common, experienced by everyone at least once in their lives, that doesn't mean that coping with an outbreak is simple. In fact, the condition of acne causes several different types of pimples and each one may be affected differently by any treatment. For instance, blackheads emerge, when a greasy substance is secreted by the sebaceous glands in the skin. The substance clogs up the pores, creating blackheads. When this occurs in smaller pores, whiteheads are formed, instead. In rare instances, pimples can develop into a more serious inflammation that can produce tender or swollen skin. Called cystic acne and developing beneath the skin, this condition can result in a deeper infection, if left untreated.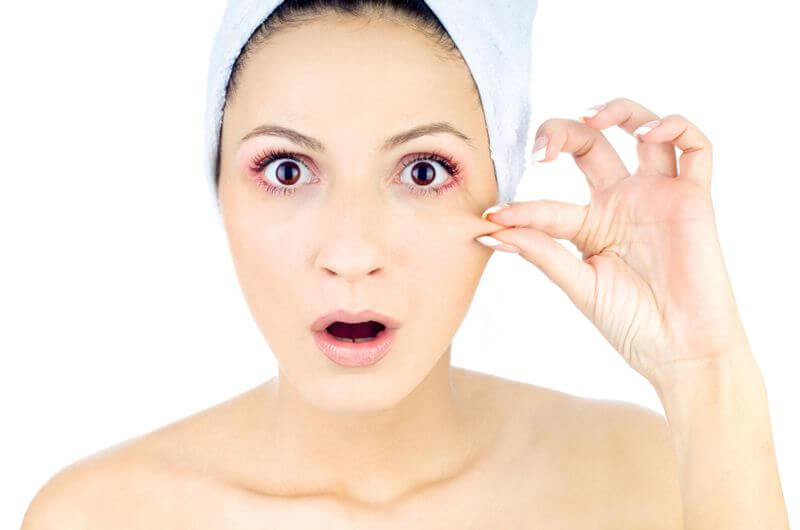 There are plenty of myths surrounding acne, particularly in regard to the causes. While many people believe a poor diet, overactive sexuality, or bad grooming habits contribute to acne, this simply isn't true. In most cases, the condition is the result of hereditary factors and hormone imbalances. This is why an acne outbreak is most common for teenagers. As they reach the ages of puberty, hormone production is boosted, creating a perfect condition for the development of pimples and other symptoms of acne. The male hormone, androgen, which is present both males and females, raises testosterone levels in the body. The testosterone, in its turn, encourages production of sebum, the oily substance secreted by the sebaceous glands.
This means eliminating chocolate from your diet and scrubbing your skin every night may not do much to control the condition. Even though you may be predisposed to develop acne and common myths won't help you resolve your condition, there are several treatments that are effective. Since every treatment won't work for every person, you may have to experiment with a number of options to determine which one works best for you.
1. Aztec Secret – Indian Healing Clay
One of the most celebrated treatments for acne in recent years is Aztec Secret's Indian Healing Clay. It comes in powdered form, which is then mixed with water, or it can be mixed with apple cider vinegar. The primary ingredient in the powder is calcium bentonite clay, which has a strong restorative effect on the skin. Once the powder is mixed into a cream, it can be smoothed over the affected areas of the skin. Typically, the mask is left on the skin for 15 minutes, although users may adjust that time, depending on the sensitivity of their skin.
How well does Aztec Secret – Indian Healing Clay work? According to the label, it's the "world's most powerful facial" and, as it's applied, you'll "feel your face pulsate" with healing power. While that may sound like advertising hype, customers seem overwhelmingly satisfied with the product's real world results. A search on YouTube can return a long list of results, posted by happy consumers eager to share their before and after images. If you would like to try this product, but are concerned about applying harsh chemicals to your skin, you can rest easy. This product is also guaranteed to be 100% natural.
2. Clean & Clear Advantage Acne Spot Treatment
This treatment incorporates several compounds to wage war against acne. Its main ingredient is salicylic acid, which is well known for its ability to attack acne and reduce outbreaks. Additionally, brand's special Microgel Complex dissolves the oil in the skin that causes pimples to develop and solubulizers work to dissolve the presence of sebum. Clean & Clear Advantage Acne Spot Treatment also contains a moisturizer to protect the skin against drying out, after the oil is removed. It comes in a colorless gel that dries quickly and leaves behind no odor. Users report that smaller pimples can sometimes be cleared up within 24 hours, after applying the clear gel.
3. Dead Sea Mud Mask for Face & Body
This is another product that promises its ingredients are 100% natural, so adding more toxins to the skin won't be a concern. This product isn't specifically targeted at acne sufferers, but instead boasts anti-aging properties that can reduce fine lines and crow's feet. Additionally, it has also proven effective in treating pimples and blackheads. As a full skin care cream, Dead Sea Mud Mask for Face & Body works by moisturizing the skin and providing greater elasticity. When applied, the mask lifts toxins and contaminants out of the pores and works to revitalize the skin. Sunflower and jojoba oil are added to enhance the cream's power in fighting acne.
4. Neutrogena Light Therapy Acne Spot Treatment
This product employs LED light technology to treat problem areas on the skin. The size and shape of a pen, the device is easily portable in a pocket or purse, so it can be used whenever you happen to feel a new pimple popping up. As a spot treatment, Neutrogena Light Therapy Acne Spot Treatment isn't intended to treat a larger problem and should only be used by those with a minor outbreak or the occasional pimple. Dermatologist Joshua Zeichner, MD explains that the light technology uses two colors, red and blue to treat the pimple. The red eliminates inflammation in the skin, while the blue light kills the bacteria that causes acne.
5. SMACNE Severe Acne Treatment Cream And Cleanser Kit
As far as acne solutions go, this one promises to be among the strongest. It was originally developed for an individual with chronic acne who couldn't be helped by any other solutions on the market, so it's ideal for those with moderate to severe acne problems. In addition to natural botanics that fight acne, it also contains the commonly recommended aloe vera and hyaluronic acid. These ingredients work to keep the skin moisturized and regulated, while pimples are eliminated. SMACNE Severe Acne Treatment Cream And Cleanser Kit comes in two different versions. One for those with sensitive to normal skin and one for those who have developed a severe condition that has been unaffected by other treatments.
6. Proactiv 3-Step Acne Treatment System
Here, an exclusive Smart Target technology helps infuse more medicine into the pores for a deeper treatment therapy. The three-step procedure should be used daily for best results and, applied properly, can work to eliminate acne, prevent future outbreaks, and fortify the skin. Over time, users will develop healthier and clearer skin. Proactiv 3-Step Acne Treatment System incorporates a Skin Smoothing Exfoliator, Pore Targeting Treatment, and a Complexion Perfecting Hydrator. In applying the products, the skin should be dampened first and each of the three steps should be rubbed into the skin gently for 1 to 2 minutes. The manufacturer recommends following treatment with a sunscreen of SPF 15 or higher, if you're going to be spending time outdoors.
7. AcneFree Terminator 10 Acne Spot Treatment
This product works for mild to moderate outbreaks, or can also be used as a spot treatment, but isn't suggested for more severe outbreaks. Many customers also use it as a preventative measure, applying it over the face as a lotion, one to two times per day. The benzoyl peroxide, which is the main ingredient in AcneFree Terminator 10 Acne Spot Treatment, is an old standby treatment for pimples, including blackheads. It can prevent new pimples from forming and reduce the severity of any current outbreaks. While most products containing benzoyl peroxide are harsh on the skin, this cream won't sting and is gentle on the skin.
8. Neutrogena Rapid Clear Maximum Strength Treatment Pads
Here is another product that relies on 2% salicylic acid as its active ingredient and can, therefore, have a powerful effect on pimples. In some cases, whiteheads may dry up and disappear within 24 hours. Additionally, the lotion dried quickly after the pad is applied to the skin and doesn't leave an odor behind, yet won't dry out the skin. Neutrogena Rapid Clear Maximum Strength Treatment Pads clear up most breakouts in a matter of days. The short healing time helps to avoid the drying out of the skin, which can occur with prolonged use of other products. The product comes in a tub with 60 pads, so one container may last for a considerable amount of time, depending on how often outbreaks do occur.