Audio and video technology has made leaps and bounds in recent years with the introduction of many new and exciting developments. If you remember 20 years ago when everyone owned thick, heavy, square tube-style TV sets, you probably remember that the sound system that came built into these televisions was more than adequate. This is because the way that old-school televisions were designed allowed for a substantial set of speakers that delivered impressive sound quality without the need for a separate sound system. Today, TVs have become impressively thin and wide, which is great for space and picture but not so much for audio quality.
Most people who buy newer TV monitors find that they need something to augment their audio with. While some opt for full 5.1 surround sound systems, many do not have the space or the desire for this set up. Soundbars are the simplest and best choice for most people who want better sound quality from their TV. There is a mind-boggling amount of soundbars on the market today, each with its own unique advantages and disadvantages. Some, however, clearly separate themselves from the competition by their superior sound quality, ease of use, and price point. To help you make the best decision, below are the top 7 soundbars on the market today.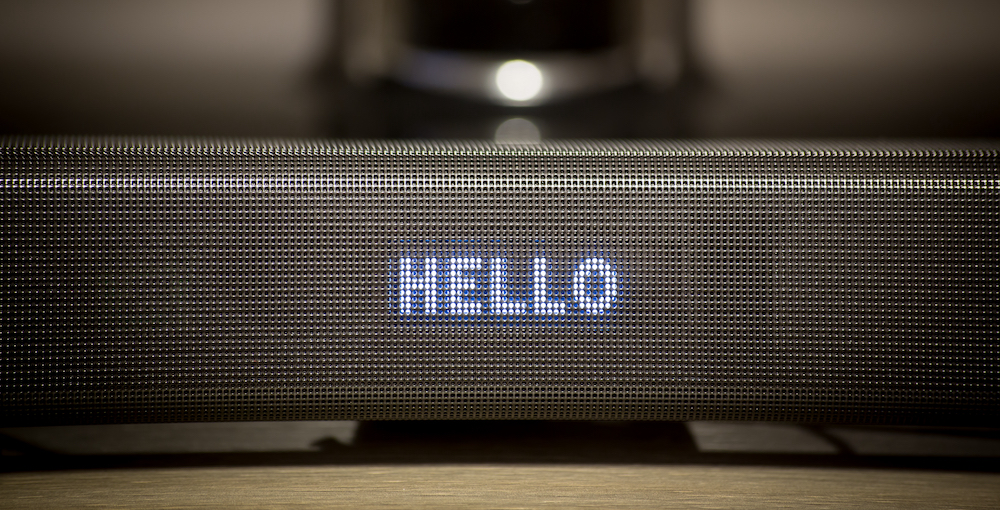 1. Sonos PLAYBAR TV Soundbar
The Sonos PLAYBAR TV Soundbar makes it on our list of the top soundbars available for its highly versatile and approachable nature. In terms of sound quality, this soundbar is an obvious upgrade over TV-quality sound; it has an impressively wide soundstage that delivers great depth and tonal balance. If you are expecting theater-like, booming sound, this system may not be what you are looking for. The sound that this soundbar provides is certainly rich and detailed, but it is mostly designed to fill a room evenly rather than provide an extreme depth of impact. This system can, however, be paired with a separately-sold subwoofer system that adds significantly more bass than the soundbar could deliver on its own. The main draw of Sonos's products is their ability to interconnect. Sonos created a unique, app-based system in which the user can connect any one of Sonos's systems to another, creating the potential for a whole-home audio system. The great thing about this is that Sonos's systems connect to each other through your home Wi-Fi network, so there is no need to run wires between systems.
2. Philips Fidelio B5
The Philips Fidelio B5 is an intuitively-designed and elegant soundbar system for the purchaser who needs a variety of options and features from a sound system. This system is unique in its ability to connect two rear detachable speakers, turning your soundbar into a fully-fledged surround sound system. These two rear speakers are easy to detach and re-attach through a simple Bluetooth connection. Once you are done using them, they can be neatly and easily stowed away. The rear speakers can also be used as standalone speakers for music.
3. Focal Dimension
The Focal Dimension soundbar system is designed to bring a 5.1 surround sound experience in a slim, one-piece package. This means that the soundbar three front drivers, two side drivers, and one subwoofer into one discreet space, making it a great option for those limited on space. Focal provides sophisticated, clear, and high-fidelity sound in its soundbar system. The subwoofer (which must be purchased separately) is designed to sit directly behind the soundbar, forming one flat surface for the user's TV to sit atop of. The soundbar does provide an impressive level of bass on its own, however, so it may be best to purchase the soundbar on its own before adding the subwoofer.
4. Bose SoundTouch 300
Possibly the most well-known brand amongst non-specialty audio consumers on this list, Bose is known for making high-quality audio accessible and achievable for the general population. The Bose SoundTouch 300 soundbar is a versatile system that aims, like other soundbar systems on this list, to provide an immersive sound experience in a slim package. Like Sonos, it offers its own ability to interconnect through Wi-Fi to other SoundTouch systems. It also comes with an optional subwoofer and rear speakers that can be connected through an app. The subwoofer on this particular system adds quite a bit of low-end range, making the system much more impressive than it would be with the soundbar alone.
5. Q Acoustics M4 Sound Bar
The Q Acoustics M4 Sound Bar is an audio-focused soundbar system that is perfect for the consumer looking for simple audio quality and not much else. Unlike some systems on this list, this soundbar does not have the ability to connect to separate rear speakers or a subwoofer. It also features no Wi-Fi connectivity like Bose or Sonos do. It functions exclusively as a single unit — with a surprisingly deep and rich sound quality. Music shines in incredible detail in this soundbar, and even without a dedicated subwoofer, movies retain the cinematic booms and crashes that you would want from a more complex system.
6. LG SH7B
The LG SH7B soundbar system is an entry-level system great for those who want vastly improved sound quality over their TV system with a high degree of versatility. Like many Bose and Sonos systems, this soundbar can be connected to other compatible LG systems for a whole-home audio experience, although other brands may offer better sound quality. It also comes with a subwoofer included, making it a great value over other systems. Overall, the sound quality focuses heavily on low ends and is not particularly impressive in terms of clarity. However, it accomplishes what most shoppers would want in a soundbar system at a realistic price point.
7. Sony HT-MT300 Soundbar
The Sony HT-MT300 Soundbar is one of the most compact solutions on this list. It is surprisingly small — possibly smaller than most would suspect soundbar to be. It comes with a wireless subwoofer which can be placed just about anywhere in the room for even greater flexibility. At its low price point, it offers impressive sound quality for both movies and music, but don't expect it to match up to more high-end systems. It also offers impressive ease of use with just one optical cable used for connectivity. The subwoofer can also be placed under a couch for a bit of extra punch while watching movies.