What do I need to start quilting? If you are trying to pick up quilting as a hobby and have no idea where to start, this is often a question that beginners ask themselves. There are so many tools, tips, and online guides that it can become overwhelming. Starting with the very basic tools a beginner will need include: sewing machine, rotary cutter, cutting mat, rulers, pin, iron, scissors, and thread.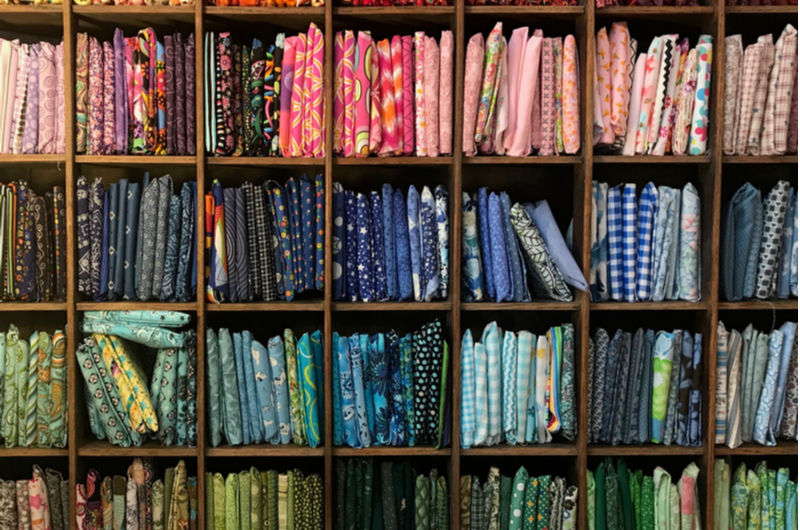 Sewing machine – If you don't already have a sewing machine of your own, there's a good chance your grandmother or aunt will have one. If those options are not accessible, try shopping for used sewing machines online. Second hand stores are full with sewing machines and most stores have a return policy. If you're never handled a sewing machine, there's plenty of books and online resources that are extremely helpful.
Scissors – Scissors is a very general term and most households have scissors hanging out in a drawer somewhere but for quilting there's two types of scissors you are going to need. Dress shears which are used to break down shirts and jeans (optional). Having a small pair of scissors (6 inch) will make your life much easier because not only can you clip threads but also use to trim.
Cutting Mat – This tool gets on the pricier range when it comes to quilting tools. We recommend buying a large mat and buying locally as cutting mats cannot be folded or rolled so shipping expenses tend to be higher for this product.
Rotary Cutter – Rotary cutters come in three different sized, 28mm, 45mm, and 60mm. This is an expense you can expect to incur once. Think about starting out with the 45mm. Blades will be the only thing you will have to worry about replacing and that will depend on how much you are using them. If you are using heavily, expect to change within a couple of months.
Rulers – Expert quilters recommend having three rulers to start.
6×24 for cutting yardage

6×12 for smaller work

Square up ruler
These are just the basic tools you will need to start quilting, aside from the obvious like fabric, iron, ironing board, seam rippers, and thread snips. Quilting can become an expensive hobby if you don't shop smart. If you consider yourself a self-starter and have patience and time to tackle this task, start by researching. Perhaps you even are considering taking up sewing for your career. In that case, attending a college that offers fashion retail degrees would help you advance in your career.
A bachelor's degree program in fashion and retail management is designed to teach you about design clothing, make purchasing decisions for retailers and market products.
Benefits of Earning a Degree in Fashion Retail
Students graduating with a Fashion Retail degree are given the tools and resources to be enter a wide range of career paths. A few include titles like fashion designer, retail buyer, purchasing manager, retail store manager, and store department manager to name a few. By earning a degree in fashion retail not only will you be able to explore exciting jobs but fulfill your creative needs. While earning a fashion retail degree you will learn the benefits on statistics, economics, accounting, marketing, and management.
Essentially everything you need to know about the retail business world. This will provide students with a entrepreneurial and leadership framework. Earning a degree in Fashion retail will provide you with in depth knowledge about textiles, history of fashion, store design, merchandising, retail management and buying.
Fashion and Retail Management Degree Costs
Data gathered by the U.S. Bureau of Labor Statistics (BLS) reflects a median annual salary of $63,670 for fashion designers as of May 2015. Retail buyers earned a median amount of $52,940 per year at that time, and the median yearly income for purchasing managers was $108,120.
Between 2014 and 2024, the BLS expects a 3% growth in employment for fashion designers, while opportunities for retail buyers (except for farm products) and purchasing managers are estimated to increase by 2%.
Coursework
The typical framework for a career in Fashion Retail includes both courses addressing business and fashion. Courses will vary depending on the school you decide to attend. Classes can include but not limited to:
Fashion merchandise buying
Operations control
Textile markets
Fashion promotion
Contemporary fashion
Apparel production
Consumer behavior
Fashion history
Fashion theory and analysis