DIY home renovation projects are more popular than ever in no small part due to COVID-19 forcing U.S. homeowners to quarantine for most of 2020. Because the kitchen is the most trafficked room in a house DIY cabinet remodeling is highly popular. What are the benefits of doing a DIY cabinet remodel vs. hiring a professional service to help? What are some of the best stores to shop for materials needed for your project?
DIY cabinet projects are possible for your garage, storage rooms, laundry rooms and more. Plans are available for a wide variety of shapes and sizes of cabinets and cabinet doors as well. What are some tips you need to know before starting a DIY cabinet remodel project? Read below for more helpful information about DIY cabinets and how to start your new project today.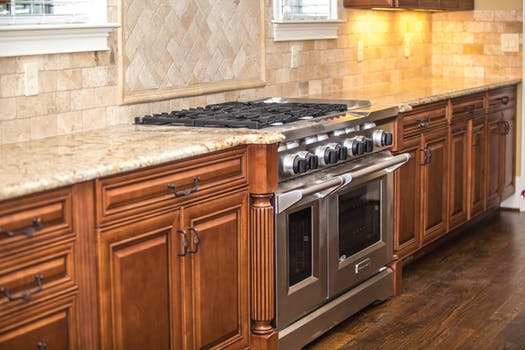 DIY Cabinet Remodel vs. Professional Installation Services
Comparing the benefits between DIY cabinet remodel jobs vs. professional installation services is an important process to take on prior starting your home renovation project. Is your intended DIY cabinet remodel a major or minor renovation? How much do the tools and materials cost needed to complete your DIY job? Hiring a professional cabinet installation service might cost more money than doing a cabinet remodel on your own, but if you are not properly equipped or capable of completing the job accurately yourself it might cost you more money in the end.
Reasons
It is perhaps best to look at the possible scenarios in terms of pros and cons as well as potential reasons behind making certain decisions. For example, most DIY jobs are taken on for reasons of self-satisfaction and saving money. The primary reasons for hiring a professional cabinet installation service generally involve the difficulty level of the renovation/remodel and you not having the skills or time to complete it. If your cabinet remodel involves simply stripping paint, priming and repainting you are likely capable of handling it yourself. This of course also depends on the location of the cabinets and how much you must disassemble and reassemble the cabinets to complete the paint job.
Pros & Cons
The pros of a DIY cabinet remodel include saving money, self-satisfaction, and the flexibility to work on the job whenever you can/want. The cons of a DIY cabinet remodel involve:
The possibility of losing more money than you save due to errors or accidents.
Losing access to your kitchen for prolonged periods of time due to scheduling conflicts or simple lack of time.
Unexpected/unplanned expenses or issues such as cracked wood, exposed wiring, dangerous structural weaknesses, or workmanship errors.
Exposure to asbestos, black mold, or other dangerous issues you did not know were there.
The pros of hiring a professional cabinet installation service include reliability of craftsmanship and results, convenience, and warranties/guarantees. The cons of hiring a professional cabinet installation service include:
Strangers in your home for prolonged periods of time.
Higher expenses.
Legal/financial issues due to the contractor possibly going over budget, over time or causing damages to your home.
Free Estimates Help Make Better-Informed Decisions
Common recommendations are to hire professional services for your cabinet remodel/renovation jobs. If you are capable of safely and accurately doing the job yourself there is no harm in performing a DIY cabinet remodel and saving money. Prior to making final decisions it is a good idea to bring in a professional service person to give a free estimate. An estimate from a pro will give you insight as to the challenges and needs of your cabinet remodel job. There is no obligation to hire the service provider for the actual job. If the free estimate indicates the job is simple to perform and (most importantly) danger-free, you just might have yourself money saving, self-satisfying DIY cabinets project to take on today.
Tips You Need to Know Before Starting to Remodel Cabinets
The first things you need to know before starting to remodel your cabinets are if you are both capable and willing to do the job safely and properly. Doing the job properly is also relevant to your safety, especially if an improperly hung cabinet falls and causes injuries. Once you are certain you can take on the job yourself, you need to know the reasons for doing a DIY remodel beyond self-satisfaction and affordability. This has more to do with architectural/design integrity, personal choice, and marketability.
For example, are you remodeling your cabinets because you are selling your home and want to increase its value prior to listing? Are you renovating your cabinets to create more space, to update your interior design or both? Finally, are you choosing to change your cabinets because of a trend and if so, does it fit with the rest of your interior decorating style or are you forcing it? All of these things are worthy of consideration prior to diving in to your DIY cabinet remodel. Additional tips about things you need to know before starting to remodel cabinets include:
Plan your layout to include adequate headspace and storage needs.
Handle all wiring tasks up to professional standards and codes.
Know where lighting and ventilation elements are situated.
Create a temporary kitchen space to help mitigate any inconveniences.
Choose reliable materials, brands and products.
Best Stores/Locations to Shop for DIY Cabinet Materials
Choosing the best cabinet brands, tools and materials for your DIY cabinet model project involves thorough research and knowledge of your budget and needs. Reliability, quality and affordability are all important factors. Finding the right blend of those three elements for your project is crucial to the job getting safely and properly. The best stores/locations to shop for DIY cabinet materials in 2021 include: