Jobs in the cosmetology field were assigned a projected job growth rate of approximately eight percent from 2018 through 2028. Experience counts but unlike some jobs, the field of cosmetology requires employees to have specific training prior to hiring. Attending cosmetology schools helps expand your career options and increase your value as a paid employee. What is cosmetology school?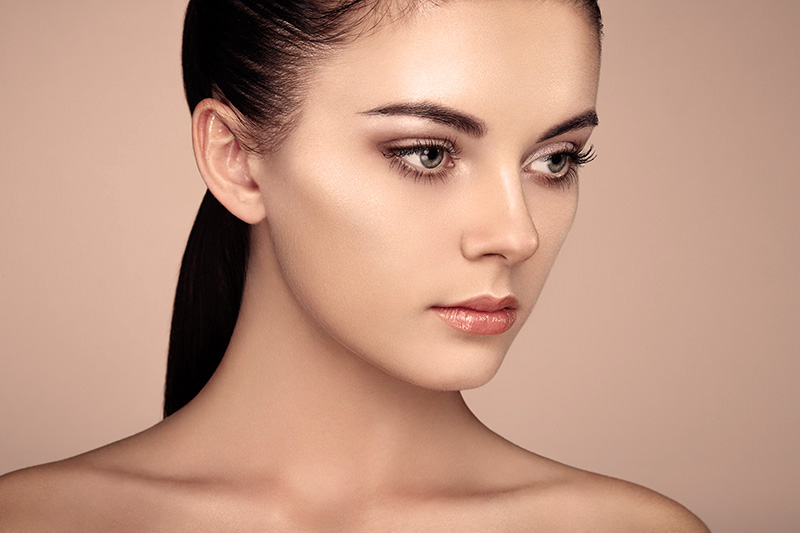 Cosmetology school helps train you for an exciting career in the beauty industry. The COVID-19 pandemic impacted health and beauty service businesses in 2020, making those with better up-to-date training more valuable to an industry needing new employees. Now is the perfect time to obtain your cosmetology training and certification and pursue the career of your dreams. Read on for important information about cosmetology school and how to advance your beauty industry career goals today.
Cosmetology 101
Cosmetology involves the beautification of the skin, hair and nails. Your local hairdresser is a cosmetologist as is a high-profile makeup artist in Hollywood. The skill sets of a fully trained cosmetology student are potentially vast and varied. Many students choose to focus on one skill set such as hair styling, or makeup application. Cosmetology overall consists of many more beauty-related services, career opportunities and skill sets, however. Some cosmetology schools specialize in training only one to a few of these specific elements. Other, perhaps larger cosmetology schools train students in a large variety of relative beauty-related skills. The more training you have, the more your value in the beauty industry increases. What different types of beauty industry skill sets are available for prospective cosmetologists to learn?
What Does a Cosmetologist Do?
A cosmetologist usually specializes in one particular skill set but is capable of training in many beauty-related fields. For example, a cosmetology student might emphasize training as a hairstylist, while also learning how to perform exfoliating facials and beauty wraps. A cosmetology student might aspire to own his or her own beauty salon and therefore requires management, customer service and sanitation training. Advanced cosmetology schools offer this type of extensive business training as well. Some more of the beauty-related services and functions performed by a licensed cosmetologist include:
Manicures & pedicures.
Head, scalp & extremity massages.
Facial treatments.
Chemical applications.
Hair design/barbering.
Esthetics/skincare.
Braiding hair.
Makeup artistry & application.
Electrology/hair removal.
Qualification Requirements for Cosmetology School
Enrollment in two-year cosmetology school is slightly different than enrollment in full college or university degree programs. Advanced cosmetology programs are available in the U.S., but they often combine other elements such as business marketing or business management. Qualification requirements for cosmetology schools vary in each state and with each institution. Your age and highest level of completed education to-date are main qualification considerations. Some states allow new students to enroll at 16 years of age. Other states require students to be 18 years old. Some cosmetology schools require a high school diploma or equivalency certificate, while some do not. Students pursuing advanced training, especially pursuant to business management and customer service, are required to have graduated high school or obtained a General Educational Development (GED) certificate, however.
Some high schools offer cosmetology training through internal Vo-Tech options. Training in Vo-Tech programs sometimes allows you to obtain a beauty-related job immediately following high school. Vo-Tech training also better prepares you for advanced cosmetology courses post-high-school graduation. Other requirements for attending cosmetology school include:
State-issued photo identification.
Letters of recommendation.
High school transcripts.
Placement/skill-level assessment examinations.
Benefits of Attending Cosmetology School
Attending a cosmetology school provides many benefits. Job placement potential is higher when you graduate as a licensed cosmetologist. Career advancement opportunities are more frequent as well. Employers and customers alike trust a licensed cosmetologist with verified training, education and experience. Attending a cosmetology school gives you the opportunity to travel, meet new prospective clients and take your skill sets to various locations. Cosmetology school also gives you the chance to meet a multitude of people with similar interests. Networking possibilities are increased, which potentially translate into additional job opportunities and salary increases.
Cosmetology Careers
Career possibilities for licensed cosmetologists are as plentiful as the various types of cosmetology practices and skills available to learn. Hair stylists, manicurists, pedicurists, makeup artists and more are needed all over the nation. How big are your career aspirations? Cosmetology careers with extended training & education allow you to advance from employee to business owner. Are you looking for job stability combined with excitement? Local theaters need makeup artists as much as do your regular salon customers. A cosmetology career offers diversity as well as job security. Jobs in cosmetology also offer networking opportunities due to the wide variety and amount of people you meet simply doing your job every day.
Costs & Lengths of Cosmetology School
The majority of cosmetology school programs typically last for two years. Students pursuing advanced business and/or marketing degrees might engage in four-year joint programs. The majority of cosmetology schools charge a maximum of $10,000 to complete your training. Many cost significantly less, however. Four-year programs might cost over $30,000 when cosmetology training is combined with other elements of your education. Financial aid might be available via Federal Cosmetology Pell Grants and by filling out the Free Application for Federal Student Aid (FAFSA) form.
The amount of time, class training and real-life experience required to obtain your cosmetology license varies in each U.S. State. The American Association of Cosmetology Schools (AACS) states the national required average for completing full programs ranges between 1,400 and 1,600 real-time hours. Required hours vary based on the style of cosmetology training received. For example, a nail technician might need only 300 completed hours, an esthetician 650 hours and an electrologist 500.