Maybe you just got some beautiful new hardwood floors. Or your decor could use a little sprucing up, but you're not sure what to do. Or you're just bored with that huge swath of plain old carpet in your living room. Getting an area rug can be just the thing you need. You're probably thinking, "Cover my beautiful floors?" or "Putting a rug over carpet?" Yes, and yes! A good quality rug can protect those new hardwood floors of yours. And yes, done correctly, a rug can be put down on wall-to-wall carpet.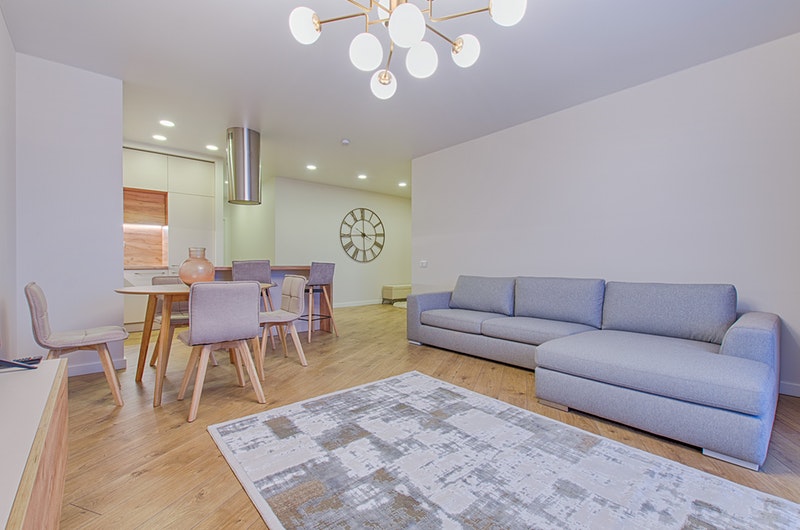 Having a rug can help buffer some of the noise in your space. It softens footsteps and also absorbs sounds from the air. Rugs also offer comfort and some insulation. They've also been recently found to trap allergens, so allergy sufferers may even find some benefits to adding quality rugs to their space.
1. Choose the right size
If you choose a rug that is too small, your furniture may look like it's floating in the room. You want your rug to visually anchor the space. On the contrary, if you choose one that is too large, it will engulf the area and potentially bunch up or curl in the corners. Choose a size that leaves some room around the perimeter near the walls. If you're getting a runner for a hallway, ensure that about six inches of floor space show on either side. For a dining room, pick a size that leaves at least 18 inches beyond the edge of the table so the chairs will also fit onto it.
2. Know the right weaves
Hand knotted rugs are the most traditional of the bunch (think Persian rugs). They take an average of 3,000 hours to make. Flat weave rugs are made on a loom and can take from one to four people to make, depending on the size. Hand loomed rugs start the same as flat weave, but have a higher pile. This makes them more plush. Hand tufted rugs start with a foundation cloth and then yarn is pushed through the back with a tufting gun. This technique allows for more precise designs since it's not woven in a traditional way. Programmed rugs are made with machinery, so they're much quicker to make and are of comparable quality to handmade. This will be a good option for a low cost rug compared with more traditional rugs.
3. Research materials
Rugs can come in many different types of materials and figuring out which type is right for you is an important part of process. Natural materials, such as wool and silk, are typically of high quality and last a long time. You can also get a natural rug that is a little lower in cost, such as one made of grass or bamboo. Rugs are also made in cotton, man-made synthetic materials, and animal skins. Materials will determine cost, durability and ease of cleaning.
4. Pick a rug that fits your lifestyle
Consider the style of your home, your decor preferences, and general use of the space when picking out a rug. For example, if you have an older home with antique furniture, or don't have large indoor pets or small children, you may be drawn to more traditional rug designs that are made of wool or silk. But if you live in a more modern space, you may opt for a rug with a simpler design. If you have a large family, consider rugs that can withstand heavy traffic. With so many design options, you can really transform your space, even with a low cost rug.
5. Know the placement
Ideal placement of your rug can make a big difference in coordinating your space. In a very large space, use a large rug and place furniture on it symmetrically to help connect the elements in that area. It will make it feel more cozy. For a small living room, placing the rug in front of the sofa, so some of the floor is showing, will give the illusion of more space and allow for more of the rug to show. For a bedroom, the rug should be placed so that there're a couple of feet extending beyond the sides and foot of the bed.
6. Clean-ability
The fun times in life can sometimes be messy, so it's important to consider how the rug you choose will stand up to those spills. Rugs made of natural materials vary in their ease of cleaning. Wool happens to be stain and water repellent. Silk, on the other hand, requires professional cleaning. Cotton is a more affordable material that is easy to clean. Rugs made of natural fiber, such as grass, can be difficult to clean due to their complex textures. Synthetics are usually a good bet if you'd like something easy to clean.
7. Durability
If you're going to invest in the perfect rug for your space, you want to make sure that it's going to last a while. If well taken care of, good quality rugs will last a long time. Wool, animal skins, and natural fibers tend to be pretty durable, but may appeal to a more specific taste. Some synthetics are durable as well, such as nylon and viscose. These are family-friendly, can be used outdoors, and are great for more casual setups. While silk and cotton rugs have their pluses, they're better suited to low traffic areas.