Have you noticed more pickup trucks driving around? That's because they are. More people are taking advantage of low gas prices, new technology implemented by automakers, and the need for more space in a vehicle.
Pickup trucks have a reputation for being among the most durable of cars, making it easy to transport items with their tailgate and large stature. Suitable for all terrains, pickup trucks appeal to everyone who wants to have the power a pickup truck has. With a slew of pickup truck reviews available, potential owners can gauge which of the many pickup trucks options best cater to their needs.
You shouldn't talk yourself out of buying a truck with excuses like, "I commute 15 miles everyday" or "I live in a busy city." Pickup trucks are no longer gas-guzzling vehicles. With the recent increased technology in vehicles, companies have been able to give pickup trucks a fuel-efficiency makeover that give any car a run for their money. Think about all the times you've had to ask a friend for help transporting a mattress or all the times you've had to rent a moving truck.
Automakers like Ford, GM, Toyota, and Nissan have invested millions of dollars on making pickup trucks safer, fuel-efficient, and reliable. If you live in the city then you know how frustrating finding a parking spot can be but size is no longer a deciding factor. Toyota came out with the Tacoma, which has been identified as being the "compact" of trucks. They are popular among places like New York City and Los Angeles where parking is a huge problem. The demand for smaller pickup trucks is there. Among the most popular small-sized pickup trucks include the Nissan Frontier and Honda Ridgeline.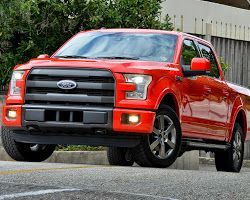 The Ford F-150 comes in 3 body styles: Regular Cab ($27,110), Super Cab ($31,195), and SuperCrew Cab ($33,650). The dimensions are set at 209-251″ L x 80-86″ W x 75-79″ H with a towing capacity ranging from 5,000 to 10,500 lbs.
It's dynamic, comfortable, convenient, and safe. While it's aluminum build makes the ride feel nimble, the balance is generally good and if you are looking for a durable, powerful, and reliable pickup truck, you can't go wrong with the F-150. MPG ranges anywhere from 15-20 City / 18-26 Highway.
Others to consider include: Chevrolet Silverado 1500, GMC Sierra, and the Ram 1500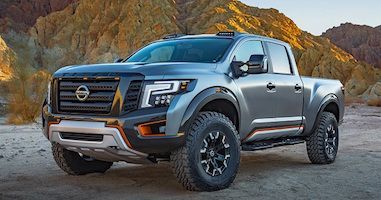 Ranging between $29,580 and $35,230, the Nissan Titan can be purchased in either Single, King, or Crew Cab body style. This truck comes equipped with a 390 hp and average towing capacity of 9,400 lbs.
The Titan is so versatile you can use it as a work truck or as your daily commuting truck. With a smooth ride, high degree of maneuverability, stable turns, and easy road manners the Titan is one of our top picks. However, if fuel-economy is a main concern the Titan isn't for you as it reports 17 City / 21 Highway MPG.
Others to consider include: Toyota Tundra, Nissan Frontier, and Ford F-150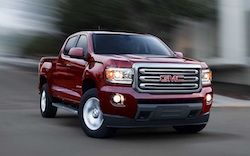 The GMC Canyon has a bed length of 62.4 to 74.4″, towing capacity between 3,500 and 7,000 lbs, and two body styles; Extended ($20,885) and Crew Cab ($26,660). MPG 22 City / 30 Highway.
The latest model provides the big boy look in a midsize package. Above average fuel economy and exclusive diesel option, and affordable options the Canyon is one of the best pickup trucks in the market. While some might agree on the low quality interior and minimal attention to detail, consumers have seem to overlook that for it's outstanding capabilities.
Others to consider include: Chevy Colorado and Toyota Tacoma
Starting at $27,785, the Chevrolet Silverado 1500 has a curb weight of 4,510 to 5,460 lbs. MPG reported ranges from 15-18 City / 19-24 Highway. This pickup truck also has a horsepower of up to 420.
Chevy Silverado's are know for their towing and hauling capacity, powerful V8 engine options, and proficiency. If you are a Chevrolet snob then this truck is for you. However, if you're on a tight budget we recommend looking at their key competitors that are more affordable and just as proficient. These include: Ford F-150 and Ram 1500.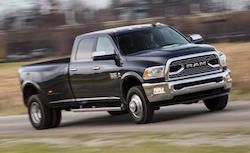 For heavier towing needs, the Ram 3500 can withstand an impressive 12,000 lbs of towing capacity. Ranging between $33,245 and $43,445, the Ram 3500 offers Regular, Crew, and Mega Cab styles.
If you are looking for a pickup truck with top notch towing capability, massive torque, and reliability, the Ram 3500 is for you. This is a truck for the worker that needs a powerful and resilient tool in their tool box. With seating for up to six people, Uconnect availability, and premium cloth split-bench front seats this makes the ideal truck for any small business.
Others to consider: GMC Sierra, Chevrolet Silverado 3500, and Ford F350 Super Duty Crew Cab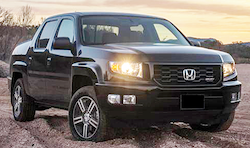 Engineered with RT, RTS, and Sport configurations, the Honda Ridgeline has a bed length of 63.6″ and 3,500 to 5,000 lbs of towing capabilities. The MSRP is set at $29,475, with the Honda Ridgeline getting 26 MPG on the highway.
The 2018 Honda Ridgeline ranks number one among the safest and most compact pickup trucks. It's versatile bed, smooth ride, and overall beauty makes the Ridgeline one of the most appealing trucks next year. If you are looking for the towing capability of full sized trucks this is not for you but if you like the traditional look of a truck with excellent capabilities like fast acceleration, luxury interiors, and spacious seat then look no more.
Others to consider: Chevrolet Colorado and Toyota Tacoma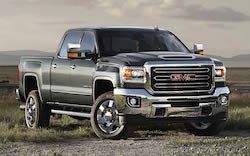 This heavy-duty pickup truck can tow up to 14,500 lbs. The payload ranges between 3,283 to 6,137 lbs, and has a gross vehicle weight rating of 10,000 to 13,020 lbs. The GMC Sierra 3500 HD runs anywhere between $34,000 and $38,755.
Luxurious interior, hefty towing capability, and quiet cabin make the GMC Sierra for an impressive ride. It's solid build and optional diesel engine is hard to look over. It's rear visibility is reported as limited and there is no telescoping steering wheel on some versions. It's a huge trucks and still on the pricy side for heavy duty trucks but if those are not factors that concern you, the GMC Sierra is perfect.
Others to consider include: Ram 3500 and Ford Super Duty F-350 DRW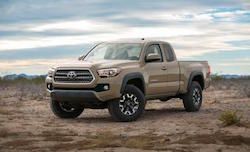 The Toyota Tacoma has the following dimensions 212-226″ L x 74-75″ W x 71-72″ H, with a bed length between 60 to 73.2". Available in either Access or Double Cab body style, the price falls between $24,575 to $25,405. MPG ranges from 17-19 City / 20-24 Highway.
While the Tacoma is highly competitive in the overall pickup truck market, it's not ranked high among compact trucks. It has amazing off-road capabilities and easy to use tech options which is appealing to a younger demographic. If you're looking for a spacious truck this is not your best option. Tacoma has small and limited seating and weak towing capabilities.
Others to consider: Honda Ridgeline and Chevy Colorado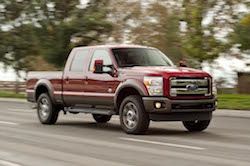 Priced between $33,705 and $37,305, the Ford F-350 has a towing capacity of 13,100 lbs and a curb weight ranging between 5,909 to 6,989 lbs.
Known as the king of trucks because of it's super duty towing and hauling capabilities, thoughtful interior, and indestructible body. Don't let the aluminum body trick you, it's pretty much impenetrable. The Ford F-350 comes in three different models, two engines, and five trim levels to choose from so take your pick.
Others to consider: Ford F-150, Nissan Titan XD, and Ram 2500/3500HD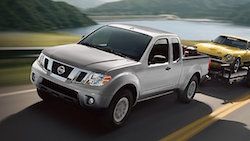 The Nissan Frontier has dimensions set at 206-219″ L x 73″ W x 69-70″ H. Ranging between $18,390 and $24,100, the cheaper of the two options is the King Cab body style option. MPG 15 City / 21 Highway.
This midsize pickup truck is exciting, capable, and reliable. We recommend the Nissan Frontier if you are searching for an affordable pickup truck with decent towing capabilities. It can be a rough ride with minimal attention to interior features but if these setbacks don't bother you, Nissan Frontier is a great option for the price tag.
Others to consider: Chevy Colorado and Ram 1500