After about the age of 30, human beings generally begin to lose physical strength, bone density, and muscle mass. For this reason, it is common for seniors to have age-related balance problems. Unfortunately, as your sense of balance deteriorates, everyday tasks, such as bathing, can become potentially dangerous. In fact, research shows that bathroom falls are a major health issue among the elderly.
Besides balance problems, other challenges that may make it virtually impossible for an elderly person to take a proper bath/shower include illness and injury. However, thanks walk-in tubs, the bathroom does not necessarily have to be a dangerous place for seniors. Below is some more information about walk-in tubs and how they improve bathroom safety for seniors.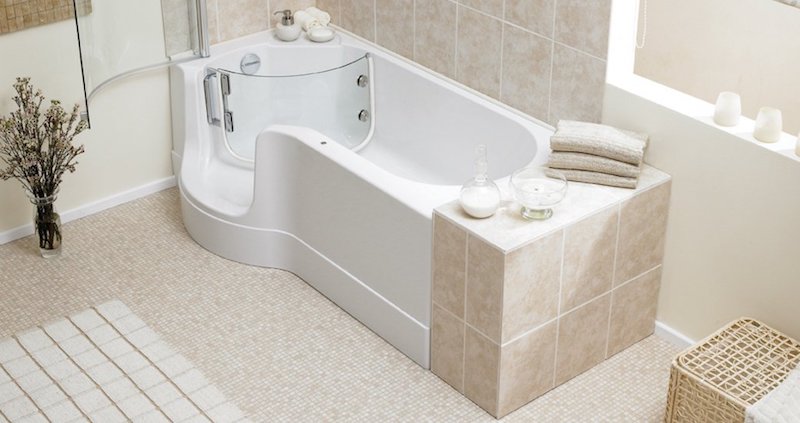 An Overview of Walk-in Tubs
Simply put, walk-in tubs are basically bathtubs and showers equipped with myriad standard safety features, including built-in seats and low thresholds. These safety features not all help to prevent bathroom falls, but also make it much easier and convenient to take a shower/bath regardless of a person's physical ability. The high-end models come with a wide variety of add-ons and therapeutic options including, among others, heated seats, chromatherapy, aromatherapy, and water and air massage systems.
Walk-in Tub Safety Features
In general, walk-in tubs come with myriad safety features designed to reduce bathroom falls. Examples of such features include anti-slip flooring, low set height for entry, contoured built-in seating, built-in handrails and an ADA-approved overall design. What's more, some models come with wide doors specifically designed to allow easy transfer from a wheelchair to the tubs seat. To prevent hot water burns, most walk-in tubs come with a scald prevention valve.
Walk-in Tub Comfort
Compared to traditional tubs, walk-in tubs generally provide a deeper water depth of up to four feet. This means that with a walk-in tub, you can enjoy a comfortable immersion experience while seated comfortably and securely. This is partly because of the fact that the seat of a typical walk-in tub is placed 17 inches high, leaving about 20 inches of depth to immerse your torso. In comparison, a standard bathtub provides a water depth of about 14 inches. To enhance the immersion experience further, many walk-in tubs offer an array of luxury features including hydrotherapy and chromotherapy lighting.
The Cost of Walk-in Tubs
Depending on the features and add-ons, the price of a walk-in tub can range anywhere from $1,000 to over $5,000. Similar to the sticker price, the installation cost also varies depending on the of the installation process. While a walk-in tub may seem, it combines many safety features in one package. Because of this, a walk-in tub reduces the amount of remodeling required to make a bathroom senior friendly. However, it is important to note that because walk-in tubs are not Durable Medical Equipment, Medicare does not cover any costs associated with such tubs.
Seniors are generally prone to falls due the effects of aging. Bathroom falls are particularly common among seniors. One of the best ways to improve bathroom safety for seniors is to install a walk-in tub.