If you have missing teeth, you can fill in the spaces with dental implants. Dental implants are different from other artificial teeth because they are designed to mimic natural teeth. The implants are secured to a titanium base, which is installed in your mouth. Over time, the base fuses to the bone cells in your jaw. This provides a strong base for your new teeth, while also preventing slippage or unwanted movement, which is a common issue for other types of artificial teeth. The implants do not require regular maintenance, and look more realistic than other dental options.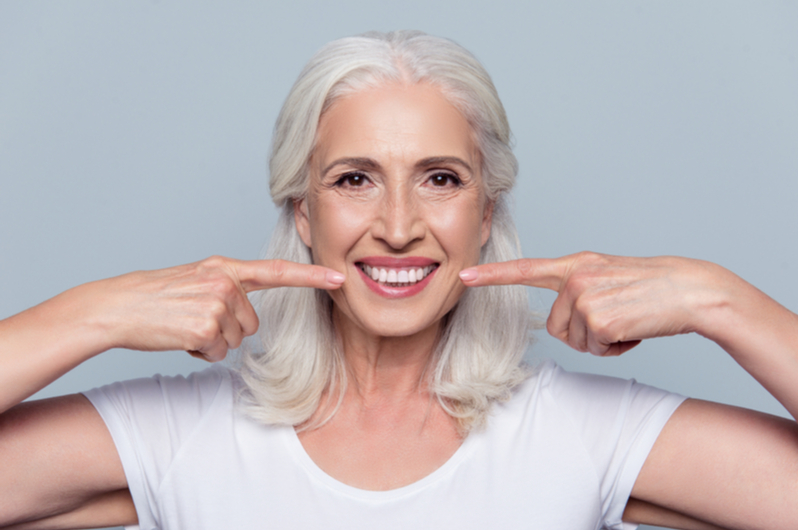 While there are many benefits to using dental implants, many individuals struggle with the cost. On average, it costs between $3,000 and $4,500 to install implants. Some of the costs are mitigated by insurance, but there are many individuals who do not have a dental plan. Fortunately, there are a few different ways to purchase affordable dental implants.
Government Grants for Dental Implants
Government grants are available for dental implants, but you cannot directly apply for one of these grants. Dental government grants are only issued to federally funded programs and nonprofit groups. Each of these groups is then able to create their own grant programs. Most of these grants are aimed at lower-income applicants, but some are only available to select groups, such as seniors or military veterans.
Cosmetic Dentistry Grants (CDG) Program
The CDG program is popular because it receives a large amount of federal funding each year, meaning more grants are available. Compared to other types of grants, it has fewer eligibility requirements and a simple application process. Even if you do not qualify for a full CDG grant, you may be able to get a partial grant to cover a portion of the procedure.
As part of the application, you must meet with a dentist to determine if you are healthy enough to get dental implants. The health assessment is provided free of charge through the CDG. The process for receiving dental implants is lengthy, and many patients are required to strengthen their jaw first, so it can support the titanium base. This process takes anywhere from a few weeks to several months.
If you are healthy enough to get a dental implant, your dentist will submit a grant application on your behalf. It typically takes between 30 and 60 days to receive a response. If your application is accepted, you must sign and confirm you still want the grant, as well as confirming what dentist is installing the implant.
The grant payment is made directly to the dental office, ensuring the funds are only used for your procedure. If you already paid any money previously as part of the treatment, your dental office can reimburse your costs. Once the grant is approved, you must begin your treatment within three months.
Dental Lifeline Network
The Dental Lifeline Network primarily provides grants to seniors over the age of 65 or individuals with a permanent disability. However, the network also accepts medically compromised applicants who do not have enough money to afford dental care. If you have any existing dental insurance, such as Medicaid, you must use all of the available insurance coverage before you can apply for assistance through the Dental Lifeline Network.
Smile Grant Program
The Smile Grant Program offers several types of dental grants. The program only provides total coverage if you are getting consultation work or X-rays, but there are options to receive a substantial discount on other dental treatment. The discount rages from 20 to 50 percent, based on the total cost of the procedure, whether you have insurance and your total income. The grant program uses a simple application process. All you have to do is explain why you need dental implants and provide basic financial information.
Other Ways to Save on Dental Costs
If you are unable to find a dental grant in your area, there are a few other ways you can find affordable care. First, consult your current dentist and ask what programs are available in your area. If your dentist is not participating in a program or cannot offer discounted rates, consider other periodontists or oral surgeons in the area. Dental schools are one of the best places to go for care, as they offer substantially reduced rates and partner with many grant programs.
One of the reasons dental implants are expensive is because of the cost of dental components. Each dentist uses a different supplier, some of which provide better rates. As a result, these dentists are able to offer lower costs for implants. Oral surgeons in larger cities tend to charge higher rates due to increased overhead costs, so consider searching for a dentist in a smaller area to save money.
Another way you can save money on dental implants is through financing. Financing dental work is nearly identical to taking out a personal loan. Your financer agrees to pay a portion of the costs upfront for your implants. You pay your financer back in monthly installments.
There are numerous dental finance companies. CareCredit is one of the top choices because they offer fixed terms and have significantly lower interest rates compared to other financers. If you do not have a good credit score, you can apply for dental assistance through LendingClub.
Another option to save on dental costs is a discount dental plan. These plans are a yearly membership, where you receive large discounts on dental service. Each plan provides different coverage, but you can typically get 40 to 60 percent discounts. These plans work well for dental implants, since the process takes several months and requires multiple appointments, ensuring you get the most out of your plan.
Dental Tourism
If you are still struggling to find affordable dental care, you may have to look outside of the United States. Dental tourism involves traveling to another country to get your implants, typically Mexico or Europe. Dental tourism requires a great deal of research. You must pick a reputable clinic which accepts patients from outside the country. These clinics provide the same quality of care you'd receive from an American discount. The costs are significantly lower because of differences in funding, which allows dentists to charge much less for procedures. The downside is, it can take much longer to book an appointment. It is also difficult to travel for future appointments, so consider getting the base implants installed, then getting follow up treatment from your current dentist.