Depending on which part of the country flowers are delivered, the methodology of delivery varies in a time of social distancing and curfew restrictions. Yet, florists are becoming exceedingly creative and innovative regarding delivery of flowers.
Most florists rely on delivery services to fulfill customers' orders. However, florists are also accustomed to taking orders and having same day delivery service through a major florist network like FTD for orders out of the local area. Same day delivery can be a great way to get your significant other an unexpected bouquet of flowers on Valentines day, without the potential of ruining the surprise in advance.
One innovative option for local florist is contactless curb service for customers who prefer to pick up their flower bouquets.
It is easy to see why restrictions like social distancing and curfews can wreak havoc on the normally smooth flower delivery procedures. It takes imagination to work through these difficulties for flower ordering and delivery of flower bouquets. With Valentines day fast approaching, its important to ensure that you and your loved ones can celebrate safely, without having to worry about the COVID-19 pandemic.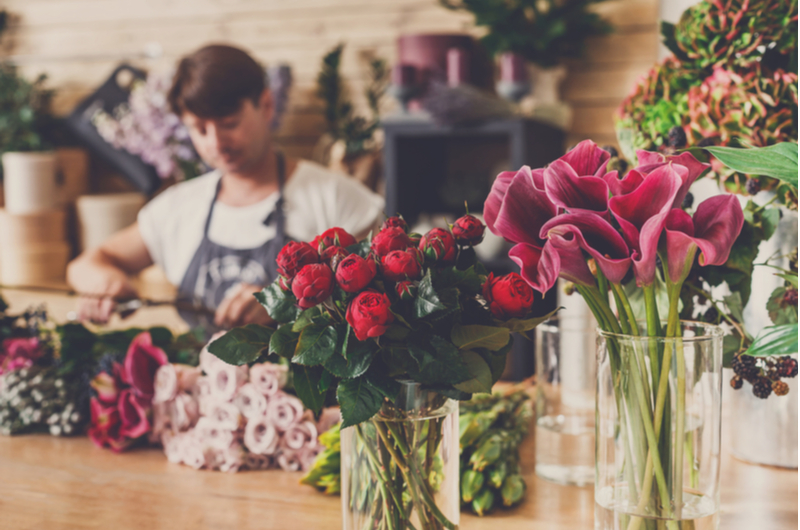 Deliveries Must Go Forward
Since deliveries of flower bouquets is the second most important part of flower ordering, florists find ways to continue a moderately steady stream of business. These include:
. Options for next day or same day deliveries
. Customer special designations for flower deliveries
. Online flower ordering with contactless deliveries
There are several major floral delivery networks such as FTD, 1-800 Flowers, Bloom Nation and Floom. However, it is important to review their delivery options since there may also be destination restrictions. These are some of the best flower delivery options for holidays and special occasions. With years of experience, these floral delivery networks know how to ensure your Valentines day flowers are the perfect romantic gesture.
Others like Urban Stems, Bouq Co., H. Bloom and Farm Girl Flowers are also a good choice with flexible flower delivery options.
Think Ahead for Holiday Flower Bouquets
Because of social distancing, florists are finding customers send flowers just to be thoughtful. Florists know the biggest holiday sales for the year occur for on Valentine's Day and Mother's Day. There are also funerals, weddings and graduations that occur within any given year.
Sending flower bouquets are a way of making social distancing restrictions less restrictive and flowers speak a language all their own. Even if you can't spend Valentine's day with your significant other, let them know you are thinking about them with flowers. And with contactless delivery and pick up options, you can ensure that your Valentine's day is safe.
Many florists allow create your own bouquet options, allowing customers to send personalized bouquets. These are great gifts for Valentines day, as they are a perfect opportunity to create a unique expression of your love for your partner..
It is important that flower ordering be placed well in advance so flower deliveries arrive as arranged with the florist and customer. This can be especially true for holidays, so make sure you have your Valentines day flowers planned out in advance.
Risk-free Flower Delivery
Depending on individual state restrictions, there is no risk to ordering flower bouquets, live plants and decorative dried flower arrangements. In several states florist businesses fall under the category of "non essential."
Florists need to reassure customers there is no risk to sending flowers to loved ones or friends. Florists should provide information on precautions being taken to ensure social distancing and safety.
Should flower bouquets be delivered to a high risk older person, provide a set of delivery instructions such as wearing gloves or a small plastic bag and avoid touching flower arrangements for one to two hours.
Questions to Ask before Flower Delivery Arrives
In order to know your flower delivery options, you need to ask certain questions of your florist. These include whether your order will be delivered by the florist's privately owned vehicle or by an independent delivery service contracted by the florist.
It's also important to know if you can choose your delivery service or use an online app. Uber and Lyft may deliver flowers in certain areas. However, these are independent couriers services. Discuss all flower delivery services with your florist.