Esthetics falls under the umbrella vocation of cosmetology. A career as an esthetician involves going to either a cosmetology school specializing in esthetics or a specific esthetician school. What type of training is provided in an esthetician school? Is esthetician school for you?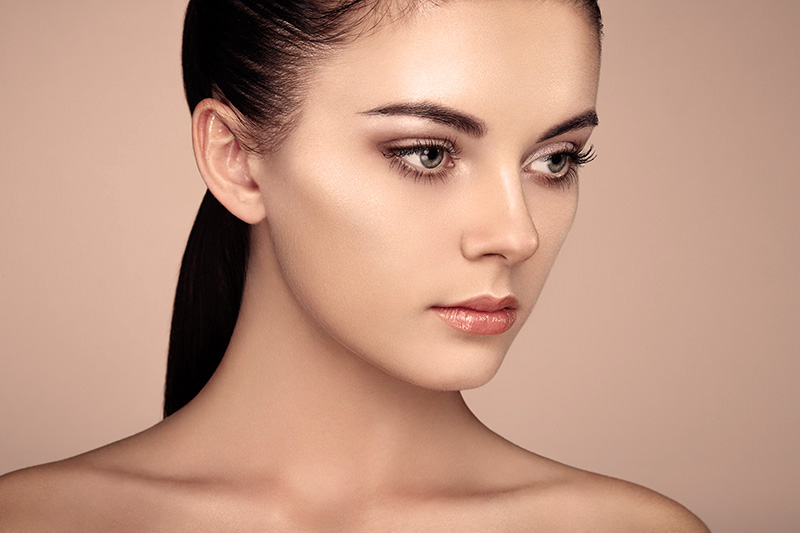 Esthetics is a beauty-services field involving various aspects of skincare. Requirements for esthetician school vary between states. What are the benefits of attending esthetician school? Does someone need an esthetician school to obtain a career in the field? Many high-quality careers are obtainable with an esthetician school certification. Read ahead for detailed information about esthetician school to learn if training and a career in esthetics is right for you.
Understanding Esthetics
Esthetics involves various aspects of skincare and performing skincare treatments. For example, one of the most common esthetics-based treatments is exfoliation. Exfoliation is possible at home using DIY products. Why do consumers choose to purchase esthetics treatments from licensed professionals?
Licensed estheticians offer services beyond the simple application of a particular treatment. Consumers trust estheticians to perform age-defying and beauty-preserving functions, while also providing a peaceful and relaxing atmosphere. Esthetics is more than a beauty-service occupation. It is an overall experience for consumers looking to revive and maintain their skin, external beauty and self-confidence.
Cosmetology careers in the U.S. are projected to experience an overall one percent decline in growth through 2029. This is largely due to the COVID-19 virus impacting the country since early 2020. Esthetics is beating those odds, while performing in a positive, contrary fashion to the slightly declining cosmetics industry overall. The U.S. Bureau of Labor and Statistics (U.S. BLS) project jobs for estheticians to actually increase by seventeen percent through 2029. Going to esthetician school in 2021 is an excellent idea for students with beauty-service career aspirations.
What Do You Learn in Esthetician School?
Esthetics, skincare and the application of skincare treatments covers a wide range of beauty-related services. The application of makeup is one element of esthetics training. Applying exfoliation treatments is another. Exfoliation treatments include the use of various skin peels and facial masks. The application of other facial types is also included in esthetician school programs. Anti-aging and anti-wrinkle products are esthetics facial treatments popular with many consumers regardless of age.
Esthetician schools also train students with extensive career ambitions on how to manage salons, retail sales and handle customer service situations. Safety, sanitation and science pursuant to human skin and anatomy are also taught in advanced esthetics courses. Physiology and ingredient composition/mixing are other advanced subjects taught in some esthetics courses. Waxing, abrasive treatments, various massage techniques and even reflexology are learned in esthetician schools. Esthetician schools teach integral elements of the business in order to help postgraduate students obtain excellent jobs. What are the qualification requirements for esthetician school?
Qualification Requirements for Esthetician School
Qualification requirements for becoming a licensed esthetician vary per state. Licenses are granted based on a student completing a specific number of training hours and passing applicable license examinations. The number of required hours varies greatly. For example, Florida requires 260 completed hours to obtain your esthetician license. Texas and Illinois each require 750 completed hours. Certain state boards of cosmetology only accept training hours completed through state-approved programs. Other state boards accept completed hours through any esthetics program.
Nationally accredited programs provide students with the best chance of having certifications viewed as valid. Complete esthetics schools train students in topics beyond the application of skincare products. Schools providing chemistry, electricity, nutrition, resume writing, merchandising, salary planning and more have qualification requirements similar to, or aligned with, regular colleges and universities. Age, prior education, grade point average and references are all part of qualification requirements for advanced esthetics schooling.
Benefits of Attending Esthetician School
Graduates of esthetician schools are capable of obtaining careers in high-end spas, hotels, luxury resorts and nursing homes. Esthetician careers in hospitals also exist. Positions are available in dermatologist and plastic surgeon facilities as well as retail or educational situations. Qualified estheticians are also capable of attaining jobs on movie sets in various major cities around the country.
Starting salaries for some qualified estheticians are approximated at $24,000 per year. The more extensive your training, the more likely you are to obtain the job of your choice and a higher salary. Without schooling and training, however, opportunity in the esthetics field is limited. Benefits of attending esthetician school further include chances for travel, networking and promotions to salon managers/owners. Esthetician school teaches client retention and retail strategies, both of which help you acquire, maintain and grow a strong client base.
Esthetician School Costs & Lengths
The length of time it takes to complete your esthetician schooling varies based on the programs in which you enroll and state requirements. Professional, practical and technical training are all provided. Most estheticians choose to specialize in one or a small number of esthetics-based skills. For example, Reiki is taught in some esthetics schools. Reiki training is intensive, but also leaves room for training in reflexology or another skincare topic.
Esthetician schools teaching business aspects in tandem with practical applications take longer to complete. Specialty training courses in theatrical makeup or tattoo artistry also exist and affect how long it takes to complete esthetician school. The average cost of attending esthetician school ranges widely between $3,000 and $10,000. Certain schools cost significantly more when involving four-year combination programs and business degrees.