It is important to pick the right car seat for your baby or toddler. Many parents have a difficult time with car seats for babies because it is difficult to anticipate how long until you must upgrade to a new seat. Some babies grow quickly, so a car seat that was a perfect fit might suddenly be too small a few weeks later. In addition, there are different safety recommendations for car seats, which change depending on the age of your child.
One of the ways to avoid purchasing multiple car seats is to purchase a convertible car seat. Convertible car seats are more expensive than traditional car seats, but they are designed for growing children. As your baby grows, you can make small adjustments to the car seat instead of buying a new one.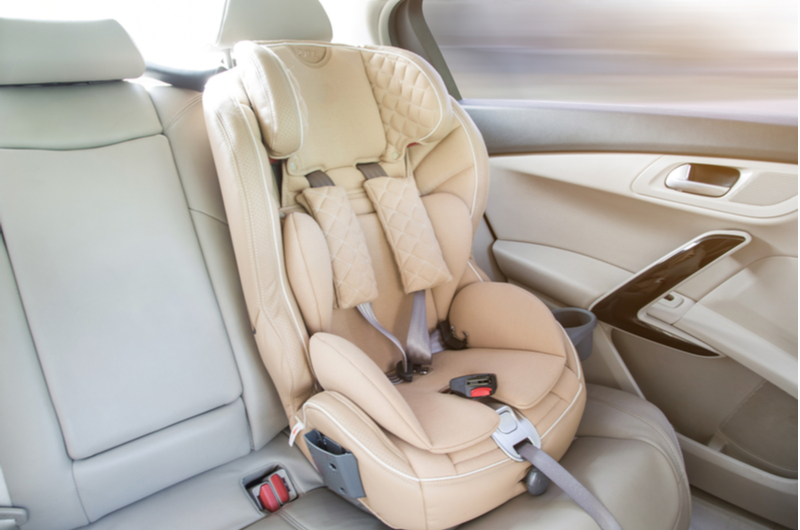 Pros and Cons of Convertible Car Seats
Convertible car seats have several benefits. It can change from a rear-facing to forward-facing seat with a few minor adjustments. There are even some models which also turn into a booster seat for older toddlers. There are a few downsides to convertible car seats. Compared to traditional seats, convertible car seats are heavier and bulkier. The seats are installed into your vehicle using either a LATCH system or seatbelt, depending on weight. This makes convertible seats less portable than traditional infant or toddler car seats.
Convertible seats are best when you commonly take your child in the same vehicle. It is much easier to setup and leave a convertible seat in one car as opposed to moving it from vehicle to vehicle. If you and your partner share responsibilities driving your child, it is recommended to invest in a second seat instead.
Installing Car Seats
Before installing your car seat, you must decide on where to place it. Until your child turns two, keep the car seat facing the rear of the vehicle. You want to place the seat in the back of the vehicle, as airbags going off can cause serious damage to an infant. Which seat you use is personal preference. The driver side of the car is more protected in the case of an accident, but it is harder to see your child if he or she is directly behind you.
Car seats must be installed at the right angle, which varies based on the age and weight of your baby. The specific angles are different for each seat, but the seats have an angle indicator to help you. If you are unsure of how to use the indicator, consult the instruction manual. In general, the goal is to keep the car seat at a 45-degree angle.
Most cars come with LATCH anchors, which allow you to tether the car seat to your vehicle. Your car seat contains a strap with two hooks, which you connect to the LATCH straps. If your vehicle does not have a LATCH system, you can use seatbelts instead. Slide the seatbelt through the belt path on the car seat. Make sure there are no twists or knots in the belt. Pull it all the way through until it is locked. Some car seats include a manual lock-off you can use on the seat belt as well.
Britax Boulevard ClickTight Convertible Car Seat
If your primary concern is safety, Britax offers one of the best convertible car seats available. Britax designed their car seat with numerous safety features, including two separate layers of impact protection along the side. The seat is made with a durable steel frame, designed with an impact-absorbing base. The harness loudly clicks when it is secured, adding some extra security during the installation process as well.
Graco 4Ever
Graco's 4Ever convertible car seat is designed to last. It starts as a rear-facing car seat, accommodating children up to 40 pounds. It can also be converted to a front-facing seat, suitable for children up to 65 pounds. As your child grows, it converts into a high-backed booster seat, intended for children up to 100 pounds. Finally, it becomes a backless booster seat. 4Ever is larger than other convertible car seats and may not comfortably fit into smaller vehicles. The straps are easier to use than other seats and, despite the bulkier size, it is one of the easier seats to install.
Diono Radian 3 RXT All-In-One Convertible Car Seat
The RXT has a slimmer, more compact design than other convertible seats. As a result, it is much easier to transport than other seats. It does not have as many safety features as Britax's seats, but it is built with energy-absorbing EPS foam. It can be used as a rear facing seat for children up to 45 pounds, then converts to a forward-facing seat for children up to 65 pounds. For older children, it also doubles as a booster seat.
Recycling Car Seats
Modern car seats are built to last. This is helpful for families planning on having multiple children, but it can be an annoyance for parents who do not want to have anymore children. Instead of throwing away your old car seat, consider recycling it instead. Not all of a car seat can be recycled, but it is fairly easy to break down. Before you break down the seat, check with your local recycling program to ensure which parts are accepted.
You can remove the fabric, foam and harness straps from the seat with scissors. You can dismantle the metal frame of the seat using a screwdriver. Make sure to remove the car seat cover and any safety padding underneath.