Budgeting becomes much harder when you get older. Once you retire, you live on a fixed income and whatever you have saved up. The last thing you want to do is dip into your savings every month to cover the cost of your apartment. It is common for seniors to retire and move to a different, more affordable community.
Moving into senior apartments is not only about saving money. As a senior, your needs are much different from when you first moved in. A two-story home suddenly becomes a safety hazard as it becomes harder to move up and down the stairs every day. Senior apartments are designed with comfort and safety in mind, built specifically for older residents. There are also special communities only for seniors. These communities allow you to socialize with other individuals your age. More information about finding affordable senior apartments and communities is listed below.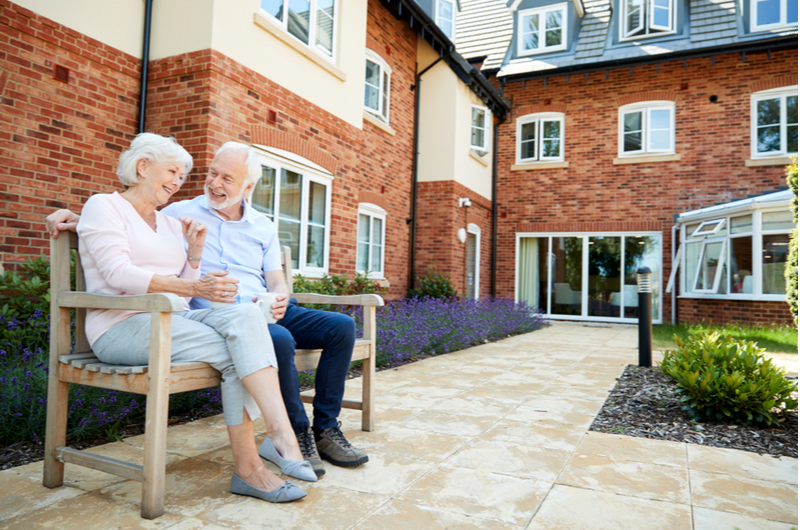 What are Senior Apartments?
Senior apartments are specialized apartments made with older individuals in mind. In order to live in a senior apartment, you must meet a minimum age limit. The age limit varies with each complex. Most apartments commonly accept seniors who are 55 years of age, but some raise the limit as high as 60 or 65. There may also be additional stipulations, such as only allowing seniors who are retired.
The apartments are designed with amenities for seniors. This applies to the interior and exterior of the buildings. Senior apartments are commonly built on comfortable, easy to navigate ground, allowing seniors to easily navigate between the facilities. It is also common to build senior apartment complexes near medical centers and public transport. There are even some complexes that team up with other senior citizen services, including travel and cleaning programs.
While the buildings are classified as apartments, many of the complexes share similarities with gated houses or condo communities. There are commonly other facilities, such as gyms, restaurants or pools. Ramps and elevators are available in all buildings. The apartments themselves are also much shorter than traditional units, making it easier for seniors with limited mobility to get around.
Assisted Senior Living
Traditional senior apartments are meant for seniors who can independently support themselves. If you require assistance at home, there are other senior apartments available in the form of assisted senior living. Assisted senior living is nearly identical to traditional senior apartments. The main difference is, additional services are provided by a caregiver in an assisted senior living facility.
The caregiver does not permanently live with you. How often you see a caregiver varies based on your needs. For example, some seniors see a caregiver daily, but only for a short period to help administer medication. Other seniors only have a caregiver come by for a few hours each week to help with cleaning or purchasing groceries.
Costs of Senior Apartments
The cost of senior apartments wildly varies based on where you live. Typically, the cost is similar to traditional apartment costs in your neighborhood. Assisted senior living communities have less variance in their price. According to a 2019 national survey conducted by Genworth, the average cost of living in an assisted living complex was $4,000.
If this sounds expensive, there are several different resources available to lower income seniors. For assisted senior living complexes, you can apply for assistance through Medicaid. This is known as Home and Community Based Services (HCBS) which provide rental waivers. The waivers cover the rental costs for the apartment. There are also additional state resources to help with assisted senior living, as well as nonprofit groups.
There are additional options for traditional senior apartments. Housing and Urban Development (HUD) runs a program for seniors known as Section 202 housing. Section 202 housing is similar to HUDs Housing Choice Voucher Program (HCVP). Seniors are eligible to apply for HCVP as well, but the general program typically has much longer wait times. Both programs share similar income requirements. You must be at least 50 percent below the median income for your neighborhood. Section 202 housing has an additional requirement, you must be at least 62 years old.
If you are accepted, you receiving housing vouchers, which cover a portion of your rent and utilities. The exact amount varies based on your income. Section 202 offers additional coverage for senior specific services, including transportation, meals, housekeeping and counseling services. You can also contact your local public housing agency to learn more about senior assistance programs in your state.
Co-Op Housing Communities
Another way to save money is to move into a co-op housing community. Co-op housing communities are small communities built for independent seniors who are struggling financially, but do not meet the income requirements for federal assistance. In these communities, seniors pitch in with essential tasks around the community in exchanged for reduced rent. This also gives seniors a chance to be active and socialize with other seniors. It is also a good way to feel more invested in the community. Co-op senior housing is not intended for seniors who need assisted senior living.